What is Artificial Lift?
Artificial lift is a process to increase fluid flow by artificial means. The artificial lift method is used to withdraw crude oil from production wells by increasing pressure within the reservoir. For increasing production, mechanical devices or other means are used when the reservoir's natural drive energy is insufficient to push the oil to the surface. Artificial lift methods force the oil to reach the surface and thus increase production and recovery.
The requirement for artificial lifts depends on the available pressure of the region. Studies found that 50% of the oil wells in the world need an artificial lift. 96% of the oil wells situated in the USA require artificial lifts. For some wells, artificial lift methods may not be required initially. However, as time passes the available pressure reduces, and artificial lift is employed. It is therefore important to use the artificial lift on all wells at some time in their life.
Purpose of Artificial Lift
Artificial lift is used in oil wells to serve the following purposes:
Increasing production
Increase reservoir pressure, and
Extending the production life of the well.
Working of an Artificial Lift
The working principle of an artificial lift system is to maintain the required bottom hole pressure by artificial means to produce desired fluids. This is achieved by various types of artificial lift methods in the oil and gas industry like sucker rod pumps, electrical submersible centrifugal pumps, rotating rod pumps, hydraulic pumps, piston type sucker rod pumps, plunger lifts, gas lifts, etc. Each has its unique advantages and disadvantages.
Artificial Lift Methods
There are several artificial lift methods in the oilfield industry. However, the most widely used common methods for artificial lifts are:
Progressive Cavity Pump (PCP),
Rod Lift,
Plunger Lift,
Gas Lift,
Hydraulic Lift, and
Electric Submersible Pump (ESP).
There are more than 2 million operating oil wells in the world. Among them, more than 50% of the wells use some type of artificial lift. A sucker rod pump is the most widely used artificial lift. More than 75% of artificial lifts used are sucker rod pumps. If we see the statistics of the USA alone, approximately 350,000 wells use sucker rod pumps. In general, rod pumping dominates onshore operations, whereas ESP and gas lift are widely used in offshore applications.
Progressive Cavity Pumps
Progressing Cavity Pumps (PCP) are widely used highly viscous fluids and are frequently applied in the oil industry. They are positive displacement pumps and consist of a rotor and a stator. Using a top side or a bottom hole motor, the rotor is rotated which creates sequential cavities to push the oil to the surface. Progressive cavity pumps as artificial life solutions provide a wide range of flexibility in terms of variable rate and depth. The simple design of PCPs has a low operating and capital cost as compared to other artificial lift systems. Their efficient performance of the artificial lift method is highly effective as they offer outstanding resistance to abrasives and solids. They also have superior sand lifting capacity but are restricted to setting depths and temperatures.
In recent times advanced fully automatic progressive cavity pumps provide better artificial lift services by monitoring torque, flow rates, and pump speed. Such automatic types of artificial lift systems can be accessed remotely to control any parameter.
Rod Lift
Rod lift is one of the most common types of artificial lift methods. Rod lift uses a pump jack at the surface to work as an artificial lift solution. Pump jacks are also popularly known as sucker rod pumps (SRP), dinosaur, horse head, nodding donkey, etc. They are powered by electricity or gas and are also known as beam pumps. The primary components of beam pump artificial lift systems are shown in Fig. 1 below: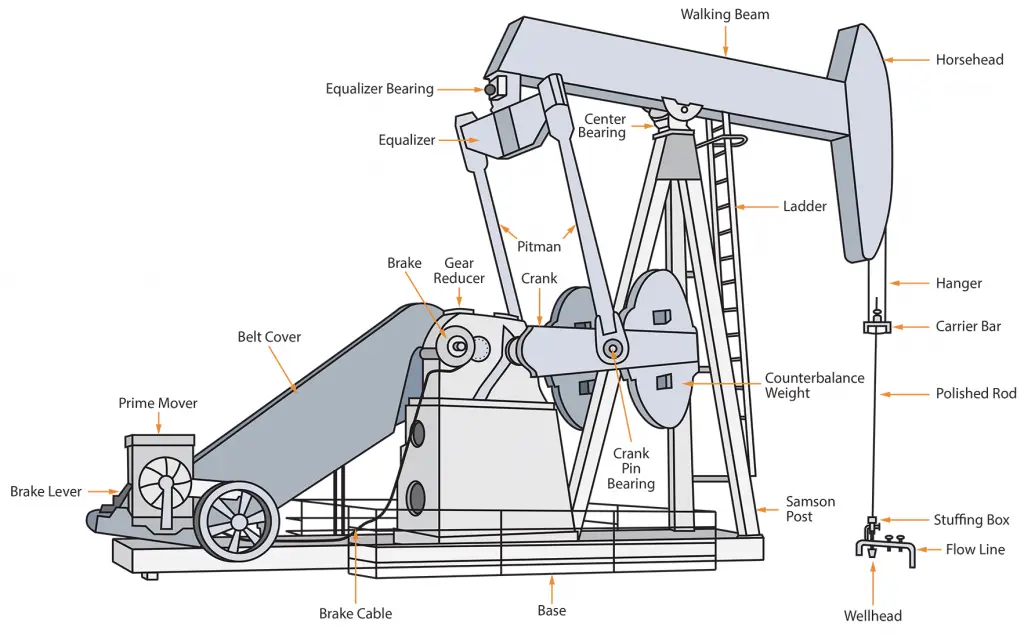 To bring resources (oil and gas) up to the surface piping and equipment, the pump jack uses sucker rod string and pump which pressurizes the well downhole. The rods go inside the tubing inside the casing. There is a pump and two check valves at the bottom of the rod string.
This type of artificial lift method provides various advantages like high system efficiency, positive displacement, optimized controls, economics, wide flexibility, etc. They have some limitations as well like rod and tube wear, rod's load-carrying capability, etc.
Plunger Lift
Plunger lifts create a differential pressure that drives the liquid up the casing to production equipment and piping. Using a timer control connected to a high-pressure control valve, This type of artificial lift monitors the valve opening and fluid lifting. When the tubing is shut in, the flow of the well stops. The artificial lift plunger then falls down to the bottom of the well, and liquid accumulates on top of it.
Plungers may be of various types like solid plungers, brush plungers, pad plungers, and continuous flow plungers. Their working philosophy is almost similar. A Plunger lift is a great solution for artificial lifts. Plunger lift services are very popular as it is cost-effective.
Gas Lift
A gas lift is an artificial lift solution where the load on the reservoir is reduced by injecting gas and pushing the product to the surface. Gas injection increases the gas-liquid ratio which decreases the gas, oil, and water mixture density. Gas lift installations have the capability to manage abrasive materials like sand. This type of artificial lift system is used in low-productivity, high-gas/oil ratio wells, or deviated wellbores.
A pressurized gas (usually Carbon dioxide or nitrogen) is sent into the well which pressurizes the well and forces the liquid to reach the equipment and surface piping. Gas lift valves are installed at calculated depths for injecting the high-pressure gas into the tubing.
Gas lifts provide a very good artificial lift performance and their production can range from hundreds to several thousand barrels of fluid per day. Fig. 2 below shows typical components of a gas lift system: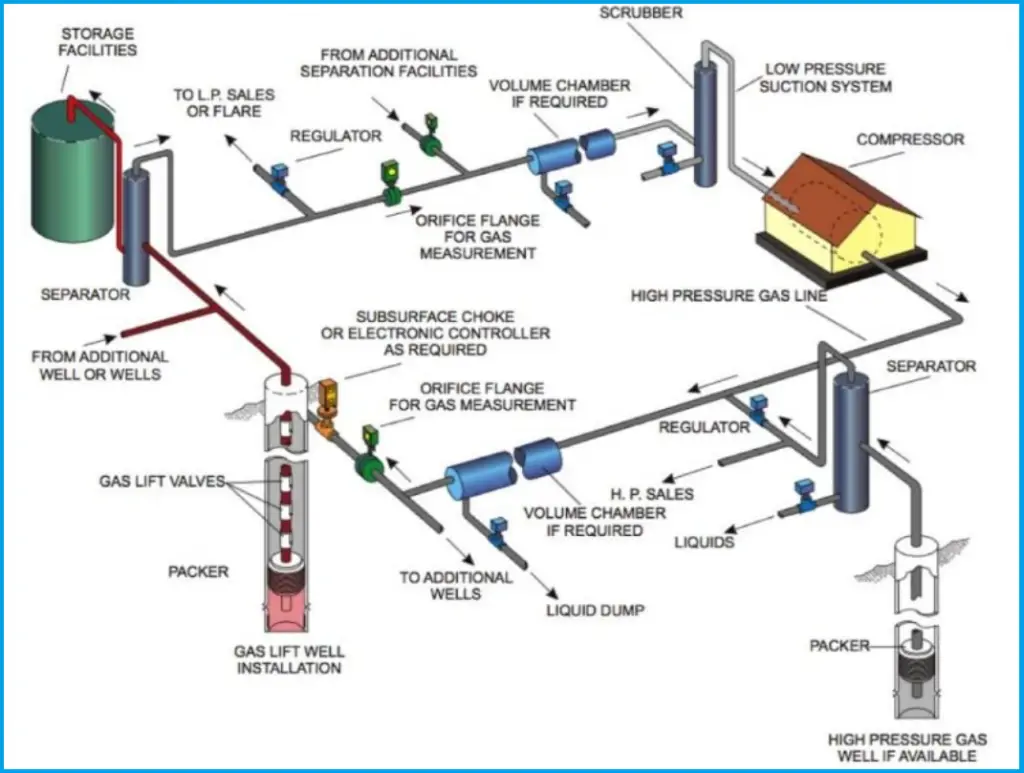 The main advantages of gas lift as artificial lift types are a high degree of flexibility, wireless retrievable, ability to handle sandy conditions, minimal space requirement, multi-well production from a single compressor, full bore tubing drift, etc. The disadvantages of a gas lift system are the requirement of a compressor, high backpressure, expensive maintenance and operation, limited gas injection rate, etc.
Hydraulic Lift
Hydraulic lift is an artificial lift method that uses a surface pump to pressurize the well fluid. The main components of this type of artificial lift system are a surface high-pressure injection pump and pipeline, injection tubing, downhole assembly, and positive displace or jet pump. The hydraulic lift well has its wellhead connected to the power fluid manifold.
Electric Submersible Pump
Electric submersible pumps (ESP) are also used to push production fluid out of the well. They can be used for a variety of applications like high temperature, unconventional, conventional, offshore requirements, etc to maximize production. An ESP is installed below the reservoir fluids at the bottom of the tubing string and connects to a long electric motor. The electrically powered pump with its blades, move the fluids in the well. ESPs can move large volumes of fluid. A control box is installed that senses the pump needs to increase or decrease the fluid volume requirement. A typical electric submersible pump can produce roughly twenty-thousand barrels of fluid per day.
The main components of an electrical submersible pump system are an electrical power cable, electrical submersible motor, motor protector, seal electric cable, gas separator, motor controller, and centrifugal pump.
The major advantages of ESP are high volume and depth capability, high efficiency, low maintenance, minor surface equipment needs, etc. Its limitations are the requirement of electric power, difficulty in-field repair, higher pulling cost, etc.
Selection of Artificial Lift system
The selection of an artificial lift method depends on various parameters like:
Economy
Equipment and service availability in that geographic location
Desired production rate
Depth of the oil well
Production flexibility
Ease of operation
Surface constraints
Fluid characteristics
Reservoir pressure
Well profile
Reliability, etc
In most cases, the artificial lift method that is already successfully serving in similar fields is selected. When more than one method is available, cost becomes the determining criterion.
Online Courses on Artificial Lift
The following online video courses will help you to learn more insight into the artificial lift and their operation, application, and working.