Pipeline Infrastructure is a critical element of Energy Delivery Systems. Its Failure can affect both public health & safety directly & indirectly through impacts on the Energy supply. In the USA with the passage of the Pipeline Safety Improvement Act (PSIA) in 2002, pipeline Owners are required to invest significantly more capital to Inspect and maintain their systems
PSIA Stipulates Enhanced Monitoring & Maintenance Programmes for continuing Integrity Inspection of all Pipelines located within high consequence areas (HCA) where a Pipeline failure could Threaten Public Safety, Property, and Environment
For this reason, it is vitally important that Pipeline Operators Maintain accurately, Integrated Information on their Pipeline system from construction and Installation through Operation, Inspection & Maintenance
Ever-Increasing Number of Energy Pipelines Operating Already & More Being Laid particularly in Urban Environments, Data Collection & Integration Assume even more Importance to ensure that the Current Condition of the Pipeline system is well managed to Prevent Adverse Impacts on the Population centers they serve
The Key to Integrity Management Programme is:
To Know where Potential Problems Lie
To Understand How Severe the Problem might be
How Best to Manage these Problems
Pipeline Failures
Once a pipeline leak commences it progresses at an exponential rate.
Corrosion can be controlled within acceptable limits by the application of cathodic protection from the construction stage.
Cathodic Protection (CP) Of Pipelines Ensures Prevention of Loss of Metal to Earth due to Soil-side Corrosion. This is a Dynamic Process & Requires Close Monitoring of C P Parameters
If the CP System Fails or is not performing as per Design, Corrosion Protection is In-Effective.
The Efficacy of CP depends on continuous Monitoring to Ensure the Desired Level of Parameters.
Pipe to Soil Potential [P-S-P] (Fig. 2) is monitored
[P-S-P] Vs CSE to be in the Range
(-) 0.85 Minimum to (-) 1.5 V Maximum when Anaerobic Bacteria are absent [No SRB] and (-) 0.95 Minimum to (-) 1.5 V Maximum when [SRB] are present.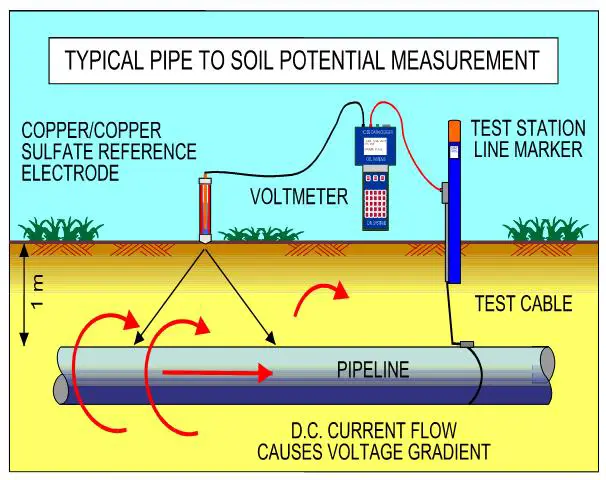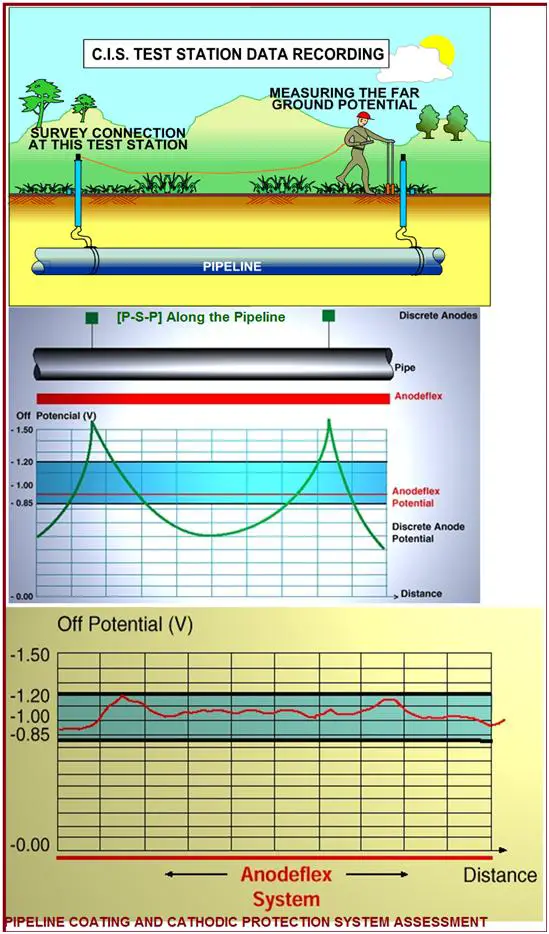 Corrosion Monitoring
CSE is to be calibrated daily
One Standard CSE and at least Three more CSEs should be in the field
Field Manpower should be skilled, trained & experienced
All Rectifiers should be switched On & Off simultaneously
The same time cycle is to be used throughout
AC measurement Voltmeter should also be available
Only High Impedance Voltmeter is to be used
Equipment of Standard make & proven capability to be used
Multichannel Recording capability
The Record should be field verifiable through computer display in the field
Recorded Data should be Downloaded
Surveys
Pearson Survey (Fig. 5)
This is an A-C Technique
50 HZ A-C Interferes
Effective up to 80% due to field variations
Defect Sizing is not possible
Defect Pinpointed location within 5M
Bore-Hole checks reveal survey efficacy
It gives the operator a fast and reliable way to narrow down the areas of concern where more detailed and time-consuming surveys can be performed.
CAT Surveys
This is an A-C technique
Current Attenuation can be performed with various electromagnetic tools including the Pipeline Current Mapper and Precision Pipe Locator for AC attenuation and the Stray Current Mapper for DC attenuation. The pipe is located and the depth of cover is determined while simultaneously obtaining the current measurement and current direction. All the data is captured and stored in a portable submeter GPS instrument for later download into a computer for data compilation and interpretation.
Some advantages of current attenuation include:
Measurements can be taken at 50 feet, 100 feet, or larger intervals. It does not need to be taken every 5 feet to be effective.
Measurements can be taken over many types of cover including concrete, rocks, pavement, and water with no detrimental effect.
It allows the operator a quick way to determine the overall pipeline coating condition.
It allows the operator to obtain information very quickly on the electrical CP circuit and whether there are shorts, bonds, or other unknown areas of concern.
Alternating Current Voltage Gradient
An ACVG survey is a very accurate and precise technique for identifying cable breaks, holidays, and even the position of anodes. It can be used as a macro and micro tool to pinpoint large to very small holidays in a pipeline section. It will give a readout in dBmV which is used in conjunction with the other surveys to allow the operator to determine the severity class of minor, moderate, or severe. It is generally quicker than a DCVG survey.
Some advantages of an ACVG survey include:
Works in various soil conditions (although ground contact can affect readings).
More sensitive over pavement than other voltage gradient surveys (must wet down the pavement and may require holes in the new oily pavement).
Less susceptible to existing or stray direct currents.
Identifying shorted casings.
High accuracy in locating defects.
Suitable for complex piping arrangements and in congested city areas.
Involves no trailing wires.
It can be used in combination with other techniques.
Readings are digitally displayed and no side drain is necessary.
It requires only a single operator.
Survey Data to be collated for Deciphering Problem Areas & Effective Measures to counter the problems detected
Post Mitigative Measures installation further surveys to evaluate the Adequacy of installed mitigative measures
Frequency of such surveys thereafter periodically
Conclusion
The Safety factor question has been settled many times by Research, Experience, and Tests. In service, underground pipelines are safe if they are maintained properly and protected against Corrosion, which Devours the Vitals unchecked and undetected, and third-party damage.
Few more useful Resources for you…

An Article on Forms of Corrosion
Corrosion under insulation: A Presentation
Corrosion Protection for Offshore Pipelines
Corrosion Monitoring Techniques & Surveys: A short Presentation
Guide for Coating Selection for External Bolting to Reduce Corrosion
Application of Anti-Corrosive Linings in Oil and Gas Industry
Anti-Corrosive Composites for Oil and Gas Industry
Piping Materials Basics
Piping Stress Analysis Basics
Piping Design and Layout Basics