Methods for external protection of subsea pipelines
Design plays a big role in corrosion control
Primary protection is provided by coatings
Cathodic protection is used to protect holidays in the coating
Internal Corrosion Control Requires Monitoring
Chemical injection
Corrosion inhibitors
Biocides
Scale inhibitors
Materials selection
13-Cr alloys
Duplex Stainless steels
Not usually controlled with a coating
Corrosion Control – Integrity Management Flow Diagram
The operating temperature has a great influence on corrosion control.
The operating temperature can be as high as 65oC to 100oC
For every increase of 10oC, the corrosion rate nearly doubles
Design data needed for internal corrosion control
CO2
H2S
Oxygen content
Operating temperature and pressure
Organic Acids, pH
Velocity
Solids, three-phase flow, scaling
Design data needed for external corrosion control
Operating temperature
Water temperature
Water movement
Depth of water
Burial
Pipe size and length
External corrosion failure modes
Seawater corrosion, scowering, abrasion of the coating, and sea bottom movement
Galvanic corrosion (dissimilar metals in an electrolyte)
Oxygen concentrations cell corrosion (pitting and crevice corrosion)
Design Of Risers Effects The Choice Of Coating Materials
Riser can be coated
Fusion Bond Epoxies
Three-layer systems
Rubber linings
Risers can have extra wall thickness for corrosion and mechanical damage allowance
Typical Pipeline Coatings For Corrosion Control
External pipeline protective coatings
Fusion bond epoxy
With a rough coat
Polyethylene coatings (2 layers)
Three-layer
Polyolefin coatings (3-layer PE and 3-layer PP)
Bitumen, asphalt and coal tar coatings
Coal tar epoxies
Coal tar urethanes
External concrete coatings
weight coatings
Polymer concrete
Qualification requirements for fusion bonded epoxy coatings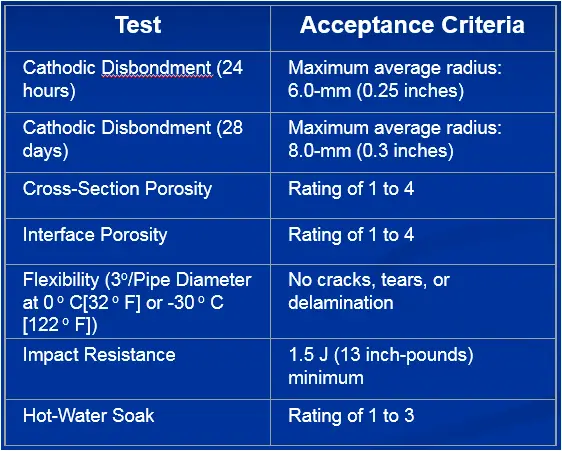 Typical properties for extruded polyolefin coatings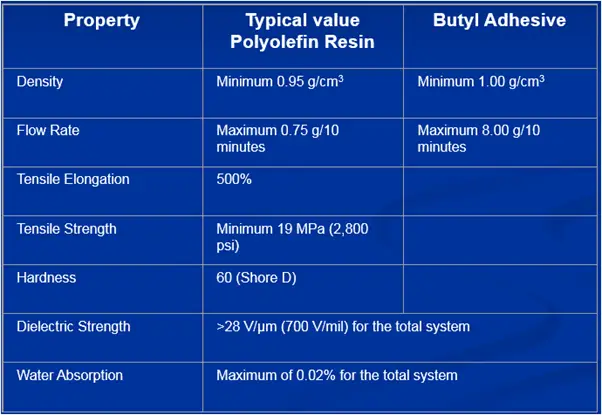 Typical properties for coal tar enamel coatings
Typical corrosion allowances for internal corrosion of carbon steel subject to in-service corrosion: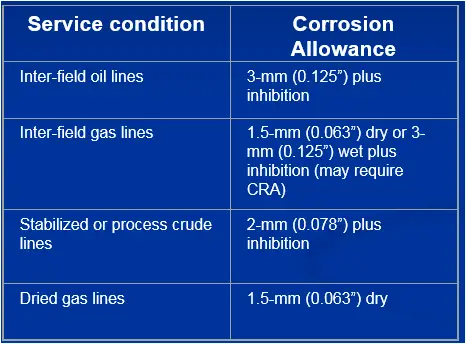 Cathodic Protection of Sub-sea Pipelines
Impressed current cathodic protection (ICCP)
Onshore
Offshore
Sacrificial cathodic protection
Bracelet anodes
Aluminum
Zinc
Cathodic protection design parameters and coatings design considerations:
Monitoring and Inspection of Coatings
As part of the corrosion designs for offshore pipelines, corrosion monitoring and corrosion inspection plans are needed.
These plans are intended to monitor the effectiveness of corrosion mitigation and to measure changes as the pipeline ages.
Determining the effectiveness of corrosion control
Side scanning sonar detect areas where the pipeline may be bridging the ocean floor
shifting of the ocean floor
Cathodic protection monitoring
potential survey
current drain surveys.
These surveys provide information about the condition of the cathodic protection system coating performance and coating breakdown.
Inspection and testing can demonstrate pipeline integrity
In-line inspection tools
Magnetic flux leakage
Ultrasonic testing
Hydrostatic testing
Pressure testing
Spike testing
Coatings supplemented with cathodic protection can result in long service life
The first line of defense for an offshore pipeline is the coating on the pipe. Many different types of coating are used for offshore pipelines.  Coatings for offshore must have good resistance to water absorption, cathodic dis-bondment, and strong adhesion to the pipe.
Cathodic protection is used to protect holidays in the coating.
The testing of coatings can provide some guidance concerning the ability of a coating to survive the offshore environment.  Coating history and performance is very valuable information.
Few more Pipeline related useful Resources for You..

Underground Piping Stress Analysis Procedure using Caesar II
Comparison between Piping and Pipeline Engineering
A Presentation on Pipelines – Material Selection in Oil & Gas Industry
Corrosion Protection for Offshore Pipelines
Start up and Commissioning of the Pipeline: An Article
DESIGN OF CATHODIC PROTECTION FOR DUPLEX STAINLESS STEEL (DSS) PIPELINE
AN ARTICLE ON MICRO TUNNELING FOR PIPELINE INSTALLATION
A short presentation on: OFFSHORE PIPELINE SYSTEMS: Part 1
Factors Affecting Line Sizing of Piping or Pipeline Systems
Few Job Opportunities for You