A gasket is a soft sealing material closed between two flanges in order to make a leak-free sealing application. For proper functioning and cost-effectiveness of flanged joints:-
Flanges must be enormous stiff and massive.
Flange faces should be super smooth.
Flanges should be closed without tension on the pipes
Flanges should be 100% parallel.
But the above is economically not feasible.
Functions of a Gasket
Hence the solution is to use relatively light and cheap flanges in combination with the correct finish in combination with compressible soft GASKET. So the main functions of a GASKET are:
The gasket material has to fill the uneven surface of the flange in order to prevent leakage between the gasket and the flange surface.
The gasket material has to overcome the misalignment of the flanges in order to prevent leakage between the gasket and the flange surface.
Leakage through the gasket has to be reduced to the minimum against internal pressure-Emission
Characteristics of a Gasket
The gasket material has to be soft in order to compress this in the irregularities of flanges.
The gasket should be Gas-Liquid tight so that it does not leak or cause emission.
The gaskets should not creep under influence from stress and temperature. This could result in lower bolt stresses and possible leakage.
The resilience of the gasket should take static and dynamic effects due to stress, temperature, and pressure.
The gasket has to withstand internal pressure without being blown out.
The gasket should be capable to achieve sealing at elevated temperatures.
It has to be resistant to the chemical attack of the medium without polluting the media.
It should possess anti-stick properties such that when opening the flange, the gasket has to loose easily from the flange.
It has to be stiff enough to make installation as easy as possible.
Gasket Selection
Flange Construction- The thickness of the flange has an effect on the bolt load and therefore seating stress. Thin and deformed flanges need softer gaskets.
Standardization-
Quality Studbolts-
Emission Parameters- Each selected gasket has different emission parameters.
Flange Misalignment- Maximum misalignment of flanges will be 0.4 mm.
Why do Gaskets Leak?
Damage during assembly
Poor Gasket selection
Excessive flange rotation
Gasket damage or relaxation due to flange rotation
Gasket damage due to differential thermal expansion
Incorrect assembly bolt load
Load loss due to thermal fluctuation
Gasket load loss due to pressure and or piping loads
excessive gasket relaxation
Excessive gasket load
What costs are involved with a Gasket failure?
Low profit due to leakage
Cost of online sealing with clamps
Cost of re-matching
Cost of replacement equipment
Cost of Engineering and maintenance hours spent addressing leakage
Report of incidents and additional paperwork
Pollution of environment
Cleaning costs
Possible personal injuries
Cost of disassembly, repair and machining
What could engineering do to prevent leakage through Gaskets?
Proper selection of the correct assembly bolt stress
Correct location, constraint and width of the sealing
Consideration of bending loads, misalignment.
Quantify effects of gasket creep/relaxation
Quantify effects of temperature and pressure
Maximum permissible assembly load
Correct gasket selection
Root cause analysis
Basic calculations for Gasket Selection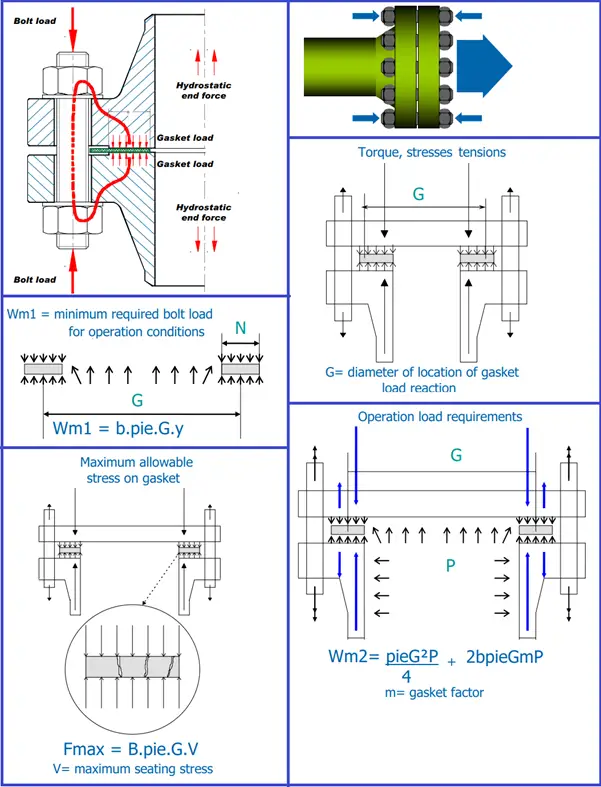 Gasket Materials
Rubber gasket
Fibre Sheet Gaskets (Asbestos, Aramide, Acrylic, Carbon, Ceramic, Rockwool, Glass fibers, Carbon fibers, Graphite)
PTFE Gaskets
Graphite Gaskets
Spiral Wound Gaskets
Cam profile Gaskets
Flat Metal Reinforced Gaskets
Ring Type Joints
Insulating Kits
Metallic Gaskets