Hydraulic torque wrenches are versatile professional tools to provide controlled tightening of multiple-sized fasteners for industrial applications. It is an upgraded form of a portable torque wrench. A hydraulic torque wrench is a power tool used to provide torque to a fastener to tighten or loosen it properly through the use of hydraulics.
A torque wrench is used to draw the nut with an impact socket, either alone or in tandem. To a suitably lubricated fastener, hydraulic torque wrenches apply a specified, regulated amount of torque. George A. Sturdevant designed it in 1968. Since then, they've been employed in various industries, including transportation, field construction, and oil and gas exploration. On well-lubricated bolts or fasteners, hydraulic torque wrenches are used.
Hydraulic torque wrenches (Fig. 1) are lighter and operate more quietly than pneumatic torque wrenches. These wrenches are extremely precise to the tune of ±3% and have a long service life. They're suitable for industries and applications that require large bolts to be torqued precisely.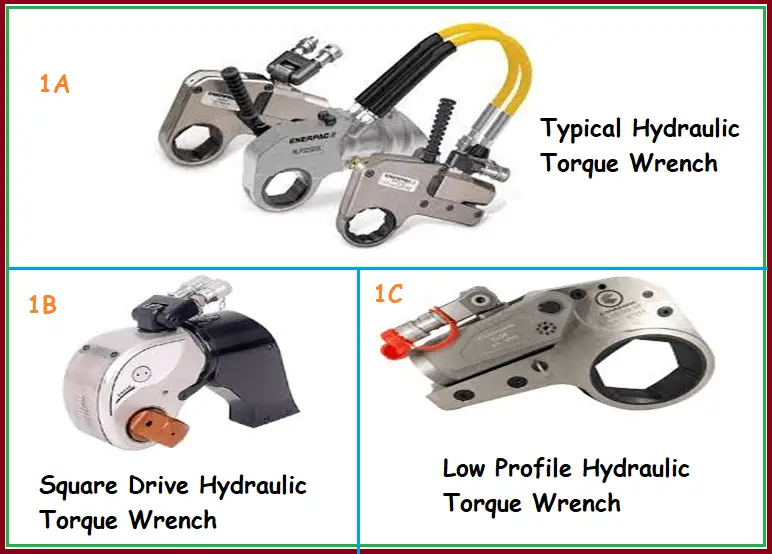 What is a Hydraulic Torque Wrench?
A hydraulic torque wrench is a specialized tool designed to apply a specific amount of torque (rotational force) to a bolt or nut. Unlike conventional manual wrenches, hydraulic torque wrenches are powered by hydraulic pressure, which provides exceptional control, accuracy, and power. They are widely used in industries such as construction, manufacturing, oil and gas, and aerospace, where precise bolting is crucial.
How to Use a Hydraulic Torque Wrench?
1. Connect the Parts:
Started by connecting one end of the hose to the power pack and the other end to the wrench. After that, double-check that all fittings are properly fastened, and all components are connected.
2. Adjusting the Settings:
You can position the right torque levels for your project using your new hydraulic torque wrench settings. If the project has a pre-determined torque level, stick to it. If you don't have a torque setting, start with the lowest and work your way up, careful not to overtighten any fasteners.
3. Starting to make use of the Wrench:
Begin by tightening the nut with the torque wrench, making sure the gasket is properly positioned if one is required. On one side, the twist will feature a big hole in the shape of a nut or hex bolt. Before using, make sure you understand the operating instructions completely. Next, please turn on the torque wrench and wait to reach the desired torque level. The twist will come to a halt when it reaches this level, and you can remove it.
The Working Principle of the Hydraulic Torque Wrench:
It's crucial to remember that the hydraulic torque wrench's operating concept is founded on Newton's Law, which states that there is an equal and opposite reactive force for every force applied. Tension is formed in the opposite direction when a wrench is spun on a nut or bolt. It functions as a clamping force, pulling the bolted components in the same sequence with a certain pressure or load. As the torque increases, the joint integrity weakens, allowing the bolt to loosen or tighten.
The amount of torque required to tighten or loosen a joint is determined by its length, size, and type, as well as the quality of the fastener and the lubricant used.
An electric hydraulic pump distributes power from the power supply to the hydraulic wrench through twin high-pressure tubing. After starting, it generates pressure through the motor inside. Then it transfers hydraulic oil from inside to the hydraulic wrench through the tubing medium and then pushes the piston rod of the hydraulic wrench driving the front section of the twist. Finally, the ratchet wheel can move the driveshaft to complete the bolt's pre-tightening task.
Electric hydraulic pumps are among the supporting goods for hydraulic wrenches, such as solenoid valve drives (electric) or compressed air drives (pneumatic). The hydraulic wrench's working head comprises three primary components:
the body (also known as the shell),
the cylinder, and
the transmission sections.
A pair of motions comprises the cylinder output force, the cylinder piston rod, and the transmission components. The magnifying arm of a hydraulic wrench measures the distance between the cylinder center and the transmission component center. Therefore, the theoretical output torque of a hydraulic wrench is equal to the cylinder output force multiplied by the force arm. However, the actual output torque is smaller than the theoretical output torque due to friction resistance.
Types of Hydraulic Torque Wrench
Depending on the application there are two types of Hydraulic torque Wrenches.
Square Drive Hydraulic Torque Wrench, and
Low Profile Hydraulic Torque Wrench
Square Drive Hydraulic Torque Wrenches:
One type of hydraulic torque wrench is the square drive hydraulic torque wrench (Fig. 1B). Its driving shaft drives the impact socket to pre-tighten the nut, and it's commonly used to tighten and remove bolts larger than one inch. In addition, it is used with various high-strength sockets to act on bolts of multiple specifications within a tolerable torque range. The square-drive hydraulic wrench is more general-purpose than the low-profile hydraulic torque wrench, with wider uses.
The one-piece fuselage may greatly improve the fuselage's strength and durability. It has a longer service life, is harder and lighter, and can match a range of working heads with just one powerhead. There are no constraints on operational space because 360° x 180° rotating tubing couplings are used. You may freely put the 360° fine-tuning reaction arm on a stable fulcrum with the trigger-style lock, easy to press. Each stroke turns 27 degrees and moves quickly.
When using a precise ratchet, the accuracy can be as high as 3%. The short nose radius makes it easy to maneuver in tight spaces. Surface anti-corrosion treatment for use in extreme conditions. Square-drive wrenches are available in a variety of sizes. Aluminum-titanium alloy and high-strength alloy steel are used in all of the items.
Low Profile Hydraulic Torque Wrenches:
Its drive shaft rotates the socket to pre-tighten the nut, which is commonly used to tighten and remove bolts larger than 1 inch in diameter (Reducers can be used for smaller bolts). It's typically employed in situations when there's a limited amount of working area, double nuts, small bolts, or nuts that are too close to obstructions, among other things. Most engineering demands are met with our hollow hydraulic torque wrench variants. All of the products are constructed of aluminum-titanium alloy and high-strength alloy steel, and they have high strength, high toughness, a thin design, double-acting, high speed, and a huge corner.
Low profile hydraulic torque wrench (Fig. 1C) has a maximum operating pressure of 70 MPa and torque repeatability of 3%. The 360° rotating hose attachment is ideal for small spaces and easy positioning. The low-profile hydraulic wrench is sturdy because of its strong design.
Applications of Hydraulic Torque Wrenches
Hydraulic torque wrenches are commonly used for large-size bolts in shipbuilding, petrochemical, wind power, hydropower, thermal power, mining, oil rigs, machinery, steel mills, rubber, heavy equipment, pipelines, and other industries construction, maintenance, and emergency repairs. Installation and disassembly are both vital tools; other tools are indispensable since they are simple to use and give highly accurate torque. Some specific applications of hydraulic torque wrenches include
Construction: In the construction industry, hydraulic torque wrenches are used to assemble steel structures, bridges, and concrete forms, ensuring the structural integrity of these projects.
Oil and Gas: The oil and gas sector relies heavily on hydraulic torque wrenches for assembling pipelines, wellheads, and other critical components in harsh environments.
Aerospace: In the aerospace industry, precision is paramount. Hydraulic torque wrenches are used to secure bolts on aircraft engines, landing gear, and other vital parts.
Manufacturing: Hydraulic torque wrenches play a vital role in manufacturing, where precision bolting is essential for the production of machinery, vehicles, and consumer goods.
Selection of Hydraulic Torque Wrenches
Appropriate hydraulic torque wrench selection depends on various parameters. Some of those parameters are listed below:
Application: The main parameter for selecting the right hydraulic torque wrench is the application. For example, Low profile wrenches are suitable for applications having limited access.
Required Size and Torque Range
Material of Wrench for Durability
Cost/Investment
Heavy User or Occasional User
The bolt requirements are solved with a hydraulic wrench, and torque must be understood. Customers are normally aware of bolt specifications; however, while some of the required torques are known, we are unaware most of the time. When picking the type, this necessitates an awareness of the bolt material and strength grade to compare it to the wrench manufacturer's recommendation table. To remove lock bolts, use the recommended torque.
The various working environments should be known to identify the type of hydraulic wrench required accurately. We all know that hydraulic wrenches can be classified into driven hydraulic wrenches and hollow hydraulic wrenches. These parameters determine whether the driving type or the hollow type is used.
If various data like Bolt distance, bolt-to-equipment-body distance, bolt outcrop height, etc fall within the scope of the drive shaft hydraulic wrench's application, the space can be filled, and the response arm has a place to rest, the drive type must be the driven hydraulic wrenches.
On the other hand, if one item is not within its applicable range, you must consult the different parameters of the hollow-type hydraulic wrench torque-appropriate model. If it fulfills the requirements, you may select the open type. However, in other cases, such as when the spacing is extremely large, and the wrench's reaction force isn't as reliable as it should be, you'll need to consider producing tooling aids to remedy the problem.
Specification of Hydraulic Torque Wrench
Hydraulic Torque Wrenches are specified by the following parameters:
Application
Type of Hydraulic Torque Wrench (Square Drive or Low Profile)
Required torque Rating
Maximum Operating Pressure
Accuracy required (usually +/-3%)
Repeatability required (Usually +/-1%)
Weight of tool (Usually less than 10 Kg)
Attachments/Accessories required
Impact Socket Sizes
Reaction Arm rotational capability (usually 360 Degrees)
Advantages Of Hydraulic Torque Wrenches
Hydraulic torque wrenches provide a multitude of benefits like
Hydraulics assist in tightening nuts and bolts with minimal force.
This hydraulic tool has a high degree of precision.
Self-ratcheting torque wrenches are hydraulic torque wrenches.
This gadget will stop adding additional torque after the desired torque has been achieved.
For heavy-duty applications like flange bolting, hydraulic torque wrenches are perfect.
Save money by avoiding damage caused by improper bolting.
Reduce the amount of time it takes to tighten nuts.
Joint perfection is improved.