What is a Load Case with respect to piping stress analysis?
Stress Analysis of critical piping systems is an important activity for every Piping Stress engineer. And The main part of the stress analysis activity after modeling the piping system is to create the required load cases as per the governing codes and standards. So, knowledge of creating appropriate load cases is very important.
In layman's form, A load case can be described as a group of piping system load parameters (parameters like weight, pressure, temperature, etc that causes a load or force in the piping) that occur at the same time and hence, analyzed together. For example, in an operating temperature load case, thermal, piping weight, and pressure will create load in the piping system together. So load cases will be created by adding all three. Similarly, During hydro testing, water-filled pipe weight and hydro test pressure will create a force on the piping parts. So, the Hydrotest load case will be created using those two design parameters.
Again, a load case can also be composed of the combinations of the results of other load cases that we will see soon.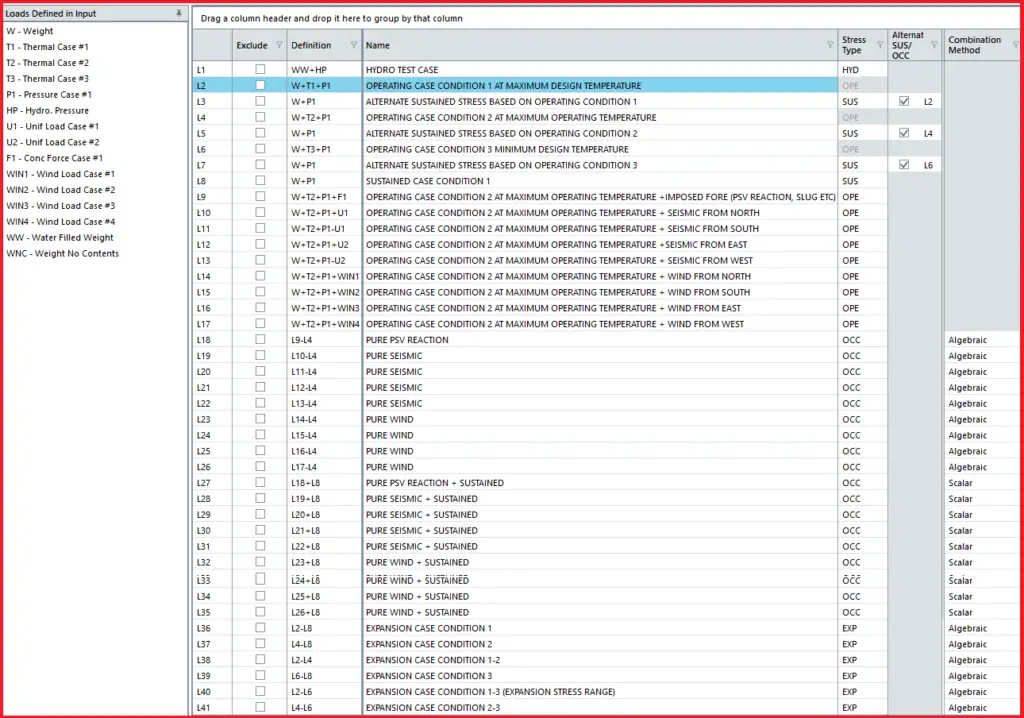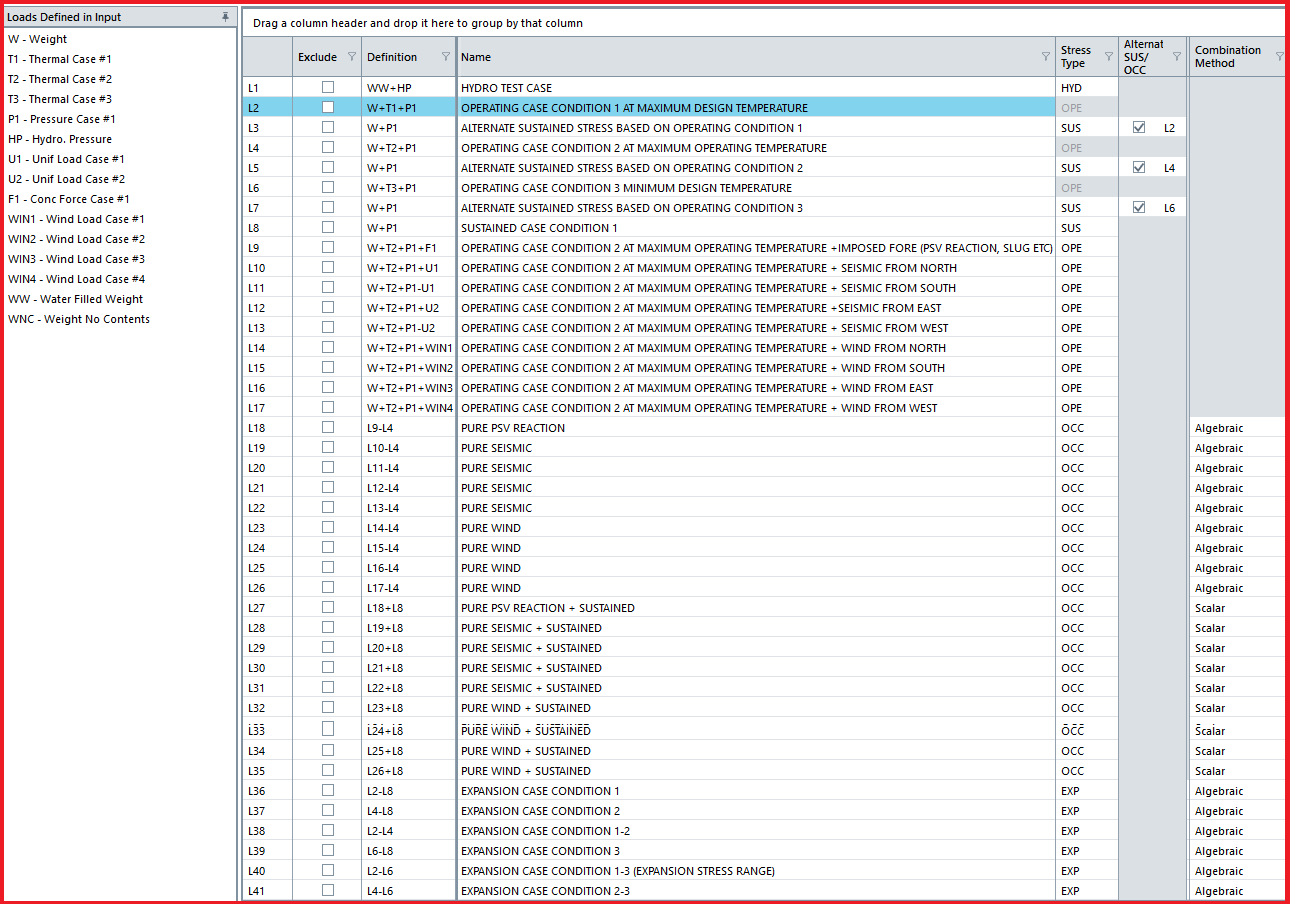 Purpose of Load Cases
The stress analysis software normally calculates the system stress, displacement, and force values with respect to created load cases and displays the output result which serves several purposes like
Provides Pipe Support Loads to design supports and structures.
Provides Equipment Nozzle and Tie in point Forces and Moments to compare with vendor allowable
Provides Calculated Stresses as per code to compare with relevant codes
Provides displacements to decide and check pipe clashing, routing, sagging, etc.
Loads generated in Piping System for Load Case Generation
Various input parameters are provided on the Classic Piping Input dialog box that is the main cause for load generation. In Caesar II a huge list of available load parameters is present. The following tables list the individual load set designations, their names, and the input items, which make them available for analysis.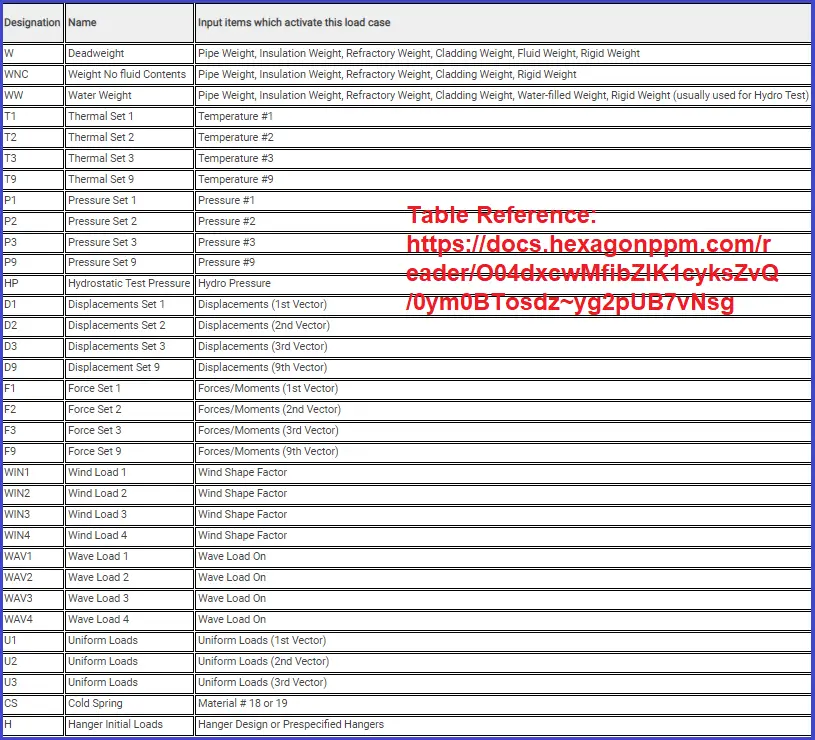 Click Here to Know more about the Load Cases for Stress Analysis of a Critical Process Piping System Using Caesar II
Static Load Case Editor Webinar Details
Hexagon PPM is conducting a Webinar on March 10th, 2020 to explain the basics of the CAESAR II Static Load Case Editor. Vice President of Analysis Solutions, Hexagon PPM, Mr. Richard Ay will explain the important features of the powerful Static Load Case Editor. In this webinar, he will explain the following points in brief:
The basic theory behind load case construction
Steps followed while importing and exporting load cases using Excel
Required load cases for various piping codes and conditions
This webinar will also describe the special load cases that are generated for hanger design, fatigue, creep, occasional conditions, alternate-sustained cases, and load case template options.
How to Access the Webinar
To access the webinar click here and submit your details.
Video Tutorial for Load Case Creation
Refer to the following video tutorial that clearly explains the load cases creation methodologies used in Caesar II.
Few more literature for you.

Piping Stress Analysis Basics
Piping Stress Analysis using Caesar II
Piping Stress Analysis using Start-Prof
Piping Layout and Design