Materials for surface facilities:
Piping: GRE, FBE coated CS / HDPE lined CS, DSS / SDSS
Well hook-up: FBE coated CS, DSS / SDSS
Bulk injection lines: HDPE lined CS, GRE
Injection flowlines: Coated CS, HDPE lined CS, GRE
Valves: bodies DSS / SDSS or CS with coating or 825 / 625 weld overlay; trim DSS / SDSS
Pumps: bodies & impellors DSS / SDSS
Materials for sub-surface facilities:
Tubing: Coated CS, GRE lined CS
Metallic materials for piping & well hook-up:
DSS / SDSS

DSS PREn > 34
SDSS PREn > 40

Coated CS
FBE-coated pipe, spools & fittings
HDPE lined CS
Loose-fit liner and roto-lined spools & fittings
Metallic materials for valves & pumps:
Valves: CS, CS with 825 / 625 overlay for Bodies; & DSS / SDSS, 825 for trim
Pumps: CS, CS with 825 overlays for Bodies & DSS / SDSS impellors
Non-metallic materials:
GRE:
First used in 1982 for low-pressure water systems and fire fighting systems
>1300 km GRE pipelines, 113 km water service & remainder in multiphase service
On-plot piping
Successful use requires:
Proper design: standards (ISO/company), qualification testing, stress analysis (supports/anchors), eliminate vibration
Manufacture: QC during production
Installation: experienced crews, supervision & inspection
Installation of adhesively bonded joint (Fig. 1):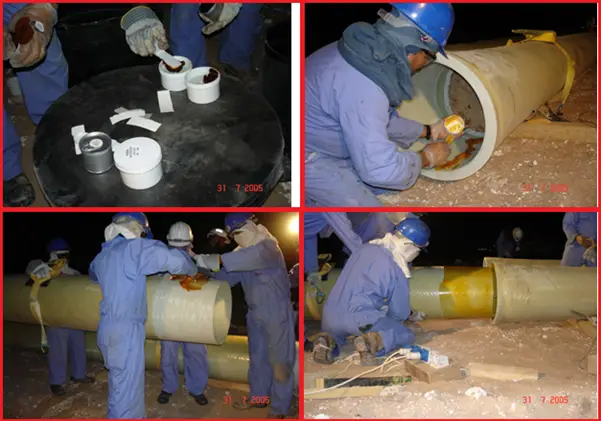 GRE Failures:
Most occur during installation due to:
Poor workmanship
Insufficient anchoring
Poor flange alignment
In-service failures are rare & only 2 have occurred: One involved a flowline and the second was on a flange connected to a pump
In service failures (Fig. 2):
6" production flowline operating at 5 bar and 60 deg C with > 98% water-cut failed after 4 years due to Insufficient wetting of fibers during manufacture.
Flange on 250 mm diameter piping in oil service directly connected to a pump cracked causing a leak due to pump vibration causing mechanical failure at the flange/pipe interface
HDPE:
The loose-fit liner has been used for water injection lines since 1988
>205 km HDPE lined CS pipelines in water service
Rotolined spools and some HDPE-lined CS pipe are used for on-plot piping
No limit on pressure; the temperature is 70 deg C for the liner, and 60 deg C for rotolined spools
Successful use requires:
Proper design & installation: standards (company)
Installation: experienced crews/supervision for butt fusion welding of pipe & flanges, & for applying correct tension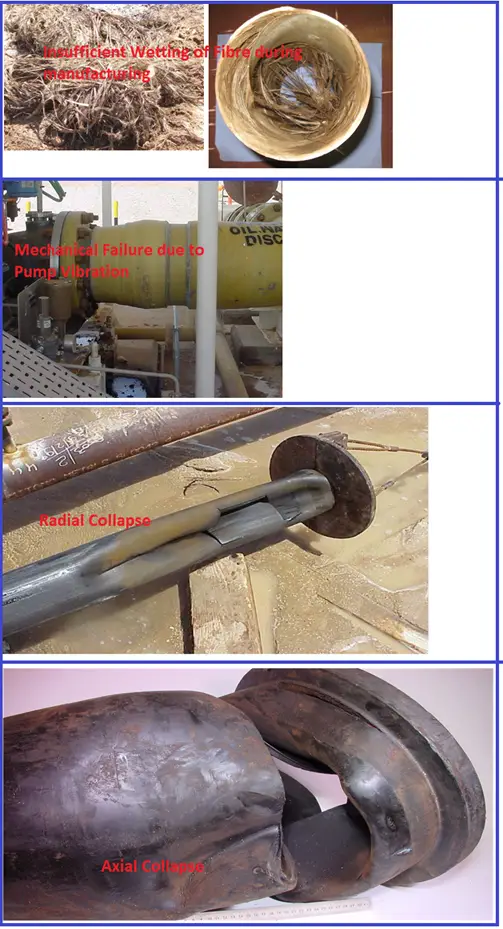 Failure modes:
Radial collapse: HDPE liner collapses inwards radially due to vacuum conditions occurring during the shutdown procedure or a pressure build-up in the annulus between the liner and the CS pipe.
Axial collapse: HDPE liner buckles inwards due to compressive axial stress resulting from differences in thermal expansion between the steel pipe and the PE liner itself.