For the first time, We have come up with an online Complete Piping Engineering Course that covers most of the aspects of piping engineering starting from piping engineering basics, followed by piping materials, testing, codes and standards, Piping Layout, Pipe Stress Analysis, and Pipe Supporting concepts and philosophies. The complete course consists of 200+ lectures prepared by highly experienced piping engineers serving the industry for more than 15 years.
In the 42.5 hours of online video lectures, the instructors have provided whatever they have learned in their vast working experiences with various reputed MNCs. Most of the learnings, best practices, and philosophies are presented in a step-by-step tutorial format so that students can learn all the concepts with ease.
The complete piping engineering course has been divided into four sections as follows: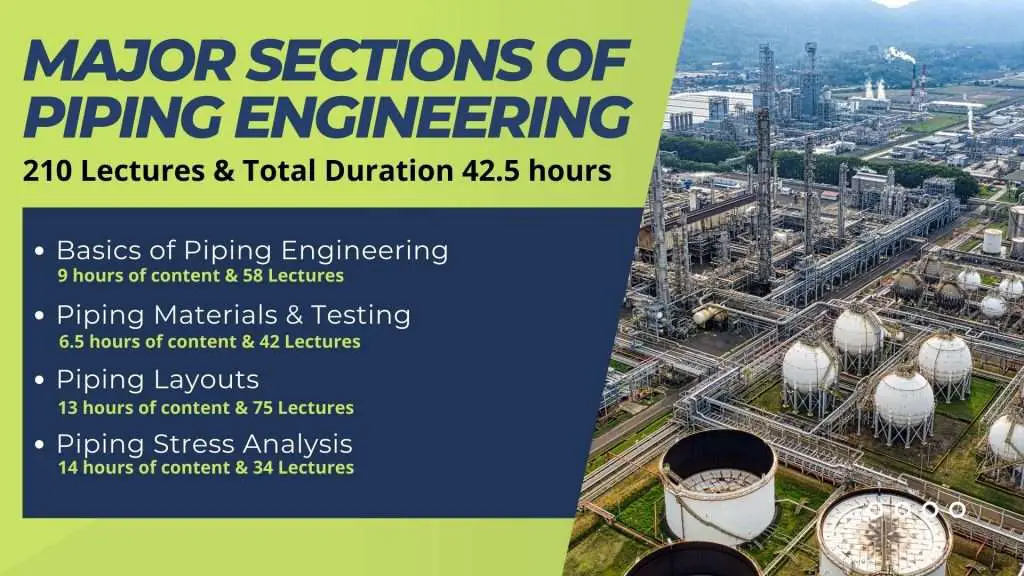 Section 1: Basics of Piping Engineering (9 Hours)
This section talks about the basics of the process industry, where various topics have been organized in such a way that anyone can understand what a process industry is and how it works. In this section, majorly the following topics are covered
Energy Sector
Oil and gas Industry
Crude Oil Processing
Refinery vs Petro-Chemical
Engineering Organization
Piping discipline
Various Disciplines & stakeholders
How piping Department Works
Piping Systems for Beginners
Life Cycle of Oil & Gas projects
Life Cycle Phases
Life Cycle Stages of Oil & Gas
Life Cycle Initiation
Life Cycle planning & Execution
Life Cycle Closing
Components of Piping Engineering
Pipe, Valves & Flanges
Strainers & Steam traps
Codes & Standards
Introduction to Stds
Difference between ASME B31.1 & B31.3
ASME & API Standards
Dimensional Standards
Material Standards
Valve design Standards
Pipe thickness
Painting & insulation
Piping Deliverables & Non-Deliverables
Manhour Estimation
Section-2: Piping Materials & Testing (6.5 hours)
In this section, various ASTM standards have been discussed in detail, starting from the basics of metallurgy. Various Lattice structures have been discussed so that the actual usage in the industry can be understood. Moreover, the chemical & mechanical properties of various types of steel are discussed in length. anyone who goes through these details will be able to understand and implements the facts in live projects. The following sections have been discussed in detail:
Basics of Metallurgy
Understanding FCC & BCC structures-
Voids
Slips & Dislocations
Behavior of Carbon
Various ASTM Standards for
Carbon Steel
Stainless Steel
LTCS Material
Alloy Steel
Inspection, Testing & Marking
Metallurgical Test Index
Destructive Tests
Non-Destructive testing Types
Pipe inspection & Marking
Impact testing
Section-3: Piping Layouts (13 Hours)
The piping layout is one of the most important section of Piping Engineering because it is the only department that takes inputs from nearly all the disciplines and outputs from the layout department is utilized by almost all the other disciplines. The piping Layout department has to produce the maximum number of deliverables which can make piping engineer's life miserable, if not planned well. Following topics have been covered so that after getting practical knowledge same could be implemented in live projects.
Interaction with Process Department
Design Basis
3D model
Layout Development
Plot plan
Pump Piping
Pipe rack Piping
Exchanger piping
Compressor Piping
Column piping
Tank Farm Layout
Underground Piping
Model reviews
Material Take-off
Piping General arrangement Drawings
Nozzle orientations
Isometrics
Section-4: Piping Stress Analysis (14 hours)
Pipe Stress analysis is an integral part of Piping engineering which decides the flexibility of critical & non-critical piping systems. Caesar II is used in most cases to perform the stress analysis. In this section, not only Basics of stress analysis are explained but how to perform the analysis in CAESAR II is explained in detail. Moreover, this section talks about actual stress analysis for various vessels & equipment in detail. The pipe Support section talks about Pipe Support selection, Pipe Support spans, and Standard & Special Supports. The topics covered are
Basics of Stress Analysis
Inputs required
Stress Critical Line list
WRC 537 & WRC 297
Thickness calculation
Flange Leakage Checking
Expansion Loop calculation
Learning Caesar II
Basics of Caesar II
Creating Load Cases
Static Load Case Editor
Wind & Seismic Analysis
Slug & Surge Analysis
Modal Analysis
Stress analysis
Pump Piping
Horizontal vessels
Buried pipe
Storage Tanks
GRE piping
FRP piping
PSV Piping
Pipe Supports
List & Role of Supports
Supporting Span
Standard & special Supports
Spring & Hanger supports
Support Optimization rules
Who can take this Course?
The online piping engineering course will be suitable for
Any chemical or mechanical engineer planning a career in the piping engineering industry.
Existing piping engineers who wish to gain overall knowledge on all aspects of piping engineering.
How to Enroll for this Course
To enroll in this course, please follow the below-mentioned steps:
Visit the course page by clicking here. Read all the details of the topics it covers on the landing page.
Click on Add to Cart Button.
Next Click on View Cart Button
Then click on Proceed to Checkout
Fill in the billing details and check the box saying create an account. Put your user name and password. (Alternately you can create your login details initially by clicking here before proceeding with purchasing)
Check the box I have agreed to the website terms and conditions.
Select the relevant payment option and finish the payment by clicking the complete payment button.
The order is complete now. The processing usually takes up to 6 hours to get access to the course. For quicker access, you can call/WhatsApp on +91-9560191444
Now Start learning from the course.
If you find any difficulties in accessing the course or for any other problems during purchasing, kindly drop a mail on Support@epcland.com or contact directly by calling on +91-9560191444