Natural Gases from reservoirs can not be used in their raw form as they contain various contaminants. So natural gas must be treated before commercializing it and the process is known as gas treatment or natural gas treatment.
Contaminants of Natural Gas
Gas contains various contaminants
Hydrogen Sulfide (H2S)
Hydrogen Cyanide (HCN)
Carbon Dioxide (CO2)
Carbon Sulfide (COS)
Carbon Disulfide (CS2)
Mercaptans (R-SH)
Water (H2O)
Sulfur Dioxide (SO2)
Gas contains other components and Heavy Hydrocarbons such as
Pentane
Hexane
Benzene
Toulene
Xylene, etc
Process Overview of Gas Treatment
Hydrocarbons in production wells constitute three parts; Oil, Gas, and Water (Fig. 1). In a three-phase separator, all three elements are separated. The natural gas containing various contaminants is then subjected to gas treatment processes to sell or market it for the end-user.
Reason for Natural Gas Treatment
Removal of the above-mentioned contaminants is required for the reason:
Toxicity
Gas product specifications
To prevent poisoning of catalysts in downstream facilities
Control of the overall heating value of the natural gas
To meet environmental requirements
To prevent freeze-out at low temperatures
To prevent hydrate formation
CO2 & H2S are very common contaminants in Natural Gas Systems
Reason for CO2 removal from Natural Gas:
When combined with water forms Carbonic Acid which is corrosive
CO2 reduces the BTU value of the gas
If present in 2-3% gas is not saleable.
Reason for H2S removal in Gas Treating:
Extremely toxic gas
Highly corrosive
Reason for Mercaptants (R-SH) removal during Gas treatment:
It has smell
If comes in contact with bacteria (inside the final product storage) then released H2S
2R-SH Bacteria R-SSR + H2S
Specification for Export Quality Natural Gas
The following table shows the permitted quantities of elements in natural gas for export purposes.
| | | | |
| --- | --- | --- | --- |
| Specification | Units | Maximum | Minimum |
| Gross Heating Valve | Btu/scf | 1154 | 940 |
| Carbon Dioxide | Mole % | 1 | — |
| Nitrogen | Mole % | 2 | — |
| Hydrogen Sulphide | ppm vol | 5 | — |
| Mercaptan Sulphur Content | ppm vol | 5 | — |
| Oxygen | ppm | 25 | — |
| Moisture Content | lb/MMSCF | 10 | — |
| Max Water Dew Point | °C | 2(at delivery pressure) | — |
| Max. Hydrocarbon Dew Point | °C | -2(at delivery pressure) | — |
Table 1: Elements in Export Quality Natural Gas
Typical Shales Gas Specifications
Fig. 2 below shows the specification for shale gas and Fig 3 shows the specification for LNG products.
Natural Gas Treatment Steps
Gas treatment is achieved in three steps
Gas Sweetening (Removal of H2S, CO2, etc)
Gas Dehydration (Removal of Water)
Gas Dew Pointing (Removal of Heavy Hydrocarbons)
The following Figure (Fig. 4) shows the steps involved in the gas treatment process.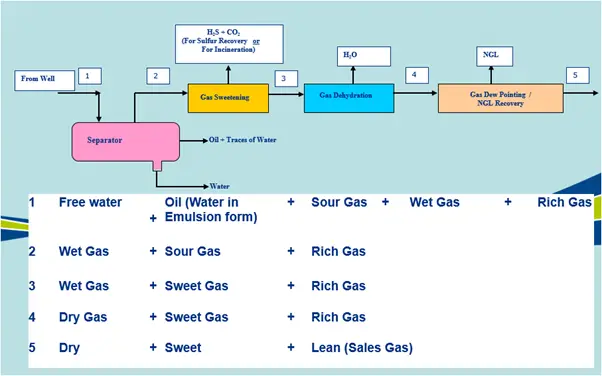 Gas Sweetening Process
Various processes are used for Gas sweetening as listed below
Chemical Solvent
Physical Solvent
Chemical + Physical Solvent
Solid Bed
Direct Conversion
Acid Gas Removal Processes:
| | | |
| --- | --- | --- |
| Chemical Solvent | Physical Solvent | Direct Conversion |
| MEA (Mono Ethanol Amine) | Selexol® | Iron Sponge |
| DEA (Di-ethanol Amine) | Rectisol | Stretford |
| TEA (Tri-ethanol Amine) | Purisol | Unisulf |
| MDEA (Methyl Diethanol Amine) | Spasolv | Takahax |
| DIPA/Shell ADIP® | Propylene Carbonate | LO-CAT® |
| DGA/Fluor Econamine® | Estasolven | Lacy-Keller |
| Proprietary Amine | Alkazid | Townsend |
| Benfield (Hot Carbonate) |   | Sulfint |
| Catacarb (Hot Carbonate) |   |   |
| Giammarco-Vetrocoke (Hot Carbonate) |   |   |
| Diamox |   |   |
| Dravo/Still |   |   |
Table 2: Acid Gas removal Process
Gases removed by different processes:
Process
Gases Removed
 
CO2
H2S
RHS
COS
CS2
SOLID BED
Iron Sponge
 
X
 
 
 
SulfaTreat
 
X
 
 
 
Zinc Oxide
 
X
 
 
 
Molecular Sieves
X
X
X
X
X
CHEMICAL SOLVENTS
MEA – mono ethanol amine
X
X
 
X*
X
DEA – diethanol amine
X
X
 
X
X
MDEA – methyl diethanol amine
 
X
 
 
 
DGA – diglycol amine
X
X
 
X
X
DIPA – di isopropanol amine
X
X
 
X
 
Hot Potassium Carbonate
X
X
 
X
X
Proprietary Carbonate Systems
 
 
 
 
 
Table. 3: Gases removed by a different process
Process Capabilities for Gas Treatment
| | | | | |
| --- | --- | --- | --- | --- |
|   | Normally Capable of Meeting 1/4 Grain H2S | Removes Mercaptans and COS Sulfur | Selective H2S Removal | Solution Degraded (By) |
| Monoethanolamine | Yes | Partial | No | Yes (COS, CO2, CS2) |
| Diethanolamine | Yes | Partial | No | Some (COS, CO2, CS2) |
| Diglycolamine | Yes | Partial | No | Yes (COS, CO2, CS2) |
| Methyldiethanolamine | Yes | Slight | Yes | No |
| Sulfinol® | Yes | Yes | Yes | Some (CO2, CS2) |
| Selexol® | Yes | Slight | Yes | No |
| Hot Pot – Benfield | Yes | No | No | No |
| Fluor Solvent | No | No | No | No |
| Iron Sponge | Yes | Partial | Yes | –– |
| Mol Sieve | Yes | Yes | Yes | –– |
| Stretford | Yes | No | Yes | CO2 at high concentrations |
| LO-CAT® | Yes | No | Yes | CO2 at high concentrations |
| Chemsweet | Yes | Partial for COS | Yes | No |
| | | | | |
Table 4: Process Capabilities of Gas Treatment
Gas Dehydration
Glycol Dehydration
Solid Desiccant Dehydration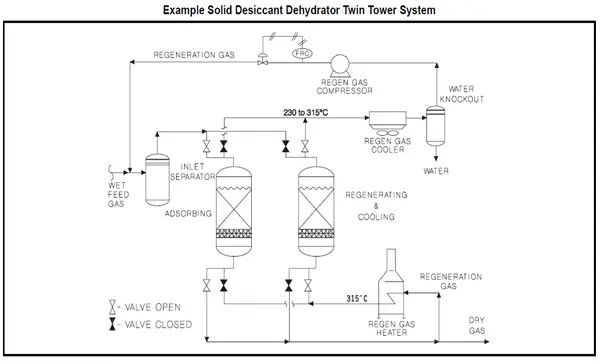 Gas Dew Pointing for Gas Treatment
The gas dew pointing is done in any of the gas treatment methods mentioned below:
Propane Refrigeration
J-T Refrigeration
Turbo Expander
Fig. 7 shows a typical schematic of the Refrigerated J T Process