The term Scaffolding is related to construction and education. In education, scaffolding means breaking the complete learning into small chunks and learning easily using various tools, techniques, and structured ways. However, in the context of this article, we are interested in exploring the term scaffolding with respect to the construction industry. Let's start with the scaffolding definition.
Scaffolding Definition
During construction, maintenance, or repair work, to support the work crew and materials, temporary structures are built. These temporary structures are called Scaffolding. Scaffolding helps in access at heights and is widely used in all types of construction works. This impermanent structure works as a platform to support the working class to perform its construction activities. As scaffolding involves work at height, it is designed following safety regulations to reduce hazards. Surveys show that a major percentage of accidents in construction industries are directly or indirectly related to scaffolding. So, the scaffolding contractor and scaffolding workers should perform their duties with the utmost care. High-quality materials should be used for scaffolding design.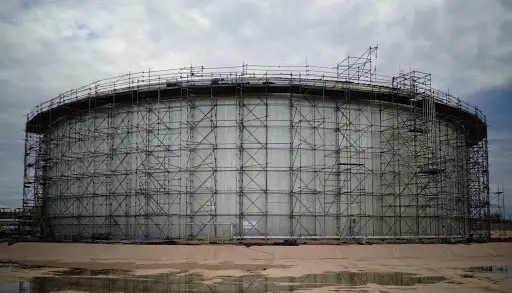 Scaffolding Parts or Components
The major components of scaffolding are as follows:
Standards: Perpendicular tubes that transfer the weight load to the baseplates. To increase the height of scaffolding, standards are connected using pins and socket joints.
Ledgers: Flat horizontal tubes that join between the standards. Ledgers connect multiple bays. Ledgers decide the height of the working platform.
Transom or Bearer: Transoms are used to support standards and they are at the right angles to the ledgers. Transoms define the bay width
Scaffolding Tubes: Steel or Aluminium tubes are used in scaffolding.
Couplers: Fittings to hold tubes together. They are of three types; Putlog Coupler, Swivel Couplers, and Right Angle Couplers.
Diagonal Braces: Strengthen the basic structure to carry more loads.
Boards: Steel, Aluminium, or wooden boards that provide the working area.
Adjustable Base Plates
Guard Rails
Decks or planks
Toe Boards
Putlogs: Putlogs are transverse members that are placed on one end on ledgers and the other ends at right angles on the wall.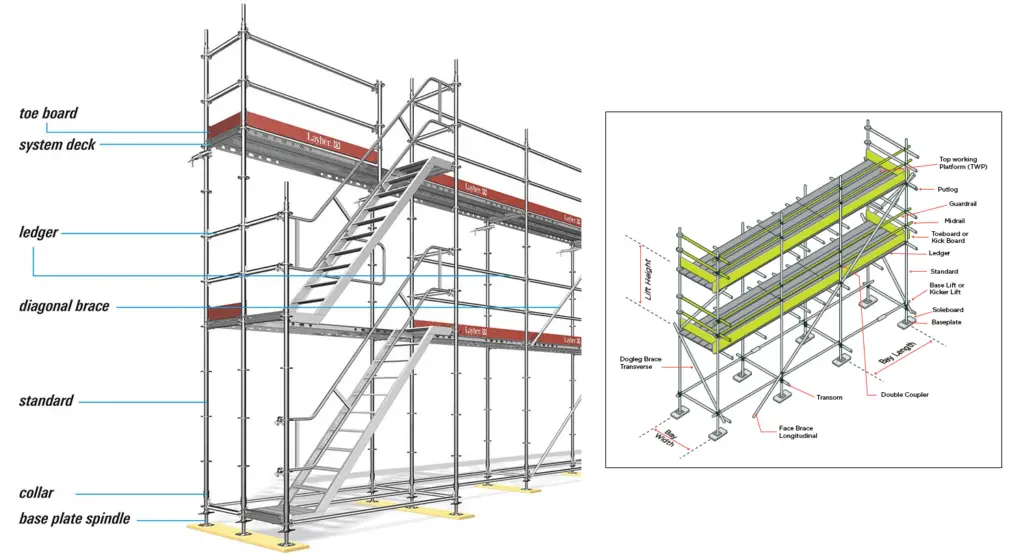 Scaffolding Types
Depending on the type of construction and its requirements to meet various job applications, the Scaffolding structure varies. Broadly, the following scaffolding types are used in the construction industry:
Cantilever Scaffolding
Trestle Scaffolding
Single Scaffolding
Double Scaffolding
Steel Scaffolding
Suspended Scaffolding
Kwikstage Scaffolding
Cantilever Scaffolding
Cantilever scaffolding is widely used where the ground surface is not suitable for setting up conventional scaffolding. Cantilever Scaffolding or needle scaffolding is highly effective when maintenance or construction is needed at great heights or when the project has space constraints. A group of cantilever or needle beams is used to reinforce cantilever scaffolding. Cantilever scaffolding is also known as Single frame scaffolding.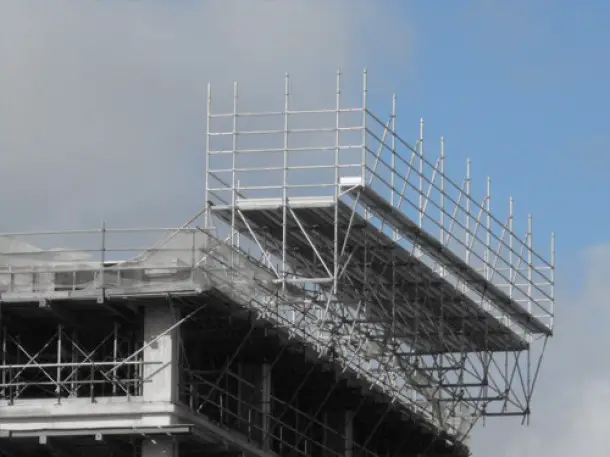 A cantilever scaffolding normally constitutes of the following components:
A Platform
Toe Boards
Protective rails
Trestle Scaffolding
Trestle Scaffolding is a highly popular movable scaffolding that can be used up to a height of 5 m. They are fitted with wheels and can be transferred from one place to another very easily. They are used for light-duty work, normally for indoor work.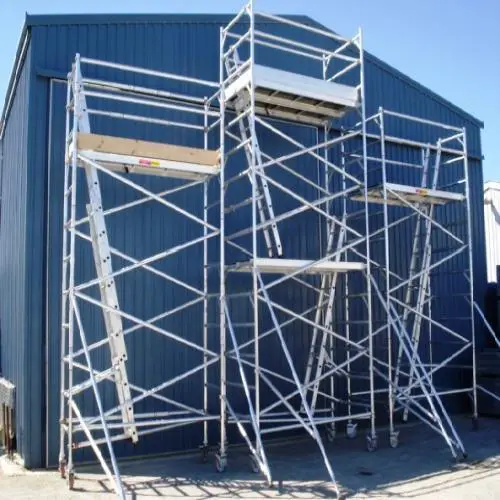 Single Scaffolding
Single Scaffolding is made of only one row. A series of vertical members are fixed into the ground parallel to the structure being made. Normally, a single scaffolding is used for building construction. This is also known as the brick layer's scaffolding.
Double Scaffolding
Double scaffolding is much stronger than single scaffolding. They are also popular as independent scaffolding as two rows of scaffolds is put together that create an independent strong structure. Double Scaffolding is commonly used in stone masonry.

Steel Scaffolding
Steel scaffolding is costly scaffolding but provides greater strength and durability and more resistance. In the process and power piping industries, steel scaffolding is widely used. As the name denotes, the material used is steel in steel scaffolding which can be erected and dismantled quickly. Steel scaffolding is suitable and safe for working at great heights. For big construction works steel scaffolding is preferred over other types.
Suspended Scaffolding
As the name says, these scaffoldings are suspended using ropes or chains from overhead structures. Mainly used for repair and painting works, suspended scaffolding provides a greater range of mobility as their working height is adjustable depending on height requirement.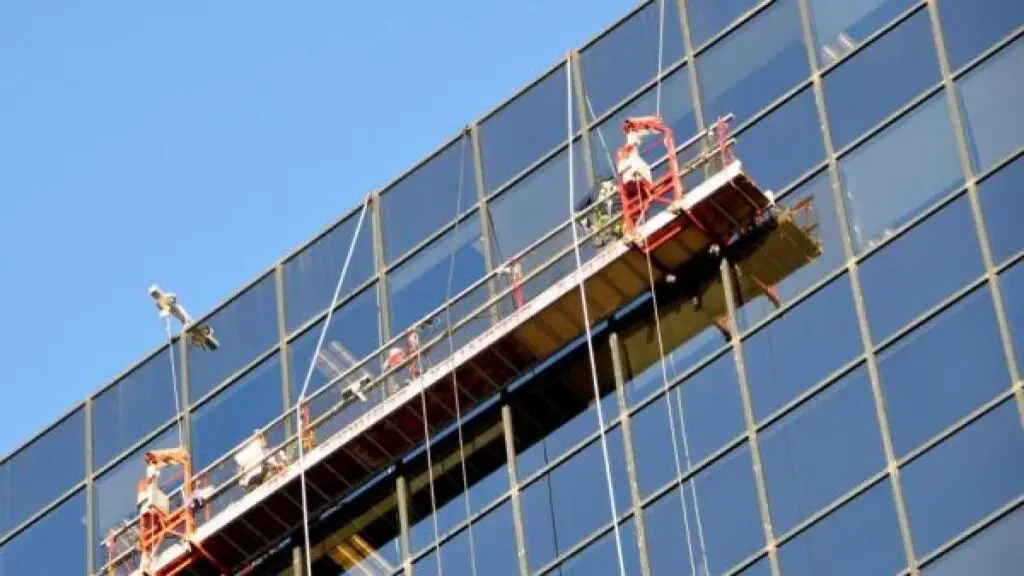 Kwik-stage Scaffolding
This Scaffolding system uses galvanized steel and is very easy to assemble or disintegrate. They provide a strong and safe scaffolding system and are hence highly popular in both big and small construction works.
Types of Scaffolding OSHA
As per Occupational Health and Safety Administration(OSHA) Scaffolding is classified into two groups. They are:
Supported Scaffolding supported by rigid load-bearing members: Supported scaffolds are elevated platforms supported by legs, uprights, posts, frames, outrigger beams, brackets, poles, or similar rigid support. Suitable bracing should be provided to prevent swaying and excessive displacement of these structural members.
Suspended Scaffolding which is suspended by non-rigid members from overhead structures.
Scaffolding Design
As Scaffolding involves the safety of working professionals it must be designed with utmost care. The design of the scaffold should consider the following:
The supporting structure should be sufficient in strength, stability, and rigidity;
The safety of personnel associated with the erection, alteration, and dismantling of the scaffold; the safety of persons using the scaffold; and the safety of persons in the vicinity of the scaffold
The following information is required for designing the scaffold.
The location of the Site.
Time Period for the scaffolding to be erected.
Intended use of the scaffolding.
Length and Height.
Maximum working loads.
Nature of surrounding supporting structure; etc.
The following codes and standards are used for the design of scaffolding: OSHA scaffolding standard (1926.451), NZS 3404.1, NZS 3603, AS 1538, AS 1664, AS 1554.1, AS 1665 or NZS 4701, as appropriate.
Scaffolding design should consider the worst load combination expected during its service period. Dead (Weight of Structural members), Live loads (Weight of Persons), and Occasional loads (wind, earthquake, snow, etc) are to be considered.
To avoid cracking the floor the beam deflection must be limited to 1/360 of the span. Scaffolding where heavy loads are expected must be checked for this deflection criteria.
As per OSHA Scaffolding guidelines, the following considerations should be taken into account for scaffolding design:
Each scaffold and scaffold component should be designed to support its own weight and at least four times the maximum intended load applied or transmitted to it.
Loads in excess of their maximum intended loads or rated capacities shall not be applied on scaffolds and scaffold components.
Guardrails along all open sides and ends shall be installed before releasing the scaffold for use by employees, other than the erection and dismantling crews.
Scaffolding Materials
The widely used materials for scaffolding are Steel and Aluminum.
Steel is the most preferred material for scaffolding due to its great strength and durability. Also, Steel as Scaffolding material provides a certain amount of elasticity to prevent cracks. Steel can support high loads, and workers can use it for transporting heavy equipment and supplies. For tall scaffolding structures, steel material is a necessity from the strength requirement point that only steel can provide.
However, Aluminum is a good alternative for less demanding conditions with short heights.
Scaffolding floors are normally made of wooden boards or decking made from steel or aluminum. When wooden boards are used as scaffolding floor material, their ends are protected by metal plates known as hoop irons or nail plates.
Scaffolding Hazards and Risks
Working in scaffolding is full of risks. Scaffolding hazard increases with an increase in height. Studies represent that more than 65% of the construction workforce needs to work on scaffolds. Various incidents confirm the high frequency of scaffolding hazards. The major scaffolding hazards are:
Falls from scaffolding due to improper guardrail installation.
The collapse of the scaffold due to improper erection.
Falling Material from scaffolds makes the nearby region vulnerable to hazards.
Electrical hazards due to improper planning.
Slips and falls from planks
Overloading platforms.
Rolling scaffolds.
That's why it is always suggested to inspect the scaffolding each day before starting the construction work. Many organizations use a standard checklist to ensure the scaffolding is suitable for working before work begins. The Occupational Safety and Health Administration (OSHA) provides guidelines for such checklists.