What is a Sour Environment?
NACE defines a Sour environment is one which contains enough H2S either in the gaseous or aqueous media.
Properties of Hydrogen Sulphide
Chemical Formula: H2S
Odour: Rotten Egg
Boiling point: 60OC
Specific Gravity: 1.19
Odour level: 0.13 mg/kg
Fatality of Hydrogen Sulphide ( mg/kg)
Respiratory breakdown: 100
Nerve paralysis: 150
Nausea, Dizziness: 200
Unconsciousness: 500
Asphyxiant, Fatal: 700
What is Sour Service?
Sour Service is defined as a fluid service containing water as liquid & H2S exceeding the limits defined below:
Sour Gas-
Sour Gas Service is defined as the gas service
IF            Total Pressure of the gas being handled is > = 65 PSIA
AND       Partial Pressure of H2S in the gas is > 0.05 PSIA
Then      The Environment is SOUR Gas
Sour Oil and Multi-phase
IF            Fluid handled is Crude or Crude+Water+Gas
AND
Gas to Oil Ratio > 5000 (SCF/bbl)
H2S content in Gas-phase > 15%
Partial Pressure of H2S in Gas Phase > 10 PSIA
Surface operating Pressure > 265 PSIA
Then     The Environment is SOUR Oil
Sour Scenario in the oil industry as per NACE MR-01-75
Refer to the below image (Fig. 1) which shows a curve segregating the sour and non-sour region as per NACE MR-01-75. The curve denotes the amount of H2S requirement for qualification of being Sour at a given absolute pressure.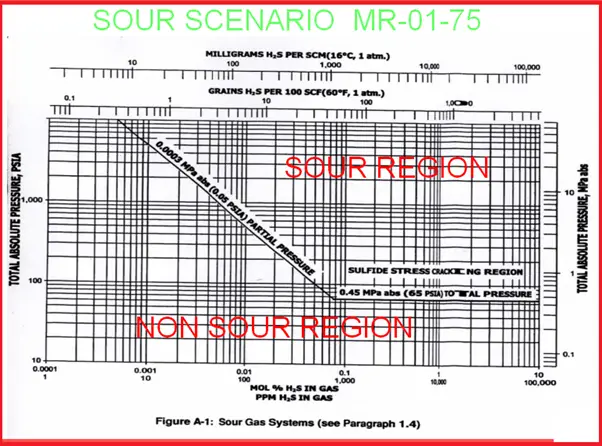 Limitations of NACE MR-01-75
Saltwater wells, injection wells
Downstream Industries, Petrochemical
Refineries and Chemical plants
Low-pressure multiphase systems
HIC Scenario – API Nelson Curves
Refer to Fig. 2 which shows the HIC and Non-HIC region.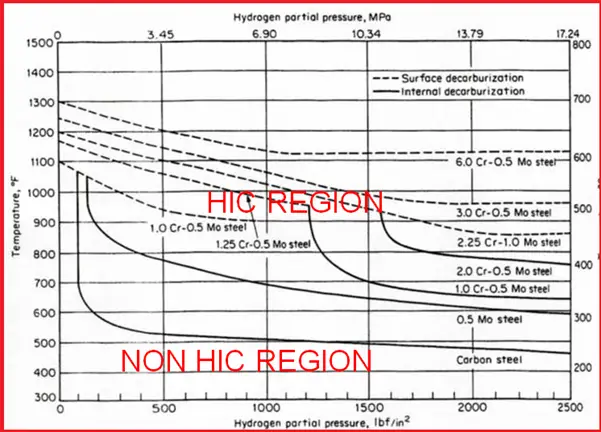 Sour Scenario as per ISO 15156 / EFC 16
Fig. 3 shows the sour service criteria as per ISO 15156/EFC 16.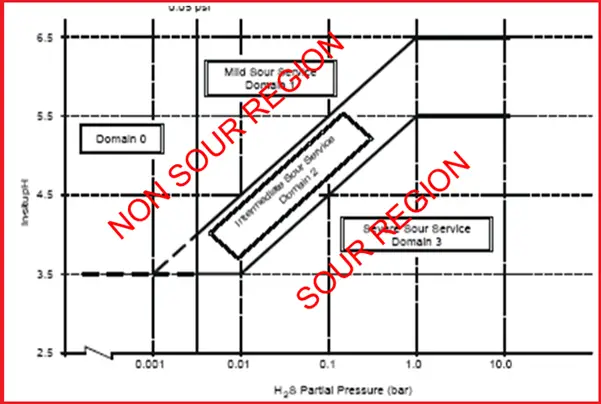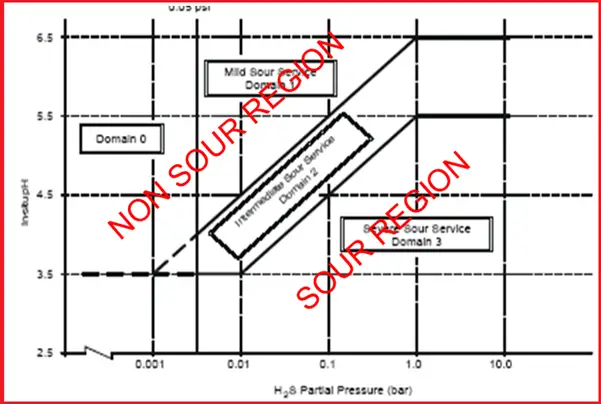 Sour Service H2S ppm Criteria as per DEP
Shell DEP provides the following H2S criteria for fluid services
0 to 49 PPM: Sweet Service
0 to 499 PPM: Low-Risk Sour Service
500 + PPM: High-Risk Sour Service
Hydrogen Sulphide – What it Can Do!
Hydrogen- Hydrogen Induced Cracking (HIC)
Sulphide- Sulphide Stress Cracking (SSC)
Dynamics of Sour Environments
Fig. 4 shows the dynamics of sour service environment.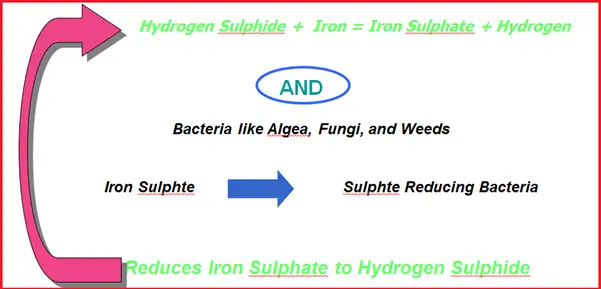 What is Hydrogen Induced Cracking?
HIC    =   Hydrogen Induced   Cracking =Caused due to Hydrogen attack on metal
Also known as
Hydrogen Damage
Hydrogen Embrittlement
Hydrogen Blistering
Delayed Cracking
Lamellar tearing
Underbead cracking
Stepwise cracking
Mechanism of Hydrogen Induced Cracking or HIC
Refer to Fig. 5 which shows the mechanism of HIC.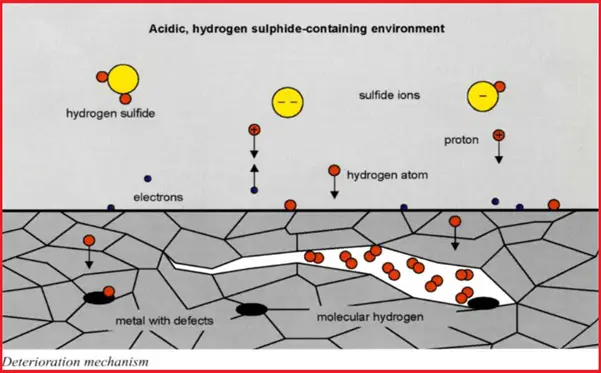 Exhibit – Hydrogen Induced Cracking
Fig. 6 shows an example of a crack by HIC.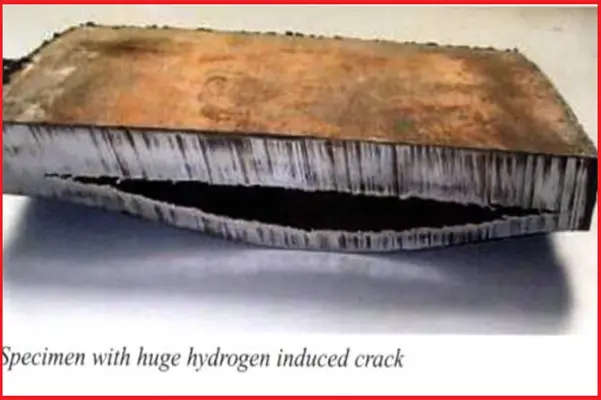 Requirement of HIC Resistant Materials
Requirements for Carbon and Low Alloy Steels
The hardness of Parent Material Less Than 22HRC (237 BHN)
The steel shall be fully killed ( SILICON / ALUMINIUM)
The material should be Heat Treated by NORMALIZING / ANNEALING / Q AND T
Carbon content shall be less than 0.23% and Carbon Equivalent (CE) less than 0.43
Sulphur and Phosphorus less than 0.002%
Requirements like Calcium Treated, Inclusion Control.
Requirements for Austenitic Stainless Steel
Hardness on Parent Materials less than 22HRC (237 BHN).
Heat Treated by Solution Annealing.
Requirements for Duplex and Super Duplex Stainless Steel
Hardness on parent Material less than 25 HRC.
Heat Treated by Solution Annealing.
Ferrite shall be 35% to 65%.
Few more Resources for you..

Guide for Coating Selection for External Bolting to Reduce Corrosion
Corrosion Monitoring Techniques & Surveys
Corrosion Protection for Offshore Pipelines
Forms of Corrosion: An Article
Corrosion under insulation: A Presentation