The 10X Rule Summary
Achieving success is no more difficult. The only thing is one has to follow the sure-shot rules. In the book "The 10X Rule", the best selling author Mr. Grant Cardone outlined a few such rules which if followed to the core will lead to success for anyone. Success is not for any specific person. It is for everyone who follows the success rules that are the same for all.
Normal people in this World operate with only three degrees of action-no action, retreat, or normal action. But as per the entrepreneur author Mr. Grant Cardone if you are targetting big goals then you don't want to settle for the ordinary. The author suggests the rules for making you successful. As per the author, To reach the next level, you must understand the coveted 4th degree of action. This 4th degree that is also known as the 10X Rule, is that level of action that guarantees individuals and companies fulfill their goals and dreams.
The famous best seller book, The 10X Rule provides the principle of "Massive Action". While taking concrete steps to reach your dreams, It allows you to blast through business clinch and risk-aversion. The author also explains why most people get stuck in the first three degrees of actions and how to proceed for making the 10X Rule a discipline. In this short review, Find out exactly where to start, what to do, and how to follow up on each action you take with more action to achieve Massive Action results.
Learn the "Estimation of Effort" calculation to ensure you exceed your targets.
To defy mediocrity, make the Fourth Degree of action a way of life.
Find out the time management myth.
Find out the exact reasons for success and failure.
Discover the exact formula to solve problems.
Ordinary actions can not bring extra-ordinary results. By definition, Extreme success is outside the realm of normal action. If you want to achieve extreme success then take Massive Action following ​The 10X Rule instead of behaving like everybody else and settling for average results. You can lock yourself in massive success removing luck and chance from your everyday equation.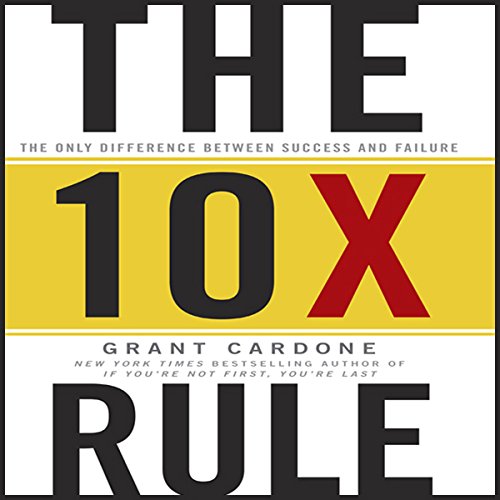 The 10X Rule Review
10x Target > 10x Problems > 10x Actions – What the 10x rule concept is all about
Average is bad – The effect of average goals on you and why you need to go beyond that in order to succeed
Love your problems – Why you should love problems instead of run away from them
Dominate – How to go beyond competition
Commit first, figure out later – Why you have to commit to executing now
Success is your obligation and responsibility – Own your success
1. 10x Target > 10x Problems > 10x Actions
What the 10x rule concept is all about:
10x your target: This is the first thing to do with the 10x rule.
Why 10x your goals?
Most of the time, your current goal is probably not exciting you enough. It's not giving you enough motivation and passion. So you need to multiply it by 10. You need to make it so big that it gets you excited about going for it.
What happens when you 10x your goals?
You get ​10x more problems.
This is because with bigger goals come bigger challenges and problems.
How to overcome 10x problems?
Take ​10x more action.
10x your action.
You have to take 10x more action than what you thought you would need to take because you will have 10x more problems, challenges, and obstacles in your way ​once you go 10x on your goals/targets.
So, Simply put: ​10x your targets and then 10x your actions in order to address 10x problems.
2. Average is bad
The effect of average goals on you and why you need to go beyond that in order to succeed
Average goals are mediocre goals:
They don't really burn you.
They don't excite you.
They don't challenge you.
They feel too small for you.
As a result –
You do not give enough effort.
You find that you have no passion.
You feel like you have no fuel in the tank to go after the things that you want.
There's nothing that's pushing you to go beyond where you are today.
There's nothing that says you got to break this wall down.
There is nothing that's saying you have to crawl under.
But beyond average goals –
You're going to do whatever it takes, even a crawl.
You're going to claw your way through it.
You're going to break the wall.
You're going to jump in no matter what
Beware of the trap of making goals that are too small for you. You may never find the joy and excitement of going after something big if you keep falling for average goals. In fact, you're more likely to fail if your goals are average.
You can only succeed and win by having goals that excite you
3. Love your problems
Why you should love problems instead of run away from them
Problems and challenges are required in our life. ​We have to love our problems…because we will never run out of them.
If you are the kind of person who wants to avoid problems and run away from challenges, then this course and this book are not for you.
Problems will only get bigger. As you grow your business, the bigger your problems will be, but your life will get bigger as well.
You have to think of problems like your meals. The bigger the problems you're eating, the stronger and bigger your business will be, and the stronger and bigger you can be personally.
You need to eat them in order to grow. So don't run away from them.
Make yourself bigger than the next problems that come your way
rather than wish that the problems will go away.
Again, we will not run out of problems, but if we embrace them, we will be more powerful.
4. Dominate – How to go beyond competition
This 4th big idea from the book is that competition, as Grant Cardone says, is for sissies. Here's what he means:
Don't compete. Rather, dominate.
Be the one who owns the space.
Be the market.
Don't be the one who's just going to do average work.
Don't be just one of the many competitors.
Be the biggest, Worst one because you're going to outwork everyone.
Use the 10x rule.
You're not just one of the players in this space. ​You are the space.
5. Commit first, figure out later
Why you have to commit to executing now
A lot of times, what we end up doing is we just look at different contingencies and planning components.
We keep looking at the plan 10 to 20 steps down the line, and that's it.
But our job is just to say — "I'm going to commit to this and I'm going to figure it out along the way.
As the great General George S. Patton said —
"A good plan violently executed now is better than a perfect plan executed next week."
So ​commit to plan and figure it out as you go, rather than try to figure it out before you commit. ​
Don't try to outthink it. Don't try to figure out all the contingencies of everything that's going to happen because eventually, you will have different kinds of problems than what you even anticipated.
Execute now. If you wait a week or so from now to have everything figured out, by then it will be too late.
6. Success is your obligation and responsibility
Own your success Somehow we have this notion that the stars will align, that it will all just work out for us — but that's not the case.
What Grant Cardone is saying is that — if it's going to happen, it is all up to you.
You'll do whatever it takes to make it happen. You will take responsibility for it. Unless you are passionately following the thing that you're after, you're not really living your life. So it is important to go after success as your duty. Your success is nobody else's responsibility but yours. It's not just going to work itself out.