Flange Leakage is a serious concern during operation as it may cause to serious hazards. So, day by day, designing each piping component following operational integrity is becoming more and more difficult. Now checking flanges for leakage problems is common while pipe stress analysis. Every organization has some criteria on which flanges to be checked during the design stage.
Already various types of flange leakage checking methods are available in Caesar II as listed below. Click on the individual subject to access those:
Flange Leakage using the EN-1591 method
But from the Caesar II-2019 version onwards, the Hexagon team has incorporated an additional flange leakage checking method, by using the EN-1591 method.
Designing flanges with respect to the EN-1591 flange standard has economic benefits. Hence, these flanges have become popular and well-known. Hexagon PPM conducted a webinar in September 2019 to help Caesar II users learn the basics behind this sophisticated flange analysis method that has been implemented in CAESAR II 2019. As always, The analysis method possesses user-friendly features that automate the detailed input required for this standard.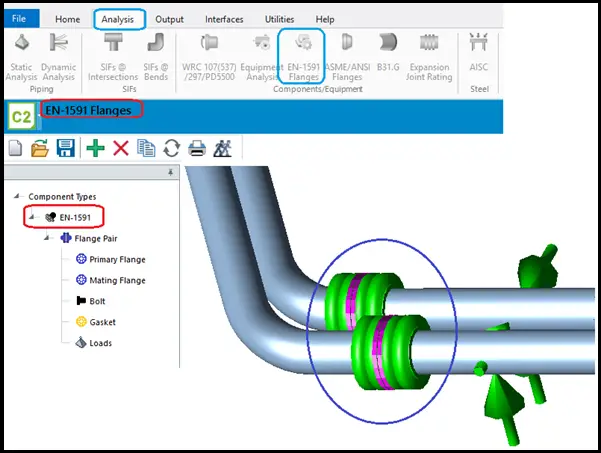 Objectives of the Webinar
Through this recorded webinar the Hexagon caesar II Experts will briefly explain the following:
The major benefits that users will find compared to the Taylor Forge Method.
EN-1591 Implementation Steps in Caesar II-2019
Steps for Designing and Analyzing Standard and non-Standard flange assemblies
Considering External force and moments and thermal expansion while leakage analysis
Steps to determine flange rotation, deflection and
Steps Bolting torque calculation
About the Presenters
Chris Bradshaw, Business Development, CADWorx & Analysis Solutions EMIA, Hexagon PPM
Working as a Business Development Specialist for CADWorx & Analysis solutions in Europe, Mr. Chris Bradshaw is responsible for the development and generation of existing and new businesses. Since 2004, He has worked with CADWorx, CAESAR II, and PV Elite. Earlier, He was an Application Engineer, providing pre-and post-sales technical support, customization, implementation services, and product training, helping clients get the best out of the entire CADWorx suite.
Richard Ay, P.E.  Vice President, Analysis Solutions, Hexagon PPM
A registered professional engineer, Mr. Richard Ay serves as the vice president for analysis products. In 1985, at the request of Tony Paulin, one of the founders of COADE, Ay joined the company, which later became part of Intergraph. He has worked on the development of CAESAR II, TANK, product licensing, QA, technical support procedures, and technical presentations. Ay has previous experience at a major EPC firm and an offshore consulting firm. He holds a bachelor's degree in Ocean Engineering and a master's degree in Civil Engineering. Ay is a member of ASCE and ASME.
How to register
To register for the recorded webinar and access it please click here and submit your details.