The purpose of this article is to provide brief information about different types of pipe internal coatings/linings, their uses, advantages, and limitations.
Purpose of Internal Coating
Piping Internal coating is provided for
Types of Pipe Internal Coatings / Lining
Common pipe internal coating and linings used for industrial piping systems are
Fusion Bonded Epoxy (FBE) Coating
Glassflake Coatings (Chemflake, Belzona, etc)
Pipe External Coatings
Pipes are usually provided with Stopaq, FBE, 3LPE, 3LPP, etc external coating.
FBE (Fusion Bonded Epoxy) Coating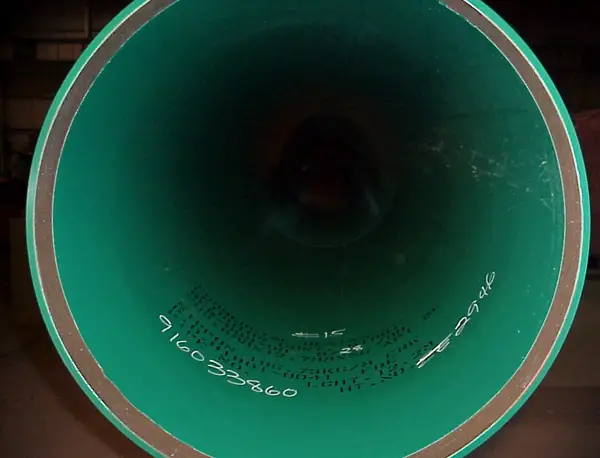 FBE or Fusion Bonded Epoxy is a high-performance anti-corrosion powder coating for moderate operating temperatures, generally suitable up to 80 °C. For higher temperature applications, special FBE grades such as TK-216 (up to 95 °C) & TK-236 (up to 120 °C) can be qualified subject to the Client's approval.
FBE Coating Application Procedure
The following steps are generally followed for FBE coating application inside piping and pipeline systems:
Visual inspection before blast cleaning to check the presence of oil, grease, etc.
The steel surface is thoroughly cleaned by blast cleaning which removes rust, scale, etc, and produces a rough surface finish. The roughness value required is 50 – 100 microns.
Heating: Induction heating or oven heating, usually in the range of 180 to 250 °C
The application and curing stage
Internal surfaces of pipes are coated using a spray gun, which travels from one end to the other end of the heated pipe at a uniform speed, while the pipe is being rotated in its longitudinal axis. After coming in contact with the hot surface, the powder melts and transforms into a liquid form. This liquid FBE film flows onto the steel surface and soon becomes a solid coating by chemical cross-linking, assisted by heat. This process is known as "Fusion Bonding".
Standard FBE coating thickness ranges between 250 to 500 microns (0.25 to 0.5mm).
After field welding of the pipe ends, FBE can be applied to the weld area as well.
FBE Coating Advantages
The main advantages that FBE coating provides are
Suitable for higher temperatures compared to PE/ROTO lining
Excellent adhesion to steel provides superior long-term corrosion resistance
It can be applied to various pipe diameters from 2" to over 48".
It can be applied to a wide range of thicknesses.
Good chemical resistance under most soil conditions.
Good abrasion and high-impact resistance
Limitations of FBE Coating
However, there are some limitations of FBE coating as listed below:
The maximum life of the FBE-coated pipe is 12 years, and if the plant design life is 25 years, one piping replacement is required.
Can be applied only in the shop
Applicators are not readily available
Complex design
Internal Glass Flake Coating (Chemflake, Belzona etc)
Chemflake/Belzona coatings are glass flake epoxy coatings as per PCS – 8 of SP-1246, normally suitable for up to 93°C operating temperature (Belzona can be used up to 120°C by using specific Belzona grades).
Suitable for higher pipe sizes & where Roto lining can not be carried out because of the weight limitation of the pipe spool.
Generally carried out inside a flanged pipe spool, for joining non-flanged pipe spools Thru-kote sleeves are used.
All flanges of Chemflake & Belzona coated piping shall be provided with a weld overlay of suitable material prior to dispatch for internal coating.
Internal Glass Flake Coating Application stages
Cleaning – blast cleaning. The roughness value required is 75 – 130 microns.
Spray – Normal airless spray or two-comp. airless spray equipment.
Brush – Recommended for stripe coating and small areas. Care must be taken to achieve the specified dry film thickness.
Curing – 1 coat requires around 24 hr to get a total dry film.
DFT: 2 x 750 micron (for Chemflake)            1 coat of 1000 micron (for Belzona)
Advantages of Glassflake Coating
The main advantages of glass flake coatings are
Good chemical resistance,
Good solvent resistance,
Good adhesion,
Low permeability,
Good weather properties,
Excellent gloss retention.
Limitations of Glassflake Coatings
Glassflake coating has the following limitations
Temperatures & pressure-dependent – suitable only for up to 10 bar pressure & for non-flowing or less velocity fluids.
Not suitable for abrasive fluids/slurries
May cause skin irritation,
Requires recoating intervals
Chalking (for epoxy)-Time-Consuming
Very costly
Used only for less number of spools, not for the entire project scope
Design life is only 3 – 4 years
PE & ROTO Lining
For further design details about PE/Roto lined piping please click here