Anti Corrosive Coatings on Steel are widely used to protect the pipes from corrosion. The protective coating layer helps the steel material to prevent corrosion and increase the useful life of the material. Anti-corrosion coatings are one of the most effective and economical options for tackling corrosion. Corrosion-resistant anti-corrosive coatings serve the following purposes:
Protect metal surfaces from degradation due to oxidation, and moisture.
Prevents direct contact with environmental chemical hazards.
Acts as a barrier from corrosive materials.
prolong the structural life along with increasing their efficiency.
Provides chemical protection, abrasion resistance, etc.
For industries like oil and gas, chemical, petrochemical, infrastructure, marine, power generation, etc., the use of anti-corrosive coatings and linings has become a necessity to safeguard the huge investments in terms of money, property, and safety of workers. The demand for high-performance anti-corrosion coatings is increasing day by day.
A wide variety of anti-corrosive coatings are available in the market to suit the performance requirements of a specific application. Therefore, the selection of anti-corrosion coatings is not an easy process. Various parameters need to be ensured during anti-corrosive coating selection. Sometimes, the coating manufacturer needs to be consulted for some specific information.
Corrosion in the Oil and Gas Industry
Corrosion in the Piping and Pipeline Industry is quite common. Corrosion is a loss of material due to "REACTION" with the environment.
Physical: erosion
Chemical: irreversible loss
Electro-chemical: electric microcell
Biological: bio-fouling
Corrosion manifests in different forms as listed below:
Erosion: commonly observed in lead-lined vessels; area of the vessel near the impeller
Pitting: micro holes in the relatively unattacked surface
Selective leaching: dezincification of Cu-Zn alloy
Intergranular: welding or improper heat treatment
Stress corrosion: welding, cold work, etc.
Crevice corrosion: electrochemical cell in the crevice
Points to remember
The steel surface for coating must be as clean as possible.
The metal surface must not have scratches.
The anti-corrosive coating itself must be environmentally friendly.
Types of Anti-Corrosive Coatings
Depending on the materials used, an anti-corrosive coating can be categorized into the following types
Natural Paints
Epoxy
Polyurethane
Synthetic Resins
Plastics
Phenolic
Composites
Alkyd
Lining:

Fiber Reinforced Plastics
Glass lining
Graphite
Rubber
Again, depending on the anti-corrosive coating application they can be divided into two groups:
Anti-corrosive coatings for new pipes, and
Anti-corrosion coatings for maintenance and repair work.
The specific application dictates the type of anti-corrosion coating to be used.
Rubber Lining as an Anti-corrosive agent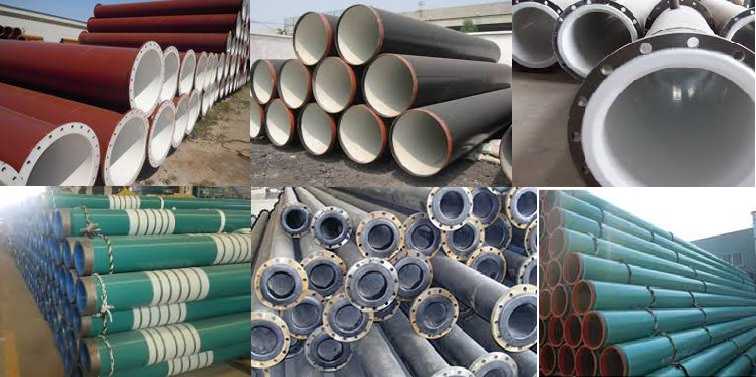 Types of Rubber Lining:
Natural Rubber
SBR
Neoprene(Polychloroprene)
Butyl (isobutylene)
Halogenated Butyl – e.g. Chlorobutyl
Applications of Rubber Lining:
Neoprene
Resistant to acid, abrasion, oil, and seawater.
High temperature and corrosive service, where natural rubber fails.
Butyl Rubber
Used for High-Temperature Corrosive service e.g. Reaction vessels
For Hot and abrasive services
Applications
Chlor-Alkali Plant
Phosphoric Acid Plant
DI water plants
Fluoropolymer Coatings & Linings
Anti-corrosive fluoropolymer coatings offer a blend of high-performance resins and fluoropolymer lubricants. Consisting of a dry film lubricant, fluoropolymer coating generates a smooth, hard, and slick final coating to provide excellent corrosion and chemical resistance.
Advantages of Fluoropolymer anti-corrosion Coatings & Linings
Anti-corrosion fluoropolymer coatings also provide the following advantages:
resistance to galling
non-wetting surface
reduced friction
non-stick surface
electrical resistance and
abrasion resistance.
Chemical inertness against nearly all substances
Broad application temperature range (-30oC to 260oC)
Very smooth material surface and anti-sticking behavior
Possibility of being electrically conductive
Impact-resistant
Absorbs pressure variations or impacts
Vibration decreasing
Insensitive to UV light
No softening agents used
Weather-resistant and approved for food and drugs service
Because of so many benefits, the application of fluoropolymer coating is extensive. Typical examples of anti-corrosive fluoropolymer coating and lining are
PFA    –  PERFLUROALKOXY
FEP    –  FLUORINATED ETHYLENE PROPYLENE
ETFE –   ETHYLENE TETRAFLUOROETHYLENE
ECTFE – ETHYLENE CHLOROTRIFLUORO ETHYLENE
PVDF – POLYVINYLIDENE FLUORIDE
PP – POLYPROPYLENE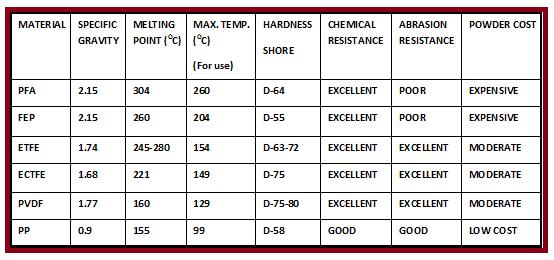 Advantages of High-Build Coatings
Drastically reduces permeation through the coating and possible corrosion of the metal substrate.
It lowers the metal content of the fluid being handled due to the reduction of permeation, substrate corrosion, and back migration of corrosion products.
Extends the life of the coating when exposed to abrasive media
Thick coatings can be repaired by welding if mechanically damaged. Thin coatings (<20mil) must be stripped and recoated if repairs are not possible.
Thick coatings operate better under pressure-vacuum cycling than thin coatings.
The cost of a thick coating is not directly proportional to its thickness. Longer online performance is achieved at only a small additional cost with high-build coatings. Less maintenance is an important benefit.
No welds exist with a high-build coated vessel in comparison to one that is sheet-lined. Welds in sheet-lined vessels are a known point of failure.
Used in all chemical processes with hazardous, corrosive, abrasive and-or toxic media.
Well-established in the chemical, pharmaceutical, and petrochemical industry
Ideal in any plant because of their good chemical and physical resistance and long lifetime in service.
Absence of sensibility against:

-mechanical impact
-alternating pressure
-vibration
-temperature shock
-aging
Application of High-Build Coatings
Typical applications of anti-corrosion high-build coatings are
Mixed beds
Water storage tanks
Pumps
Piping
Chemical storage tanks
Chemical day tanks
Filter housings
Wet bench components
Vacuum de-gasifiers
CMP components
Anti Corrosive Coating Selection Criteria
The parameters that must be considered while selecting a suitable anti-corrosive coating are
Chemical exposure
Permeability of the coatings to the materials to be processed
Pressure if handling gaseous materials
Purity, FDA, and USDA requirements
Maximum operating temperature
Abrasives, if present
Cost
Vessel configuration – dimensions, complexity
Desired fluoropolymer
Thickness of lining
Reparability
Track record
Anti Corrosive Coatings And Linings thickness selection criterion
If the corrosion rate of carbon steel is > 10 mpy (mills per year)-USE THICK LININGS
If the corrosion rate of carbon steel is < 10 mpy (mills per year)-USE THIN LININGS
THICK LININGS – >25MILS OR 0.635MM
THIN LININGS – < 25MILS OR 0.635MM
Coatings-Linings thickness selection criterion
Use Thin Lining For
Product purity
Nonstick
Localized corrosion
Use Thick Lining for
Difference Between Coating and Lining: Coatings Vs Linings
In terms of Thickness:

Coatings – 10 to 1500 microns (0.01 to 1.5mm)
Linings – 3000 to 5000 microns (3 to 5 mm)

The coating can be done from outside and inside but the lining is done only inside the pipe.
Lining in a pipe means a pipe inside a pipe, but the pipe coating is not the same.
Coatings are better than linings with respect to the following:
adhesive forces
vacuum application
heat transfer
thermal shock
Few more useful Resources for you…

An Article on Forms of Corrosion
Corrosion under insulation: A Presentation
Corrosion Protection for Offshore Pipelines
Corrosion Monitoring Techniques & Surveys: A short Presentation
Guide for Coating Selection for External Bolting to Reduce Corrosion
Application of Anti-Corrosive Linings in Oil and Gas Industry
Anti-Corrosive Composites for Oil and Gas Industry