The word "Geography" though not used often by us in our daily life, but its presence, reference, and value have become an integral part of our activities in the way
we do business,
we communicate,
we manage our resources
the way we live.
We are in the age of Enterprise GIS which helps to solve
Business problems
Automate Business processes
New ways to analyze business and spatial data by incorporating the knowledge of "Where" into the existing business models of "Why", "What" and "When".
Petroleum Industry – Need of Integrated Business-GIS:
The use of geography in analyzing and making decisions is not a new thing in the oil and natural gas industry. A good understanding of geography is required in every step of a petroleum industry starting
from locating a place to drill a well,
route a pipeline
from the exploration site to the refinery plant,
finding an ideal location for a refinery and a lot more
Petroleum Industry -Scope of GIS integration and Applications:
The petroleum Industry can be functionally divided into 2 categories.
Production and Refining Sector.
Retail Outlet Management and Distribution Network.
Productions and Refining Sector:
This involves the process of exploring new locations as petroleum reserves, managing the production of crude petroleum from earth strata, managing the pipeline network to transfer crude sources to refining plants, and facility management of various resources connected to such a huge industry.
1-Petroleum Exploration:
Exploration requires the analysis of a lot of different types of data such as satellite imagery, digital aerial photo mosaics, seismic surveys, surface geology studies, subsurface and cross-section interpretations and images, well locations, and existing infrastructure information.
Analysis Process: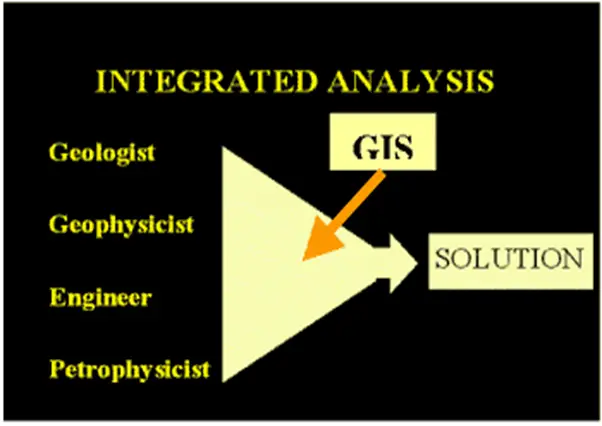 2-Production:
To produce found reserves, the company must first understand certain geographic, infrastructure, business conditions, and environmental factors about the area in question. GIS technology is ideally suited to this kind of overlay analysis.
3-Managing Facilities:
GIS can be used to map the gathering and transmission of products to a facility.
4-Pipeline Management:
Some of the variables include:
Shortest distance from source to market
Least grading (removal of trees, etc.)
Costs association
Number of stream, road, and railroad crossings
Substrate (rock, soils, etc., associated with burial)
Existing laws and regulations (wetlands, etc.)
Utilization of existing utility corridors
Coverage analysis.
Environmental damage
Environmental response and investigation
Criminal and civil penalties
Environmental Remediation
Damage to reputation and community relations
5-Retail Outlet Management and Distribution:
This is the area where a lot of GIS developmental activities can take place. Retail companies can use the power of GIS systems to optimize their business with intelligent analytical GIS tools and planning tools and provide better customer and outlet services.
Coverage Analysis:
Fleet management –mapping of Petrol stations by brand, ownership, price, volume, shop size, or by any geography, such as country, postcode, catchments area
Locating the Optimal position of a new outlet
Optimal routing of Petroleum tankers across the country and across the city.
Crisis management
Volume distribution of petroleum products
Geographic analysis of distribution pattern.
Finding a specific outlet in a city and deriving a route to go there.
GIS solutions:
Corporate GIS data management
Map production and presentation
Digital Elevation Models and hydrology
Environmental sensitivity analysis and modeling
Pipeline route optimization and pipeline leakage risk
Internet mapping and image web server solutions
Workflow analysis
Crisis Management on the Internet
Conversion of current environmental data to GIS format
Linkage of oil spill model to GIS.
Retail market analysis.
Distribution analysis.
Market pattern analysis by demographics.
3-dimensional GIS
Improved "Conflation" tools.
Retail outlet supply routing and many more…
Future Expectations:
Geologic Evaluation
Reservoir Analysis (access to seismic data and well logs)
Land / Lease Management
Drilling Activity Analysis
Competitor Analysis
Gas Marketing
Improved integration with our relational databases.