Have you seen the message displayed in your Caesar II dashboard whenever you open your Caesar II Program saying "CAESAR II will no longer respond to HASP keys after May 31, 2020." as shown in Fig. 1
Yes, you got it right. Intergraph, i.e Hexagon is changing their licensing system from HASP (Hardware Lock) or SPLM (Smart Plant License Manager) Licensing to Intergraph Smart Licensing (ISL) from June 1st, 2020 onwards. Hence, if your current licensing is on the HASP Key platform, you must transition it to smart licensing.
What is Intergraph Smart Licensing?
Intergraph Smart Licensing or ISL, in short, is the next-generation cloud server-based advanced software licensing product from Hexagon PPM.
Smart Licensing Cloud contains servers with license keys. The cloud servers with license keys will be connected to a website portal. This portal will be accessible from a browser with the help of an internet connection. License administrators will be able to use the portal for setting up the configurations and generating license keys. Smart Licensing Client is basically a small application that has to be installed on each client computer where a licensed application is running. A configuration connection info (.cci) file will be used to connect the client computer to the cloud for licensing. Once you open the Smart Licensing Client, you can easily view, change, update settings and check whether licenses are in or out.
Advantages of ISL
As per Hexagon PPM, ISL will offer many benefits with respect to the earlier system like
It will be very easy to install, use and administration.
It is expected to reduce your costs as it will eliminate the requirement of maintaining the license server.
the risk of losing the expensive hardware locks will be eliminated.
As the ISL will be through the internet, so one can work from anywhere without the geographical limitation of the office.
In Smart Licensing Client, one can change projects and settings as and when required.
It may support offline working as well
Comparison between SPLM and ISL
Smart Licensing, ISL provides more features and enhanced usage reporting. Refer to the following table that compares features in the previous licensing solution and the current licensing solution.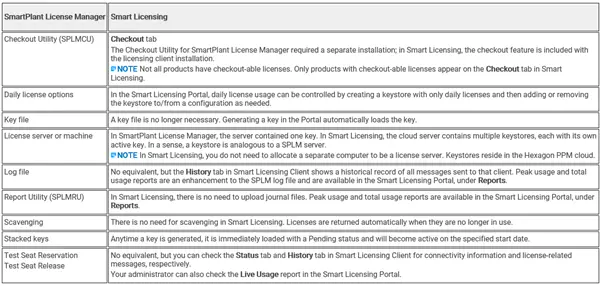 ISL Webinar
There is a recorded webinar by Hexagon regarding the background of Smart Licensing and steps to follow for changing your current licensing into a Smart Licensing system. Refer to the webinar to understand more details about ISL.
Major discussion points of the webinar
In this online webinar You will learn about:
The Transitioning from SPLM or ESL (dongles) to ISL
The new solution rollout of the ISL
About the Presenter
Geoff Blumber, Technical Sales Manager – Hexagon PPM: As the Technical Sales Manager at Hexagon PPM, Mr. Geoff Blumber is aligning the people and resources to deliver the right solutions to the right people at the right time.
Bryan Stuckey, CADWorx Technical Manager – Hexagon PPM:  Mr. Bryan Stuckey who serves the role of CADWorx Technical Manager joined Hexagon PPM in March 2013. He has huge experience with multiple 3D platforms ranging from software administration to modeling. He provides end-user technical support, product testing, and training/presentation support for CADWorx Plant Design Suite.
How to Register for the Webinar?
To Register and view this webinar click here and submit your details.
Few more Resources for you..

Stress Analysis using Caesar II
Stress Analysis using Start-Prof
Piping Stress Analysis Basics