What is a Sour Environment?
NACE defines a Sour environment as one that contains enough H2S either in the gaseous or aqueous media.
Properties of Hydrogen Sulphide
Chemical Formula: H2S
Odour: Rotten Egg
Boiling point: 60OC
Specific Gravity: 1.19
Odour level: 0.13 mg/kg
The fatality of Hydrogen Sulphide (mg/kg)
Respiratory breakdown: 100
Nerve paralysis: 150
Nausea, Dizziness: 200
Unconsciousness: 500
Asphyxiant, Fatal: 700
What is Sour Service?
Sour Service is defined as a fluid service containing water as liquid & H2S exceeding the limits defined below:
Sour Gas-
Sour Gas Service is defined as the gas service
IF            the Total Pressure of the gas being handled is > = 65 PSIA
AND       Partial Pressure of H2S in the gas is > 0.05 PSIA
Then      The Environment is SOUR Gas
Sour Oil and Multi-phase
IF            the Fluid handled is Crude or Crude+Water+Gas
AND
Gas to Oil Ratio > 5000 (SCF/bbl)
H2S content in Gas-phase > 15%
Partial Pressure of H2S in Gas Phase > 10 PSIA
Surface operating Pressure > 265 PSIA
Then     The Environment is SOUR Oil
Sour Scenario in the oil industry as per NACE MR-01-75
Refer to the below image (Fig. 1) which shows a curve segregating the sour and non-sour regions as per NACE MR-01-75. The curve denotes the amount of H2S requirement for qualification of being Sour at a given absolute pressure.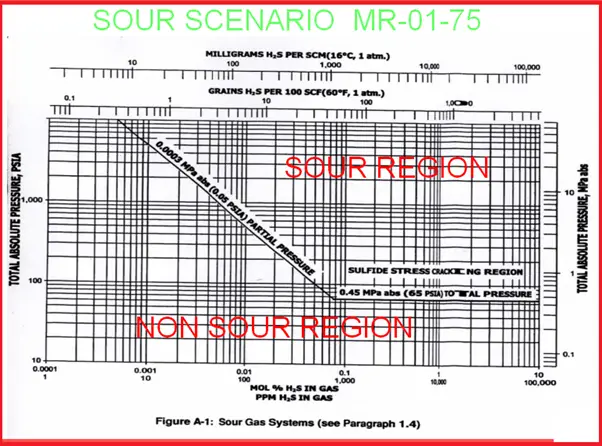 Limitations of NACE MR-01-75
Saltwater wells, injection wells
Downstream Industries, Petrochemical
Refineries and Chemical plants
Low-pressure multiphase systems
HIC Scenario – API Nelson Curves
Refer to Fig. 2 which shows the HIC and Non-HIC regions.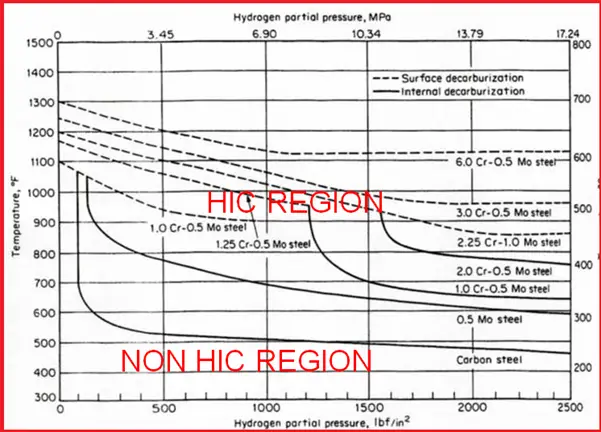 Sour Scenario as per ISO 15156 / EFC 16
Fig. 3 shows the sour service criteria as per ISO 15156/EFC 16.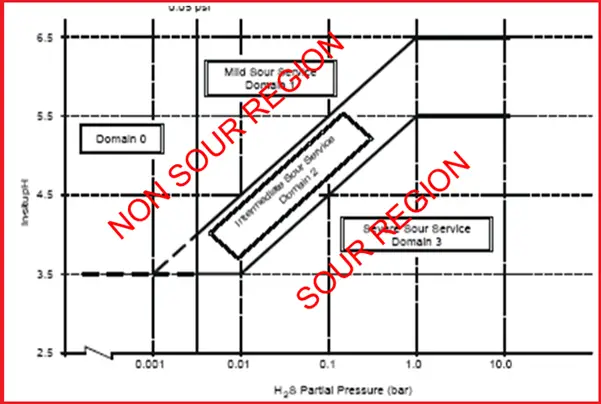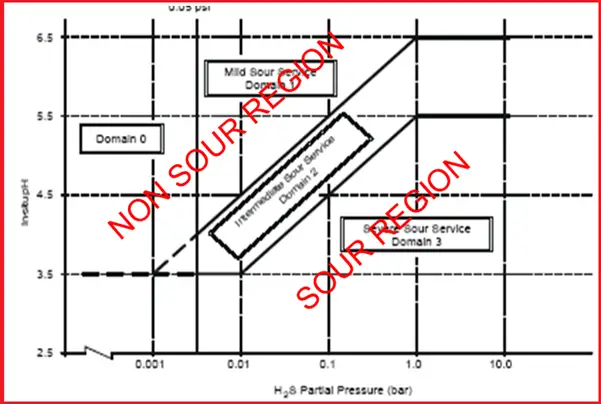 Sour Service H2S ppm Criteria as per DEP
Shell DEP provides the following H2S criteria for fluid services
0 to 49 PPM: Sweet Service
0 to 499 PPM: Low-Risk Sour Service
500 + PPM: High-Risk Sour Service
Hydrogen Sulphide – What it Can Do!
Dynamics of Sour Environments
Fig. 4 shows the dynamics of the sour service environment.