It is really difficult sometimes to find out "what actually means what". PTFE vs Teflon is such an example. Our universe is full of technical jargon, acronyms, and trade names. So, to find out the major differences between PTFE and Teflon, and which one is better between Teflon vs PTFE, let's understand what the PTFE and Teflon are all about.
What is PTFE?
PTFE is an acronym or short form of polytetrafluoroethylene, a synthetic polymer consisting of carbon and fluorine. PTFE is originated from tetrafluoroethylene and widely used in a range of applications due to its several unique properties.
Properties of PTFE
The useful properties that make PTFE a versatile product are
High melting point: PTFE has a melting point of around 327°C. They are thermally stable in between -200°C and +260°C. So, it can not be damaged easily by heat and that is the reason PTFE has found extensive applications as non-stick cookware.
Thermal Resistance: Good resistance to heat, light, UV, and weathering.
Hydrophobic: This is a unique property of PTFE. It does not get wet by water or water-containing substances.
Chemically inert: PTFE is highly insoluble and not damaged by the majority of solvents and chemicals.
Low coefficient of friction: The friction coefficient of PTFE is lower than most solids. So it helps PTFE to work as non-sticky material. That is the reason PTFE plates are sometimes provided below pipe shoes to reduce support friction.
High flexural strength: Even at lower temperatures PTFE retains its ability to bend and flex. This helps PTFE to be applied on a variety of surfaces without losing its integrity.
High electrical resistance: PTFE offers high electrical resistance. That's why this is used in between different materials to isolate electrically for avoiding corrosion.
High Density: PTFE's density is also very high, around 2200 kg/m3.
Other properties of PTFE are tabulated below:
| | |
| --- | --- |
| Property | Value |
| Melting Temperature (°C) | 317-337 |
| Tensile Modulus (MPa) | 550 |
| Elongation at Break (%) | 300-550 |
| Young's Modulus (GPa) | 0.5 |
| Dielectric strength (kV/mm) | 19.7 |
| Dielectric Constant | 2.0 |
| Dynamic Co-efficient of Friction | 0.04 |
| Surface Energy (Dynes/g) | 18 |
| Appl. Temperature (°C) | 260 |
| Refractive Index | 1.35 |
| Thermal expansion | 112–125×10−6 K−1 |
| Bulk resistivity (Ω·cm) | 1018 |
Properties of PTFE
Applications of PTFE
All these unique properties make PTFE an ideal choice for various domestic and industrial applications.
For piping applications, PTFE is used
for coating inside pipe surfaces to carry corrosive fluids.
as pipe support elements along with pipe shoes or trunnions to reduce support friction.
as electrically isolating material between pipe and clamps.
to isolate the transfer of vibration from the piping to structures.
as absorbant for accoustic vibration.
It is used as a lubricant as well.
as coatings for bolts, nuts, etc.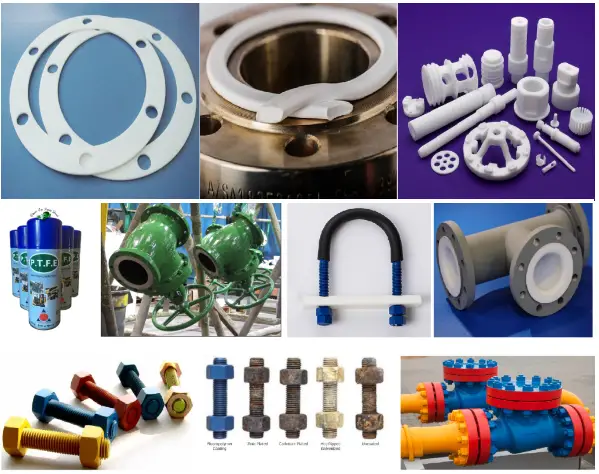 Other Applications of PTFE
Other applications of PTFE include Fabric and Carpet protection, Chemical and steel industries, Containers, Nail Polish, Cookware, Wiper Blades, Hairstyling tools, Artificial body parts, water-proof furniture, medical applications, musical instruments, etc.
Drawbacks of PTFE
The disadvantage of PTFE are
Sensitivity to creep and abrasion.
Difficulties of joining.
Low radiation resistance
Corrosive and prone to toxic fumes.
However, the main drawback of PTFE is that
at temperatures above 200°C Pyrolysis (thermal decomposition) of PTFE is detectable. It evolves several fluorocarbon gases and a sublimate that causes significant health issues. So for cookware applications where the temperature reaches above 260°C, it should not be used.
For piping applications, the PTFE-coated pipes can not withstand the heat of welding.
What is Teflon?
To find out the differences between Teflon vs PTFE, we have to first understand what Teflon means. Teflon was discovered in 1938 by the DuPont scientist Dr. Roy Plunkett. Teflon is also a fluorinated plastic containing carbon and fluorine. Yes, you guessed it right, both PTFE and Teflon are the same. Actually, Teflon is the registered trademark name or brand name for PTFE owned by Chemours. So, there is no difference or better between PTFE vs Teflon. The only difference is in the name. PTFE is the actual product and Teflon is the brand name.
PTFE vs Teflon
By now it must have been clear that PTFE and Teflon both refer to the same product called polytetrafluoroethylene, a synthetic rubber with versatile applications. To find out a winner between PTFE vs Teflon, we can represent that all Teflons are PTFE, but all PTFE may not be Teflon. PTFE has other brand names as well. Commercially, PTFE is also available with the following brand names:
3M™ Dyneon™, 3M-Dyneon
Flontech®, Flontech
Fluon®, AGC
POLYFLON™, Daikin
Hope, with the above discussion the differences between Teflon and PTFE, or Teflon vs PTFE are properly addressed.