There are three sub-disciplines inside the piping discipline, namely:
Piping Layout
Piping Stress
Piping Materials
Who are Piping Materials Engineers
By Definition Piping Materials Engineers are piping engineering individuals who are responsible for creating the project piping classes and the numerous piping specifications necessary to fabricate, test, insulate, and paint the piping systems.
Whatever the title, the piping material engineer (PME) is a very important person within the Piping Design Group and should be dedicated to a project from the bid stage until the design phase has been completed. He or she should also be available during construction and through to mechanical completion.
Normally, The lead piping material engineer, the individual responsible for all piping engineering functions, usually reports directly to the project lead piping engineer. Depending on the size of the project, the lead piping material engineer may be assisted by a number of suitably qualified piping material engineers, especially during the peak period of the project. This peak period is early in the job, while the piping classes are being developed and the first bulk inquiry requisitions are sent out to vendors.
Roles and Responsibilities of Piping Material Engineers
Layout and Stress Engineer's activities are quite evident to most people in the industry, however, the activity performed by a Piping Material Engineer is always less known and underrated. Many of us think that Piping Material Engineer performs only MTO (Material Take Off). However, Piping Material Engineer performs a lot of activities in a project, and his role is very important in a project.
Piping Material Engineer's activities include but are not limited to the following: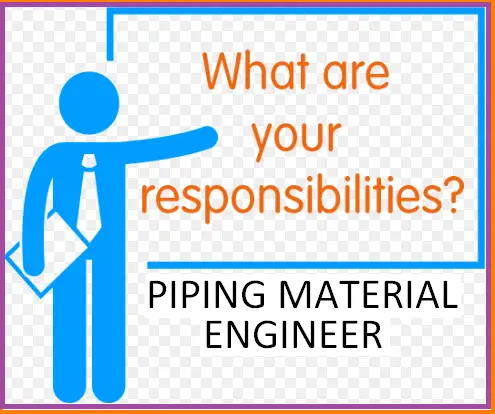 To Perform the Pipe Wall Thickness Calculation
To Prepare PMS (Piping Material Specification) for Process and Utility Services.
To Prepare VMS (Valve Material Specification)
To Purchase All the Piping Items, which includes below:

To Prepare MR (Material Requisition) for getting Quotations
To Review the Vendor offers, do technical discussions with the vendors, and prepare TBE (Technical Bid Evaluation)
To Prepare MR for Purchase

Prepare the list of Piping Speciality Items like Steam Traps, Strainers, Hoses, etc.
To Prepare the Data Sheets for the Piping Speciality Items
To Perform the Line Blank Thickness Calculation
To Perform the Reinforcement PAD Requirement calculation
To Perform MTO (Material Take Off)
To Control the Piping items quantity, monitor the surplus and shortage of Piping Items
To Develop Fabrication/Welding Specifications, Shop and Field Testing Specifications, Piping Insulation, and Painting specifications.
To Develop Technical Supply Conditions / Requirements for Various Piping Materials and to Make a technical recommendation.
After placement of a purchase order, review and approve documentation from vendors related to piping components.
When required, visit the vendor's premises to attend kickoff meetings, the testing of piping components, or clarification meetings.
Help 3D Administrator in the PMS creation in 3D Software like PDS, PDMS, etc.
Make sure that everyone in the piping group is aware of the materials of construction that can be used for piping systems.
To Liaise with the following departments: Piping Design and Stress, Process, Instrumentation, Vessels, Mechanical, Structural, Procurement, and Material Control.
To Maintain project technical files and update Company standards
To Perform the inter-disciplines checking for the part of documents in accordance with the scope of the piping material section
So to summarize a Piping Material Engineer must be a Good Communicator, must have experience in Piping Design and Piping Material Properties, must be aware of corrosion characteristics of Piping Materials, must be aware of welding Processes necessary for the fabrication of piping systems, and must have a basic understanding of all other disciplines which have an interface with piping. And finally, He must be aware of economics which includes the material selection to reduce costly high-pressure and alloy piping runs and reduce the use of odd, high-cost fittings.
Few more useful Resources for You…

Resources related to Piping Materials
Articles related to Piping Layout and Design
Basics of Piping Stress Analysis
Articles related to Interface Discipline