What is a Deluge System?
A deluge system is a fixed fire protection system designed to protect against severe fuel hazards. A large number of sprinklers simultaneously act to bring any undesirable fire event under control. Consisting of unpressurized dry piping and open sprinkler heads, the deluge system is directly connected to a water supply and upon activation, a deluge valve releases the water to all the open sprinkler heads simultaneously. Deluge systems can also release other fire-suppressing materials like dry powder, foam, chemicals, or inert gases. Until the deluge valve is activated by an electric, pneumatic, hydraulic, or manual release system, the system piping remains empty and dry but when activated, the deluge system floods the area through pressurized water or other fire extinguishing material.
The main purposes behind using deluge systems are any one or combination of the following :
Extinguishment of fire
Control of burning
Exposure protection
Prevention of fire
Working of a Deluge System
As deluge systems are used in special hazard installations, they must work quickly to protect the entire area. Fig. 1 shows a typical deluge system. A deluge system comprises of three main components: deluge spray nozzles and lines, deluge valve set, and deluge system water supply. The working of a deluge system consists of the following four steps:
A fire detection (Smoke/Heat/Ultraviolet/Infrared/Optical flame Detector) system detects the fire and sends the signal to the fire alarm panel to activate the deluge valve.
Immediately the deluge valve opens which is connected to a water supply.
Water flows into the piping system and starts discharging from all nozzles and open sprinklers.
After use, the deluge valve can be easily reset to normal operating conditions by draining the water remaining inside the pipe and valve body.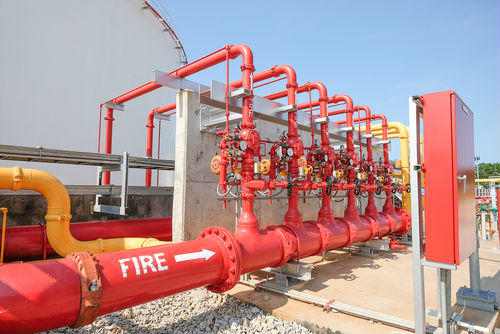 Types of Deluge Systems
According to the method of release, Deluge systems are classified into three categories:
Pneumatic release deluge system
Hydraulic release deluge system
Electrical release deluge system
Applications of a Deluge System
Deluge systems are used in special hazard installations requiring a large quantity of water to control a fast-developing fire. They provide high-velocity suppression. Typical applications of deluge systems are found in:
Flammable liquid handling systems.
Flammable liquid storage, and chemical storage areas.
Hydrocarbon processing plants.
Refineries/ Fuel Processing Plants.
Oil extraction plants.
Separation, distillation plants.
Large aircraft hangars.
Transformers.
Crude tanks and vessels.
Power Plants.
Data Storage units.
Paint Shops.
Theatres.
Codes and Standards for a Deluge System
The governing codes and standards for a deluge system design and manufacturing are
NFPA 15: Standard for Water Spray Fixed Systems for Fire Protection
API RP 2030: Application of Fixed Water Spray Systems for Fire Protection in the Petroleum and Petrochemical Industries.
ISO 6182: Fire Protection-Automatic Sprinkler System
NFPA 13: Standard for the Installation of Sprinkler Systems
IP MODEL CODE P19, By Energy Institute – Fire Precautions at Petroleum Refineries and Bulk Storage Installations.
Piping Requirements for Deluge System Design
As per NFPA, Requirements for piping arrangements are

Sch 40, Carbon Steel (Galvanized) Pipe for up to 8" sizes and
Sch 30, Carbon Steel (Galvanized) Pipe for 8" & above

Requirements for Piping Installation:

In the dry section of the pipe, a Suitable slope needs to be provided.
A low-point drain at a suitable location is required.

Pipe Velocity criteria for deluge system: NFPA 15 allows up to 7.94 m/sec of water velocity for the deluge downstream side. However, based on the project piping design philosophy velocity may be limited to 5 m/sec downstream of the deluge valve and 3 m/sec upstream.
The deluge system should be designed in such a way that within 30 secs of activation, the water spray fully covers the equipment in that region.
As per NFPA 15, the minimum Pipe Size for Deluge Systems is 1".
Advantages of Deluge System
The major advantages of using deluge fire protection systems over other kinds of systems are:
They can easily control rapidly spreading fire.
Very quick response as all sprinklers are open.
Their operation can be made fully automatic.
Deluge system being a dry system, no risk of frozen pipes
They can also be used in conjunction with foam concentrate for better controlling certain types of fire.
Water disperses over a large area for efficient fire extinguishing.