What is IBR (Indian Boiler Regulation)?
Indian Boiler Regulation or IBR is an independent body that provides boiler manufacturing guidelines in India and regulates it. Indian Boiler Regulation falls under the IBR act 1950. This law is accepted all over India except Jammu & Kashmir. The IBR is basically a construction code that specifies the design, material, fabrication, inspection, and testing requirements for boiler and boiler-connected parts for use in India.
IBR or Indian Boiler Regulation Scope
The Indian Boiler Regulation or IBR covers the below-mentioned industrial equipment in steam services:
Boilers along with the feed piping from the feed pump
Full Steam piping
Steam receivers
converters
evaporators and similar vessels in which steam is generated
accumulators and similar vessels
What is a boiler?
As per IBR, any vessel exceeding 22.5 liters (five gallons) & generating steam is considered a Boiler
Why IBR approval is required?
If these Norms as per the IBR regulation are violated then legal action may be taken against the concerned by the IBR authorities. In case any accident occurs at the site and then IBR norms are not followed the matter will be complicated so it is required that IBR piping is designed, fabricated, erected & hydro tested as per the latest IBR code.
Manufacturers and suppliers of boilers and associated components must comply with the Indian Boiler Regulations if those items are used in India. The boiler construction has to be under the supervision of an Inspecting Officer and must be inspected at all stages of construction.
Advantages of IBR Approval
There are various advantages of IBR Boilers as listed below:
As the complete system is manufactured using IBR-approved materials, the Risk of an explosion is minimized.
As approved by IBR, there will not be Legal complications which in turn ensures peace of mind
IBR design and construction compliance ensures longer tube life & lesser breakdown
Finally, Overall Safety Assurance. Indian Government-certified third-party inspection.
Which piping services follow IBR rules?
Services, which follow the IBR rules, are Steam, Condensate & Boiler feed water.
The above services are further classified as under
STEAM Piping
1)         High-high pressure steam (HHP).
2)         High-pressure steam (HP).
3)         Medium-pressure steam (MP).
4)         Low-pressure steam (LP)
CONDENSATE Piping
5)         High pressures Condensate (HC).
6)         Medium pressures Condensate (MC).
7)         Low pressures Condensate (LC).
BOILER FEED WATER Piping
8)         High-pressure boiler feed water (HP)
9)         Medium-pressure boiler feed water (MP)
10)         Low-pressure boiler feed water (LP)
The following conditions should be fulfilled to follow IBR norms.
1)         < 3.5-kg/cm2                           IBR approval is not required.          <10" ID
2)         < 3.5-kg/cm2                            IBR approval is required.                >10" ID
3)         > 3.5 kg/cm2                            IBR approval is required.                <10" ID
Applicable pressure, Temperature, and Hydrotest for the above category of services is as below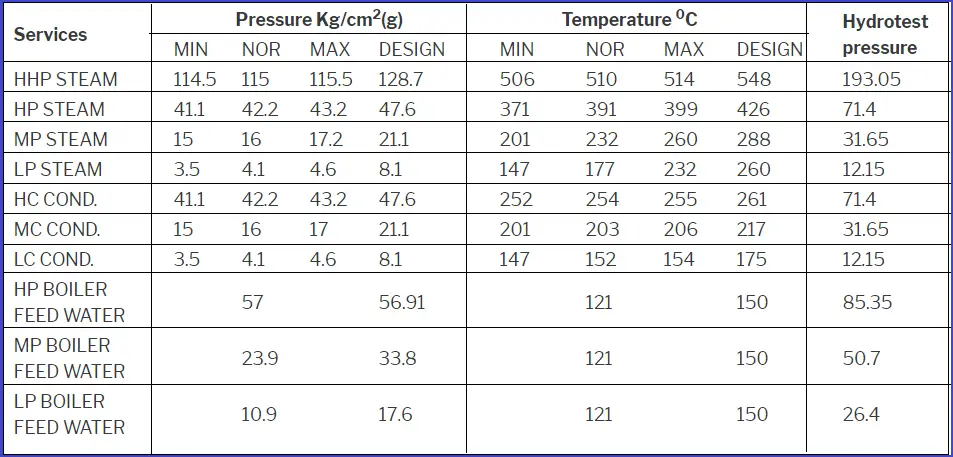 What is the procedure for Indian Boiler Regulation (IBR) approval?
The procedure of IBR as under
IBR packages prepared
Necessary drawing, and inspection fees as per IBR
Drawings are to be sent to the divisional boiler inspector.
Construction can start work fabrication & erection only when the drawing is in the approval stage.
After drawing approval respective contractors has to get fabrication permission & welder approval. After taking an introductory letter, the contractor can start work.
After getting approval the material used for the job has to be offered to the divisional boiler inspector
After completion of work NDT (Non-destructive testing), approval is to be taken from CIB (chief inspector of boiler)
After NDT approval, lines are to be offered for Hydrotest to the divisional boiler inspector
After the hydro test, the job can be considered as work completed.
The design engineering team is responsible for complete approval from the drawing stage still Hydrotest & final closeout of the job.
Documents attached in an IBR package are as mentioned below:
Drawing Index
Pipe data
IBR Design packages general notes.
Pipe wall thickness table.
Piping class report.
The material should be used with an IBR stamp. The material used for IBR are same as per ASTM STD e.g. A106 Gr B or A671Gr CB60 for pipes but the only difference is that the material must come with the following certificate
Form IIIA for pipes.
Form IIIC for fittings.
The above materials must be inspected by the boiler inspector in the vendor shop at that stage & stamped.
As per Indian Boiler Regulation, All pipes shall be commercially straight and free from longitudinal seaming, grooving, blistering, or other injuries and surface marks. The ends of the pipes shall be cut square. The installed pipes shall be adequately supported.
As the Indian Government has strictly enforced the IBR; all equipment and materials must be imported into India with an accompanied certificate confirming that all imports meet the IBR.
What does IBR service mean?
IBR services mean the inspection, testing, and certifying services that include but are not limited to:
Design review and approval of pipe fittings and valves (Form III-C) in IBR services
Inspection, testing, and certification of pipes (Form III-A) in steam services
Inspection, testing, and certification of materials (Form IV-A)
Witnessing tests required by the Indian Boiler Regulation 1950, or the Code approved by the Central Boilers Board for specific products, for IBR purposes only
Supervision of the Fabrication process and weld quality inspections
Witnessing of welding of the test specimen for the procedure and/or welder certification
Witnessing all nondestructive and destructive tests of welded test pieces in laboratory
Certification of welders qualification and welding procedures
Re-certification of welders (Form XII and XIII)
There are some approved agencies that provide IBR services.