A Job Safety Analysis is a process to integrate health and safety principles into a particular job operation. In a job safety analysis (JSA), potential hazards for a specific job are identified before they occur and the safest way to perform the job is recommended. Such procedures reduce the risk of injury to working professionals and ensure that the workplace is compliant with safety regulations. Job safety analysis is also known as job hazard analysis (JHA) or job hazard breakdown and is an important step toward employee safety.
Advantages of Job Safety Analysis
The main purpose behind job safety analysis are:
Job-oriented risk assessment.
Identification and evaluation of hazards beforehand help in controlling the risk.
Control of incidents and thus minimization of loss.
Standardization through creating procedures and work instructions.
Ensuring safe working methods consistently.
Compliance with regulatory requirements (OSHA requirements)
Getting organized for doing the job right and efficiently.
Improving the work safety culture of the company.
Documentation of Job safety analysis fulfills audit requirements.
Increased productivity in absence of major hazards.
Improved quality of work.
Better planning in job execution and overall increased morale and profit.
Jobs requiring Job Safety Analysis
Job safety analysis is very important for all industries that face safety issues frequently. Typical industries that must include job safety analysis in their work culture are Oil and gas, construction, mining, power industries, electrical, etc. Working professionals from such industries should be constantly vigilant of potential hazard scenarios in the workplace. Even though all kinds of jobs irrespective of their type should be included in job safety analysis, companies can prepare a priority list as follows:
All jobs with the potential to cause fatality.
All jobs with the highest injury rates/ Fire and explosion incidents.
All jobs where human error can lead to severe accidents, fires, or explosions.
Jobs for which no prior work experience is present.
Jobs of complex nature.
Hot works inside the battery limit of operating plants.
The major modification works.
Jobs that include health and ergonomic issues.
Job safety analysis can be excluded only for routine non-critical jobs without the potential to hazard development. Normally, the Sectional Head / Area in-charge/ Plant Engineers/ or Managers will be responsible to carry out Job Safety Analysis of all activities in respective units. The management of any organization must demonstrate its commitment to safety and health for a job hazard analysis to be effective and should take necessary steps to correct identified hazards.
Job Safety Analysis team composition
The Job Hazard Analysis is normally carried out by forming a team comprising of;
Person/Team who does the work
A person supervising the job
A person with safety knowledge
Person (Specialist/Consultant) with technical knowledge
Area in-charge
Area maintenance and operation engineer
Depending on the complexity of the job, the number of team members can vary.
Job Safety Analysis Procedure
The Job Safety Analysis Procedure for any job consists of the following 7 steps:
Step 1: Select the job for job safety analysis and survey the job based on the site condition.
Step 2: Break down and describe the sequence of job steps
Step 3: Identification and assessment of the potential hazards and risks of each step
Step 4: Description of the recommended safe job procedure against each step.
Step 5: Identification of what might go wrong and backup controls.
Step 6: Review of the Job safety analysis documentation, approval, and checking compliance at the working site.
How to Assess Hazards for Job Safety Analysis
To identify hazards for job safety analysis, brainstorming is required for each step of the job. The previous history of similar jobs, employee complaints, etc must be studied. The following questions can be asked for hazard finding:
What can go wrong?
What could be the possible consequences?
How it could happen?
What are the contributing factors?
What is the probability of the hazard occurring?
What safety measures are in place right now?
Probable Steps for Hazard Elimination in Job Safety Analysis
The following steps are normally followed in job safety analysis for hazard elimination
Eliminate the hazard where possible
Substitute the hazard
Isolate the hazard
Use of Engineering Controls to prevent the hazard
Use of administrative controls
Use of personal protective equipment.
Sample Job Safety Analysis Format
The image in Fig. 1 presents a sample job safety analysis format for reference purposes.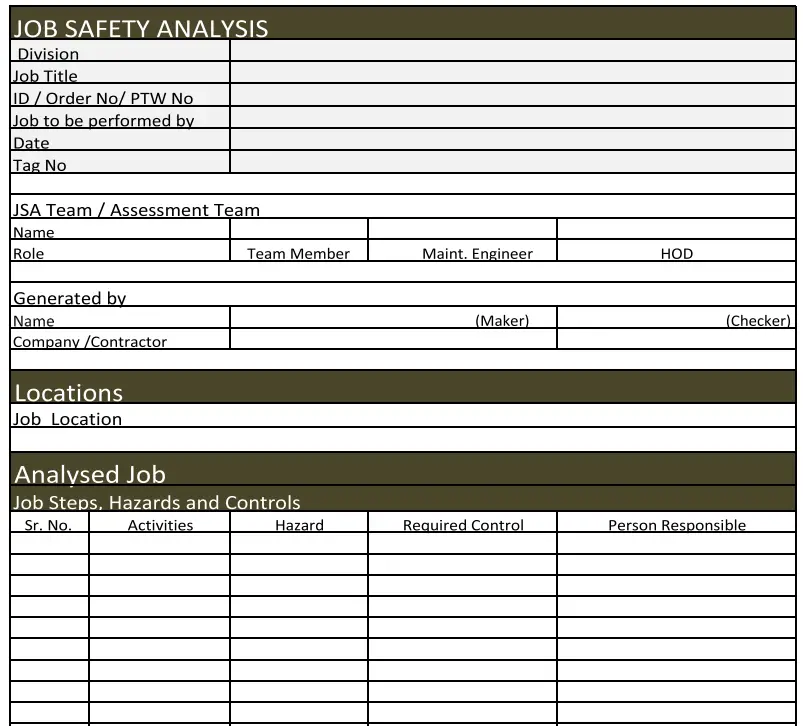 Improvements in Job Safety Analysis
The manual method of job safety analysis costs time from ongoing projects. So a balance for safety with less time must be achieved by improving the efficiency of the job safety analysis process. A number of steps as mentioned below can be considered for improvement:
Standardization of the process by organizing the required steps.
Digitization of the job safety analysis process. In recent times various software applications are available for performing job safety analysis.
Online Safety Courses
To explore more about safety, the following online courses will help you. Kindly click on the subject, review the course and then enroll for it if interested:
References and Further Studies
Detailed guidelines for job safety analysis procedure and steps can be found by accessing the following pdf document by OSHA: osha3071.pdf