With constant wear and tear happening in every piece of equipment in its running condition, efficiency reduction or equipment breakdown is bound to occur. One popular and widely used solution against these is Preventive Maintenance or Preventative maintenance. Such practices help in increasing the useful life of the equipment and they postpone the failure point. Studies have revealed that 78% of manufacturing facilities use preventive maintenance philosophy to some extent. In this article, we will explore the definition of preventive maintenance, its types, maintenance strategy, advantages, and disadvantages.
What is Preventive Maintenance?
Preventive Maintenance is a proactive planned maintenance philosophy involving regular and routine maintenance of equipment at a predefined interval to increase the lifespan of assets, equipment, and infrastructure. It reduces the likelihood of failure which in turn reduces the unplanned downtime of the operating plant. Through scheduled cleaning, lubrication, repairs, adjustments, oil changes, and part replacements, a preventive maintenance approach improves the operational output of equipment and machinery in a plant.
Preventive maintenance is not only routine maintenance of equipment. Knowing the lifespan of the equipment and maintaining accurate records of each and every inspection and servicing is also part of preventive maintenance. Using these records maintenance professionals can diagnose problems when they occur and decide the appropriate time to change parts. Various kinds of preventive maintenance software can help maintain and organize such data.
Types of Preventive Maintenance
Three types of preventive maintenance are widely popular in industries. They are:
Time-Based Maintenance
Usage-Based Maintenance and
Failure-Finding Maintenance
Time-Based Maintenance:
Time-based maintenance is also known as Calendar-based maintenance. This approach is followed for essential equipment. This maintenance approach ensures the equipment in optimal working condition and can be triggered at fixed time intervals regardless of the condition or usage of the asset. The time interval for maintenance must be decided based on the equipment manufacturer's guidelines.
Usage-Based Maintenance:
In the Usage-Based Predictive Maintenance type, maintenance is typically scheduled after a certain usage of the equipment. Using meter readings or records, such maintenance is triggered. For example, normal automobiles may require servicing or engine oil change after every 10,000 km of driving.
Failure-Finding Maintenance (FFM):
Failure-finding preventive maintenance is an inspection to find or discover defects or failures in equipment. For example, a fire alarm is triggered to find out if the alarm is working and to find out any fault in an alarm system.
Preventive Maintenance Examples
Depending on the type of industry, the examples of preventive maintenance will vary. However, whatever the industry, preventive maintenance programs will always have the following three components: 
It's systematic
It's performed routinely
Its purpose is to reduce or minimize failures
Typical examples of time-based predictive maintenance can be:
Replacement of filters after every six months.
Lubricate bearing after every three months.
Visual inspection of the conveyor belt each month.
Lubricating pumps every other week.
Replacing the RO filters each year.
Typical examples of usage-based predictive maintenance can be:
Maintaining equipment after producing 100 products.
Scheduling maintenance or servicing after every 60 working hours.
A typical example of failure-finding predictive maintenance is:
Starting the emergency sprinkler system periodically to find if the system is working smoothly to ascertain that it will work during an emergency situation.
A few other preventive maintenance examples could be
A thorough inspection of the vehicle before site visits.
Frequently maintain HVAC systems during summer.
Preventive Maintenance Plan or Philosophy
The preventive maintenance program is normally based on the following factors as listed below:
Impact of the worst-case scenario
lost production
Likelihood of failure
Cost involvement
Regulatory compliance
Workplace safety
Preventive maintenance is performed when the benefits of the maintenance outweigh the risks and costs. The optimum frequency of the preventive maintenance plan is developed by plotting the maintenance cost vs maintenance frequency curve and finding a balance as shown in Fig. 1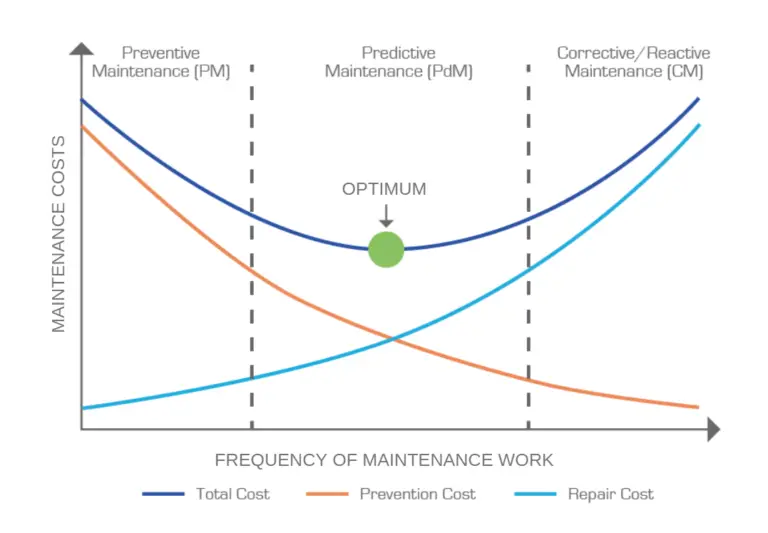 There are a few steps for an effective preventive maintenance plan:
Finding the end purpose (Reduce downtime or repair cost, Increase production rate or asset availability)
Identifying and Assessing the critical equipment and finding the cost and impact in case of failure.
Choosing the format for recording preventive maintenance goals (Manual, computerized or advanced software-based)
Creating the preventive maintenance plan and schedules like assigning personnel, tasks, prioritization, and recording.
Tracking, reviewing, acting, and adjusting.
Advantages of Preventive Maintenance
A number of benefits are received through proper preventive maintenance planning:
Prolonged life of company equipment before failure.
Fewer errors in day-to-day operations
Less unplanned downtime.
Increasing productivity and efficiency
Less unnecessary maintenance and inspections
Reduced risk of injury
Stronger work execution
Improved reliability of equipment
Fewer expensive corrective and emergency repairs
Reduced health, injury, and safety risks
Improving audit and regulatory compliance with extensive documentation
Less Energy Consumption
Optimized maintenance planning and resource allocation
Better margins and profits
Disadvantages of Preventive Maintenance
A few potential disadvantages associated with a Preventive Maintenance schedule could be:
Budget Constraints (High start-up and implementation costs)
Time-Consuming
The requirement for Additional Resources (spare parts, staff, etc.)
Organizational Difficulties
Requires planning
Applications of Preventive Maintenance philosophy
Preventive maintenance programs can be applied in all types of industries including:
Oil/Gas/Utilities
Chemical/Petrochemical
Power Plants
Metal/Manufacturing Industries
Country Clubs
Restaurants
Fleet Management
Property Management
Facility Management
Schools
Governments
Hotels, Hospitality & Restaurant Industry
CMMS Software:
For complex assets, it's nearly impossible to record data and perform preventive maintenance without using the software. They are great tools for efficiently creating and scheduling digital work orders for preventive maintenance. CMMS or computerized maintenance management system is such a widely popular software. This software will automatically assign and alert the scheduled tasks based on the given input.
The main advantages of using CMMS over other modes of preventive maintenance programs are:
CMMS quickly set up preventive maintenance schedules for any asset based on time or usage.
Track and manage all preventive maintenance work with an easy-to-use maintenance calendar.
Create PM checklists and attach them to the work orders.
Automate the administrative part of maintenance by sharing electronic work orders and letting the CMMS automatically log performed work.
Get instant access to all maintenance data which technicians can access via mobile devices even when out in the field.
Improve control over the spare parts inventory through automatic parts usage tracking and low in-stock notifications.
Keep a close eye on the preventative maintenance program by tracking important metrics and KPIs.
Reactive Maintenance vs Preventive Maintenance
The main differences between Reactive maintenance and preventive maintenance are listed in the table below:
| | |
| --- | --- |
| Reactive Maintenance | Preventive Maintenance |
| Reactive maintenance provides the maximum utilization and production value from the equipment or asset. | Preventive maintenance calls for Lower equipment utilization |
| In reactive maintenance, the maintenance cost is higher after failure. | The maintenance cost is comparatively lower in preventive maintenance. |
| More unplanned downtime | Less Unplanned downtime |
| Reactive maintenance is Crisis based approach | Preventive maintenance is a preparation based approach |
| Chaotic execution of work responsibilities | Organized execution of work responsibilities |
| Frequent failures | Longer life expectancy |
| Heavily people-dependent due to increased labor costs | Utilizes facility management software (FMS) |
| Reduced efficiency of the equipment | Efficient productivity |
Reactive Maintenance vs Preventive Maintenance
Plant Maintenance Online Courses
To upgrade your knowledge about the aspects of plant maintenance, the following online courses can be referred to: