EOT (Electric Overhead Traveling) Cranes and Hoist are industrial machines that are mainly used for materials movements in construction sites, production halls, assembly lines, storage areas, power stations, and similar places.
Types of Cranes
Single girder cranes (Fig. 1A) – The crane consists of a single bridge girder supported on two end trucks. It has a trolley hoist mechanism that runs on the bottom flange of the bridge girder.
Double Girder Bridge Cranes (Fig. 1B) – The crane consists of two bridge girders supported on two end trucks. The trolley runs on rails on the top of the bridge girders.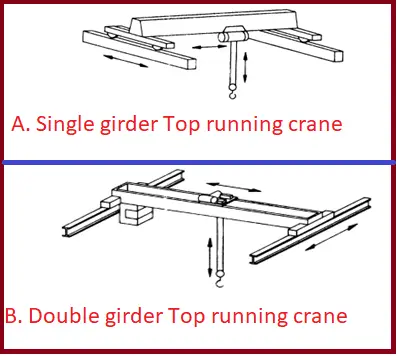 Selection of Cranes
Which Crane should you choose – Single Girder or Double Girder
Generally, if the crane is more than 15 tons or the span is more than 30m, a double girder crane is a better solution.
Components of Cranes (Fig. 2)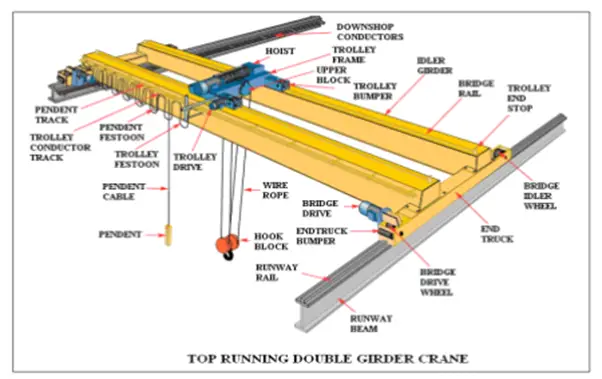 Essential Parameters for Specifying EOT Cranes (Fig. 3)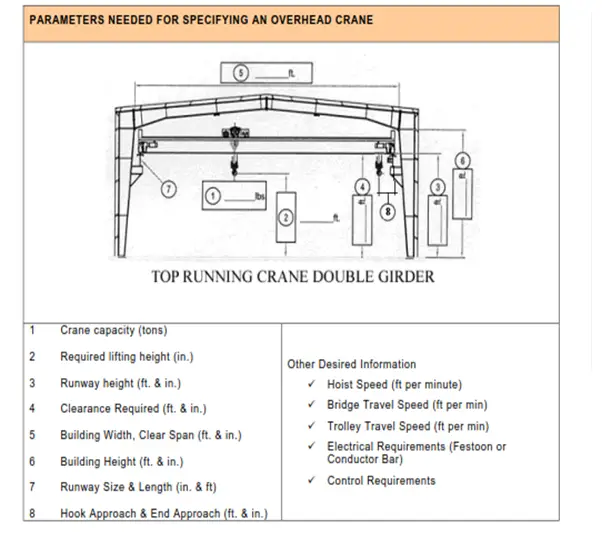 Codes and Standards for EOT Cranes
Electric Overhead Traveling cranes shall conform in design, materials, construction, and performance with the current issue of the following specifications, codes, and standards.
CMAA 70 Specification for Top Running Bridge & Gantry Type Multiple Girder Electric Overhead Traveling Cranes
AGMA American Gear Manufacturer's Association
ASME HST-4 Performance Standard for Overhead Electric Wire Rope Hoists
ASME Y 14.1 Decimal Inch Drawing Sheet Size and Format
ASME B18.2.2 Square and Hex Nuts
ASME B30.2 Overhead and Gantry Cranes (Top Running Bridge, Single or Multiple Girder, Top Running Trolley Hoist)
ASME B30.10 Hooks
AWS D14.1 American Welding Society – Specification for Welding of Industrial and Mill Cranes
HMI 100-74 Hoist Manufacturer's Institute – Specification for Electric Wire Rope Hoists
NEC 610-14 Determining Amperage Requirements for Cranes and Hoists
NEMA ICS 8 Industrial Control and Systems – Crane and Hoist Controllers
NFPA70 National Electrical Code
OSHA Occupational Safety & Health Administration
IBC International Building Code (This will eventually replace UBC)
UBC Uniform Building Code
Control Equipment (Fig. 4) for EOT Cranes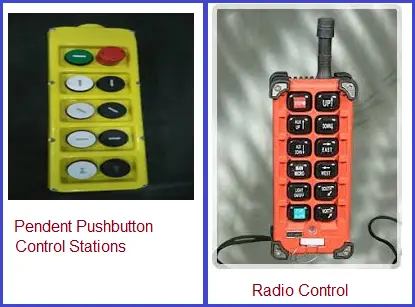 HOISTS (Fig. 5)
A hoist is a device used for lifting or lowering a load by means of a drum or lift wheel around which a rope or chain wraps.

Hoist Selection Factors
The weight of the load to be lifted includes below-the-hook lifting, load-supporting, and positioning devices.
The physical size of the load.
Clearance Considerations
Lifting Speed Considerations
Hoist duty
Hoisting Equipment
Sheaves
Hook Assembly
Gear Assembly
Rope Drum
Ropes
Hoist Standards
ASME-HST-1 Performance Standard for Electric Chain Hoists
ASME-HST-2 Performance Standard for Hand Chain Manually Operated Chain Hoists
ASME-HST-3 Performance Standard for Manually Lever Operated Chain Hoists
ASME-HST-4 Performance Standard for Overhead Electric Wire Rope Hoists
ASME-HST-5 Performance Standard for Air Chain Hoists
ASME-HST-6 Performance Standard for Air Wire Rope Hoists
ASME-B30.7 Safety Standard for Base Mounted Drum Hoists
ASME-B30.16 Safety Standard for Overhead Hoists (Underhung)
ASME-B30.21 Safety Standard Manually Lever-Operated Hoists
OSHA (Parts 1910 and 1926) adopts or invokes the American Society of Mechanical Engineers
Few more resources of your interest..

Piping Design and Layout
Piping Interface
Piping Stress Analysis
Piping Materials