What is a Monorail Crane?
A monorail crane is a common type of overhead crane consisting of a single beam with a hoist. As a substitute for conventional cranes and conveyor belts, Monorail cranes are widely used in applications requiring repetitive material or product movement from one point to another within a restricted area. Running on a single stationary beam, monorail cranes are quite simple in design and highly cost-effective. Monorail cranes are popularly known as monorails.
Monorail cranes use a trolley that carries a hoist. The trolley is connected with a beam into the ceiling structure to run along a flat surface. Overhead Monorail cranes provide movements along two axes. Up and down movement via the hoist and forward and backward movement via the monorail beam. Monorail beams are mostly subjected to gravity loads and are used both indoors and outdoors.
Applications of Overhead Monorail Cranes
Monorail overhead cranes are used in a variety of industries including:
Construction
Automotive
Oil and gas
Chemicals
Aircraft
Food and beverage
Metal processing
Machinery and equipment
Waste management
Injection molding
Pulp and paper
Wood and wood products
Ships and boats
Rubber and plastics
Warehouse loading docks
Types of Monorail Cranes
Monorail cranes can be classified depending on the various parameters provided below:
Based on the operating systems there are two types of monorail overhead cranes. They are:
Manually operated monorail cranes and
Electrically operated automated monorail cranes.
Depending on the travel path of the monorail cranes they are of two types:
Monorail cranes running on a straight path.
Monorail cranes running on a curved path.
Monorail System Components
A monorail system consists of the following parts:
Monorail beam
Hoist
Trolley and
Festoon
The hoist and trolley travel on the monorail beam, which is a single stationary beam supported by the ceiling or floor-mounted frame. Monorails are configured as underhung systems.
The trolley of the monorail system is usually a four-wheel type (eight-wheels for heavier loads) that travels on the bottom flange of the monorail beam. They can be equipped with pendant control electric lift and travel. Adjustable speed-type motor controller drive provides better flexibility.
Refer to Fig. 1 below which shows all the components.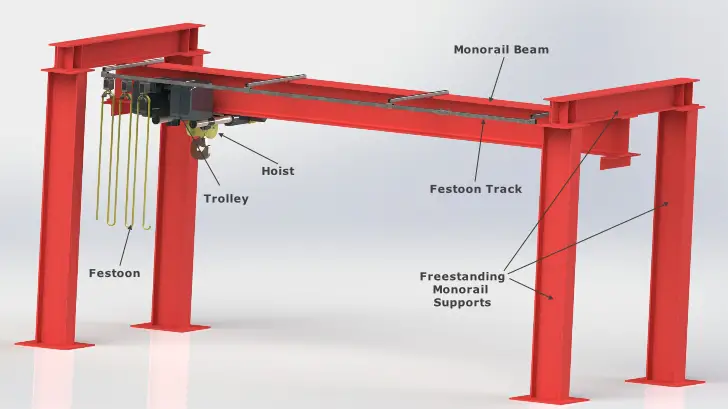 Characteristic Features of Monorail Systems
Monorail structures are usually made of Steel or Aluminum.
In constricted workflow areas, the use of monorails is ideal.
The capacity of monorails varies from manufacturer to manufacturer. For higher loads, steel structures are used. In general, they can carry a load of up to 4000 lbs.
Monorails are easy to install, move, and dismantle.
They have a long life.
Advantages of Monorail Cranes
Employing an overhead monorail crane in any facility provides a number of benefits. Some of the advantages of monorail cranes are:
Simple flexible operation.
Effortless load control in an efficient manner.
Monorail cranes being installed overhead, are above most obstacles during operation.
Safe and reliable functionality.
Low maintenance costs.
Monorail cranes can be easily customized as per the requirements of the product or material handling.
Easy control using automated systems from a single location.
Reduced labor expenses.
Specification of Monorail Hoists
Even though the actual specification of monorail hoists varies from organization to organization, in general, the following details should be mentioned:
Design code
Lifting capacity
Height of the lift
Travel length
Trolley type
Hoist type
Suspension type
Application description
Motion speed required
Wheels type
Motor details and types
Gear and Bearing details
Hook types and details
Power supply
Brake
Control panel
Document and Drawing requirements etc.
Codes and standards for Monorail crane systems
The following codes and standards provide guidelines for the design of monorail systems or components:
ASME B30.17
ASME B30.11
ASME B30.10
ASME B30.16
ASME HST-4
HMI
AS 1418.18