Material handling systems mean the control of materials and products for project use in various stages starting from manufacturing, storage, distribution, consumption, and finally disposal. The system must ensure the safe handling of all project materials. In this process, the material handling system uses various manual, automatic or semi-automatic equipment known as material handling equipment. So, the material handling system basically deals with the safety of material handling equipment & their operations.
Material Handling Systems are very important mechanisms in supply chain management as it efficiently manages material movement in a controlled way. The material handling operation varies between manufacturing, storage, construction, and transportation based on industry types.
The main objective of the material handling system is to ensure proper handling, lifting & offloading of equipment in order to ensure a safe workplace. It ensures the operations are in line with the required guidelines & project specifications. Debating with these standards and guidelines means tolerating the life of self and stakeholders. Basically, standard guidelines are followed in the construction of refineries, chemical & petrochemical, pharmaceutical companies, and power plants.
Advantages of Material Handling Systems
A properly designed material handling system helps a project in many ways like:
Proper resource allocation
Shorten delivery time
Forecasting
Proper Inventory control and management
Improved Production planning
Improved customer service and after-sales support and finally
Reduce overall material handling costs
That is the reason proper material handling systems are widely popular in all industries like chemical, aerospace, construction, automotive, pharmaceutical, manufacturing, oil&gas, petrochemical, paper, material processing, warehousing, distribution, etc.
Components of a Material Handling System
There are various components that constitute a material handling system. It may vary significantly from project to project. Some of the widely used components are added below as a reference.
Cranes-
Cranes as material handling equipment are widely used for lifting and shifting equipment and material. There are a variety of cranes (Fig. 2) available in the market. Some of those are from 5 MT TO 8000 MT. In the construction industry, basically, two types of cranes are being used nowadays.
tyre-mounted cranes and
crawler-mounted cranes.
Both can be used for lifting and shifting. The crawler-mounted cranes are used for high strength and they can move over Mud or difficult places. On the other hand, the tyre mounted cranes are used for clear surfaces, roads, or properly compacted places.
Slings & belt-
Sling and belt both are used to tie a piece of equipment. The number of slings and belts for a particular operation is decided based on load calculation. The formulae for load calculation are mentioned below for reference.
Here, V1 is the load at point 1, V2 is the load at point 2 & W is overall load.
D rings-
D rings are used to tie belts or slings with equipment or material to be lifted with cranes. Prior to placing color code, specification & TPI (Third party inspection report need to be ensured).
Eyebolts- 
These are the mechanical Bolts that are being used to fix and ensure that D rings and slings or belts have tied properly and are ready to lift. Lifting operations could be performed only after conforming to the inspector. Inspector or safety in charge shall ensure SWL (safe working loads), TPI reports, visual checking of color and threads, and SOPs.
Guiding rope-
After assembly, this one is vital to guide the load/ equipment to place at the foundation or workplace.  Because of the presence of air, the material can move here and there so a guiding rope shall be used to guide it under formal instruction. Traditionally 2 guiding ropes shall be used for proper erection, loading, or offloading.  The first rope will guide and the 2nd rope will resist the movement.
The other components that can form the material handling system are
Hoisting equipment
Conveyors
Casters and wheels
Automatic guided vehicles
Lift trucks
Automated storage and retrieval systems
Industrial robots, etc
In recent times, automation is used in material handling systems which makes the material handling systems more efficient to perform their job.
Types of Material Handling Systems
Normally four types of material handling systems are used widely.
Storage Systems
Engineered Systems
Industrial Material Handling Trucks and
Bulk Material Handling Equipment
For maximum efficiency and safety, standardization of material handling methods, equipment, controls, and software should be used.
Pre-operation material handling system checklist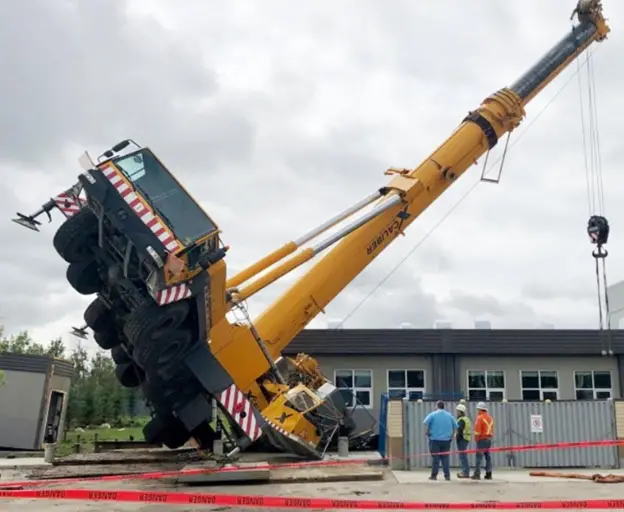 As the operation is big and is being used by some of the biggest industries such as refineries, power plants, and aviation industries, a checklist should be followed to ensure safe operation. The following points must be ensured:
Crane operators, trailer operators, and rigging foremen should be competent with experience in using specified equipment.
All tools & tackles shall be TPI inspected.
The approved color code is getting followed.
Lifting plans & JSA (Job safety analysis) should be in place.
All inspectors and supervisors should operate using the required PPES.
The workplace has to be inspected and compacted as per industry requirements.
Click here to know regarding crane safety during construction