Flange alignment tools are mechanical or hydraulic devices that are used to align or re-align flange joints during pipework construction, maintenance, commissioning, or shut-down activities. During initial bolting or after opening the bolting for maintenance and repair work, the flanges are, in general, misaligned. For proper fit-up of the flanges and smooth working, the flanges are required to be properly aligned. The flange alignment tools are very useful in such activities.
Various industries like chemical, petrochemical, pipeline, water, wastewater, refinery, oil and gas, power, food processing, etc use flange alignment tools to ensure that pipes and other fittings are perfectly aligned. Flange alignment tools are very cost-effective solutions for alignment and they make the alignment job easier.
Working of a Flange Alignment Tool
At the location of the greatest misalignment, the flange alignment tool is attached to the flange joint. The tool then pushes and pulls the flanges to bring them in the correct alignment. Depending on the sizes of the flanges, a range of flange alignment tools is available. The working steps of a typical flange alignment tool can be explained as follows:
Step 1: Determine the location of the greatest misalignment.
Step 2: Attach the Flange Alignment tool at the location of the greatest misalignment.
Step 3: Adjust and secure the tool to the pipe using the strap.
Step 4: Rotate the Screw handle until contact is made with the flange circumference.
Step 5: Continue to rotate the handle till the flanges are pushed and pulled and aligned
All the above-mentioned 5 steps can be represented graphically as shown in Fig. 1 below.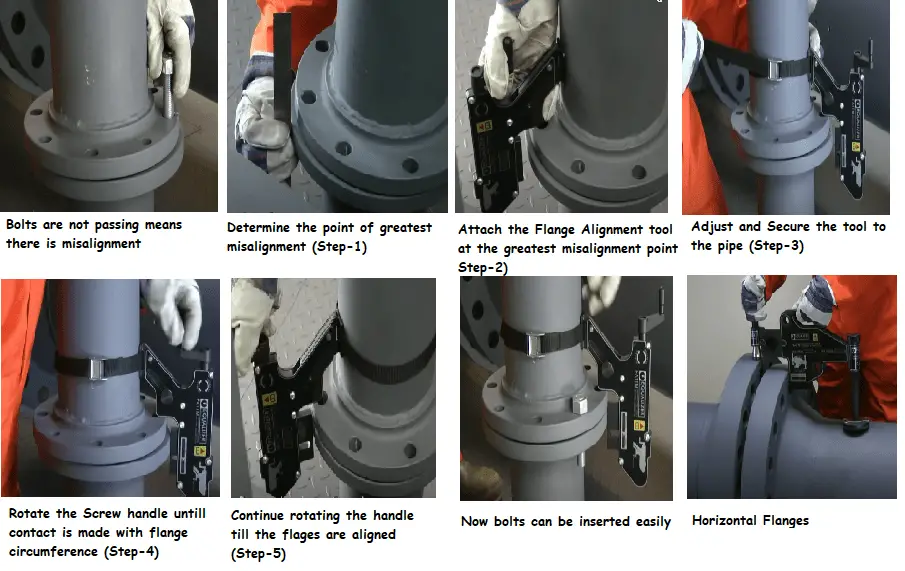 Types of Flange Alignment Tools
Depending on the working mechanism, there are two types of flange alignment tools that are used for industrial flange alignment purposes.
Mechanical Flange Alignment Tools and
Hydraulic Flange Alignment Tools
Mechanical flange alignment tools generate the pulling force by mechanical action whereas hydraulic flange alignment tools use the hydraulic action of a fluid to generate forces for alignment. The load-carrying capability of hydraulic flange alignment tools is usually more and they are more suited for very large-diameter piping and pipeline flanges. Mechanical flange alignment tools are preferred for small diameter lower pressure flange applications.
Applications of Flange Alignment Tools
The main purpose of flange alignment tools is to align both flanges for getting a smooth joint during fit-up. The main applications of flange alignment tools are:
Construction
Commissioning
Routine maintenance
Valve changeouts
Shutdowns or Outages
Testing
Features of Flange Alignment Tools
The main characteristic features of a flange alignment tool include the following
Compact
Light-weight
Portable
Available in wide ranges
Precise operation
Suitable for both vertical and horizontal pipe flanges.
Flange Alignment Tool Set
A mechanical flange alignment toolset usually consists of the following:
One flange alignment tool,
One hand wrench (including 22mm socket),
Strap belt, and
One portable case
Whereas a hydraulic flange alignment toolset consists of the following:
One flange alignment tool,
One hydraulic hose (2m),
One hand pump (including pressure gauge and adapter),
Rachet Belt, and
One portable case
Specification of Flange Alignment Tools
The flange alignment tools are usually specified by their maximum reaction force. The main parameters to specify a typical flange alignment tool are as follows:
Capacity or Maximum Reaction Force
Minimum Bolt Size
Minimum Bolt Hole Diameter
Case Dimensions
Weight
Working Pressure