Metal grating is a very useful perforated metal product widely used as floors, trench covers, mezzanines, trailer beds, scaffolding, stair treads, fencing, grills, bridges, fire escapes, and maintenance platforms in various industries. They are produced by perforating metal sheets or joining metallic bars to form a grid. Various manufacturing methods like expansion, perforation, molding, welding, etc are used to produce metal gratings.
The most common metals that are used to make metal gratings are iron, carbon steel, aluminum, and stainless steel. Metal gratings must have sufficient strength to carry the load and should have a non-slip safe surface to serve as a secure work platform.
Types of Metal Gratings
To cater to the different industry application needs, various types of metal gratings are produced. The specific type of metal grating selection depends on some parameters like:
thickness,
metal bar dimensions,
the configuration or pattern of the gaps or openings, which include oval, square, and diamond shapes.
load to be carried,
the work environment where used, etc.
In the following section, we will discuss the most common metal grating types.
Metal Grating Types
Expanded Metal Gratings
Expanded metal grating is produced by puncturing slits in a metal sheet. After the slits are cut, the metal sheets are stretched and pulled to expand them. Because of this expanding action, this type of metal grating is known as expanded metal grating. A diamond-shaped pattern with a slip-resistant surface is generated in the grating. The completed sheets are then cut to the required size to fit the application requirement. Common metals that are used to produce this type of metal gratings are carbon steel, stainless steel, and aluminum.
No waste is created while making expanded metal gratings and hence, this is very economical. The sheets have good structural strength. A Standard expanded process along with cold rolling to flatten the surface to a smooth even finish is usually used during manufacturing. Expanded metal grates are widely used in flooring, fences, security applications, steps, etc.
Bar Metal Grating or Bar Grating
This is the most common type of metal grating. Bar metal grating is constructed of parallel bars connected together to perpendicular bars using various methods like welding, riveting, press-locking, close meshing, etc. The joining method for bar grating is decided based on the thickness of the bars, the material being used, and the cost.
Steel and Aluminum are the most common metals to produce bar metal grating. Due to their high strength-to-weight ratio, they are used in industrial flooring, street drains, fire escapes, and bridges.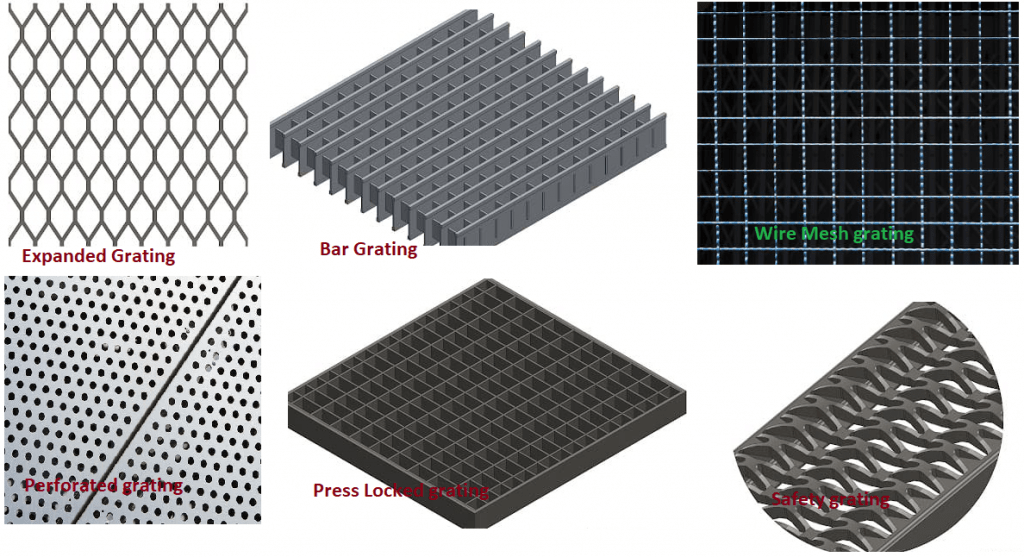 Wire Mesh Metal Grating
Wire mesh metal grating is also popular by names like wire cloth, wire fabric, wire grating, etc. This type of metal grating is produced by using rows and columns of intersecting wires. The popularity of wire mesh grating is due to its easy installation, high durability, flexibility, and versatility.
Depending on the manufacturer, wire mesh metal grating can be welded or woven. Welded wire metal grating is welded at locations where the row and columns intersect. On the other hand, woven wire metal grating is woven like cloth and thus has an array of intersecting wires with columns and rows going over and under at their connecting points.
Wire mesh metal grating is used for Separation and filtration, Security work, Ventilation, Screening and fencing, Material reinforcement, etc.
Perforated Metal Grating
Perforated metal grating is also known as perforated screen, perforated sheet, or perforated plate. They are produced by stamping, punching, or deforming metal sheets to create holes of a specific size, pattern, and shape. Exceptionally sturdy metals like stainless steel, carbon steel, and aluminum are used as metal sheets to make this type of metal grating. Holes are made by different metal fabrication processes like rotary pinning, die punching, laser cutting, etc.
Common applications of perforated metal grating are sound reduction, ventilation, screening, chemical purification, centrifuging, construction material development, etc.
Safety Grating
Also known as Grip Strut Grating, Safety grating provides a firm, solid, and skid-resistant walking surface. These types of metal gratings are designed to increase traction and prevent stumbling, slips, and falling. Small diamond protrusions are usually used in safety grating for greater grip and traction. The open surfaces prevent the accumulation of liquids and help in drainage and airflow. The increased grip of safety metal grating is due to the serration of the edges of the diamond openings created by cold stamping. Steel and Aluminum are the common materials for safety grating.
Compound Metal Grating
Compound metal grating is produced by combining two forms of grating and generally includes bar grating and steel plate grating. Usually, they are composed of a checkered plate sealed to the surface of a steel bar metal grating, with 3 mm to 6 mm steel plates. Compound metal grating is available in a variety of sizes and material types.
Press Locked Metal Grating
In Press locked metal grating, the cross and bearing bars are notched and pressed together and hence the name. They have a smooth even surface across the joined bars. Pressed locked metal gratings have an aesthetically appealing appearance and are generally produced from Steel and Aluminum with a wide variety of sizes and bar openings.
Common Materials Used to Make Gratings
Grating usually refers to any type of covering or frame used to cover holes, provide protection, offer support, or serve as a platform. A wide variety of materials can be used to manufacture grating. Even sturdy plastics can be used to make gratings.
In general, the metallic grating is more popular because of its strength and ability to adjust to many environmental conditions. Specialized metal gratings are used in various industries, airports, and manufacturing facilities and are very strong and durable.
Common materials used for manufacturing metal gratings are:
Aluminum
Light Duty Steel Metal
Stainless Steel
Galvanized Steel
Heavy Duty Carbon
Applications of Metal Grating
The most common use of metal grating is to protect workers by providing a secure, stable, and firm work surface with excellent traction. Additionally, they are placed to provide a barrier in unsafe or hazardous situations to prevent accidents. Some of the common uses of metal gratings can be listed as follows:
Metal Gratings for Buildings: In building services, metal gratings can be used as flooring, walkways, platforms, and mezzanines to provide a safe, strong, and durable structure and a protective barrier.
Gratings in Filtration Systems: Due to their corrosion resistance and exceptional strength, metal gratings are popular in water filtration systems. They can easily capture plastic bags, boxes, and other forms of garbage.
Floor Metal Grating: Metal grading is widely used for flooring. In marine and wastewater conditions, Aluminum floor grates are used. For heavy-duty applications, steel metal floor grating is normally used.
Fencing with Metal Grating: Due to the aesthetically appealing appearance, high strength, and rigidity metal gratings find applications as fencing.
Sump Covers: Steel bar grating is used to cover pits or sumps where chemicals or water are collected.
Loading Ramps: Metal gratings also find applications as loading ramps for loading and unloading heavy cargo into elevated platforms or vehicles.
Rail Cars: A bar grating is usually used for running boards, brake steps, walkways, and platforms in locomotives, freight cars, or railcars.
Some other applications include:
Bridge Sidewalks
Concrete Reinforcement
Dipping Trays
Drainage Covers
Fire Escapes
Fork Lift Traffic
Ladder Treads
Landing Mats
Light Guards
Machine and Motor Bases
Machine Bases
Machinery Safety Guards
Machinery Support
Material Screens
Motor Bases
Ornamental Grills
Overhead Signs
Paint Booths
Partitions
Racks & Shelving
Ramps
Running Boards
Security Screens
Snow Fences
Solar Screens
Stage Flooring
Stairs
Strainers
Tree & Pole Guards
Trench Covers
Trenches
Truck Beds
Truck Grills
Ventilating Screens
Wash Racks
Window Guards