A pipefitter is a professional with assembly, fabrication, installation, and repair experience in piping systems. All industrial plants involve kilometers of the piping network is the result of thousands of pipefitters' hard work. So, in the piping industry, pipefitters play a responsible role. As most of the piping systems operate under high pressure, to maintain the system integrity, the work performed by pipefitters must be of high quality. Pipefitters are also known as steamfitters.
What do pipefitters do? Pipefitters Job description
Most of the time the question arises in our mind is that "what do pipefitters do?" in actual practice. Broadly, a pipefitter performs all piping-related construction jobs under the supervision of a construction piping engineer. The major job description of a pipefitter can include (but is not limited to) the following:
Preparing the workplace, materials, and equipment after Inspecting the workplace and clearing the obstructions.
Proper planning of piping system and equipment installations in consultation with the piping engineer.
Modify pipes as per specifications, codes, standards, or design drawing requirements using a variety of tools known as pipefitters tools.
Measuring and marking the pipes for cutting and threading operations to suit the assembly requirement.
Welding pipes with several pipe components to form piping assembly and systems.
Using brackets, clamps, and welding equipment to secure pipes to walls and fixtures.
Collecting and ordering required materials like pipes, brackets, hydraulic cylinders, hangers, etc. for erecting at the site.
Maintaining and Repairing piping systems, supports, and connected equipment.
Testing the functionality of the piping system.
Basic Requirements for being a Pipefitter
To be suitable for a pipefitter job application, the candidate has to be
Education: High school/ Diploma/ITI.
Training: Pipefitters training/Trade school education /apprenticeship.
Experience: Proven working experience as a Pipe Fitter.
Excellent troubleshooting skills.
Ability to plan, prioritize, and maintain strong attention to minute job details.
Good communication and managerial skills.
Sometimes state licensure requirements are also required for specific job requirements.
Pipefitters Job/ Jobs for Pipefitters
Pipefitter's work opportunities are broad. There is a huge demand for experienced pipefitters all over the world. The industries where a pipefitter can expect a job are:
Process Piping Industry

Refineries
Chemical Plants
Petrochemical Plants

Power Piping industry
Pharmaceutical Plants
Nuclear Industry
Steel industry
Oil and Gas

Offshore industries
Onshore industries

Pipeline Industries, etc
Food Industries
Marine Industries
Overall, wherever pipes are used for fluid transport or processing, pipefitters can get a job during the construction and shut-down maintenance stage of all those industries.
Pipefitters Salary / Salary for Pipefitters
The pipefitters industry is ever-growing. As various industries mentioned above employ pipefitters, they get a handsome package. The salary of pipefitters varies depending on the region. Pipefitters' salary is completely different in Asia with respect to the USA or UK. An experienced pipefitter can expect $10 to $25 per hour depending on the USA or Europe, but $6 to $15 in Asia.
Pipefitters Tools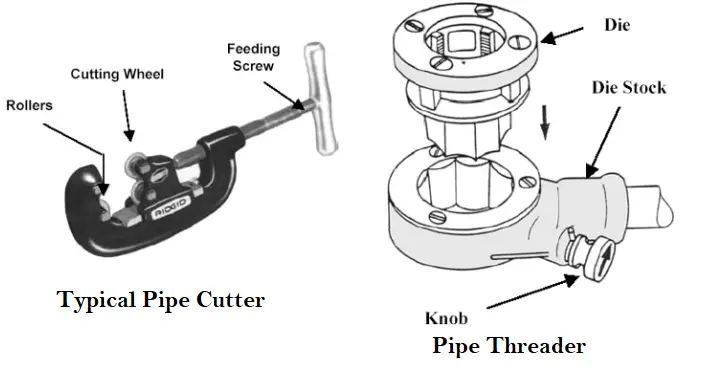 In the day to day work, every pipefitter uses various kinds of tools, popularly known as pipefitters tools. All these tools make a pipefitter's life easy. A few of such commonly used pipefitters tools are listed below for reference:
Air Compressor
Tape measure
C-Clamp
Teflon tape & pipe seal
Chain Vise
Center Punch
Hydraulic Jack
Chipping Hammer
Pipe Bender
Pipe Threader
Pipe Cutter
Flange Aligners
Wrench
Spanner
Contour Marker
Forklift
Crane
Scriber
Hacksaw
Fitters grips
Wraparounds
Universal pliers
Centering tools
Electric drill machine
Pipefitters Training
Pipefitters normally get their huge experience from apprentice on-the-job training programs. The formats of the pipefitter's training programs vary a little from country to country but most of them cover the basic piping details. Most of this training discusses the following:
Basic Technical mathematics for pipefitters
Inch and Metric systems of measurement
Pipe system types and design
Equipment, Tools, and materials used in Piping
Technical Drawings and Symbols and interpret them for pipe fabrication
Safety standards
Common pipe fittings, valves, flanges, flowmeters, and pressure gauges.
Trade terminology and communication strategies
Pipe Fitting methods.
Pipe Bending Process-Hot Bending vs Cold Bending
Pipefitters Handbook
Pipefitters Handbook explains all the important aspects of a pipefitter's work. This book is a ready reference to gain knowledge to work in the pipefitters trade. Even though on-the-job training is the main aspect of a pipefitters experience, this pipefitters handbook is a good companion for a pipefitter. Various authors have shared their lifelong experiences to make the reader more knowledgeable and learn from the author's viewpoint.
Difference Between Plumber and Pipefitter
The term plumbing and pipefitting are sometimes used interchangeably by many users, but both are not the same even though both work with piping systems. Both Plumber and Pipefitter a profession are different as mentioned below:
| | |
| --- | --- |
| Plumber | Pipefitter |
| A plumber's work revolves around public utility systems. | Pipefitters handle a wide range of complex piping systems. |
| Their main product is water, sewer, and wastewater systems | Pipefitter work with pipes handling steam, crude, and various other process fluids at high temperatures and pressure.  |
| They work in buildings; both residential and commercial. | Pipefitters work in industries. |
| Lower end skills | Higher-end skills like pipe bending, threading, welding, grinding, etc. |
| Less Hazardous | Highly Hazardous |
| Less challenging job | Highly challenging and risky jobs. |
| Salary less | More Salary |
| Materials are normally copper and PVC | Carbon steel, stainless steel, and other alloys. |
Plumber vs Pipefitter