The Purpose of the isolation joint is to prevent detrimental electro-chemical interaction and improve the effectiveness of the cathodic protection system. Isolating joints are also used to ensure effective current distribution for cathodic protection system.
Isolating Joint Functional Requirements
Isolation joint shall be suitable for Pigging Operation.
Slip-on Flanges shall not be used.
The isolation joints shall be able to withstand the operating conditions stated in the requisition sheets. Where the operating conditions are not stated, the following operating conditions shall apply.
Installation: Above ground
Design temperature: 82 deg C maximum & 5 deg minimum
Isolation Joint Components
1) Two spools, each consisting of a pipe segment with a bevelled end for welding to the pipeline on one side,   having a welded-on boltless flange at the other end for encapsulation into isolating and filler material.
The material used for the pipe segments shall be compatible with the pipeline material.
2) A rigid casting (retaining ring) for strength connection.
–     One set of ring seals for pipeline internal pressure containment below 50bar(g).
–     A double sealing arrangement shall be specified for design pressure in excess of 50bar(g).
3) Two terminal connecting lugs on the outer surface of each spool. Each lug shall be suitable for M10 bolted cable connection.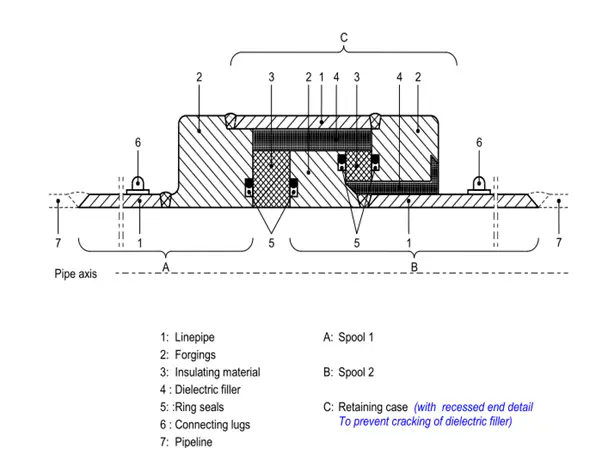 Dimensional Requirements of Isolation Joint
The Internal Diameter of the Isolating Joint shall not deviate by more then   +/- 2% of the nominal internal diameter of the pipeline for diameter not exceeding DN500 and +/-1.5% for nominal diameters above DN500.
The pup pieces at both end of the isolating joint should be the same wall thickness as the pipeline.