A Lifting lug is a plate with a hole in it. As the term specifies, lifting lugs are used for lifting. The hole is sized to fit a clevis pin. Using lifting lugs combined with the clevis pins, loads are transferred from one mechanical component to another. For mechanical static equipment (Fig. 1), these lifting lugs are used by cranes for transportation and installation.
While lifting this mechanical equipment, the lugs must be able to carry the complete weight of the equipment. Also, while transporting and installing various kinds of forces act on those lifting lugs. Hence, the lifting lug design has to be accurate enough to avoid any failure. In this article, we will briefly explore the lifting lug design methodology.
Lifting Lug Arrangements for lifting Vessels
Fig. 1 below shows the lifting lug arrangements that are attached to pressure vessels for industrial use.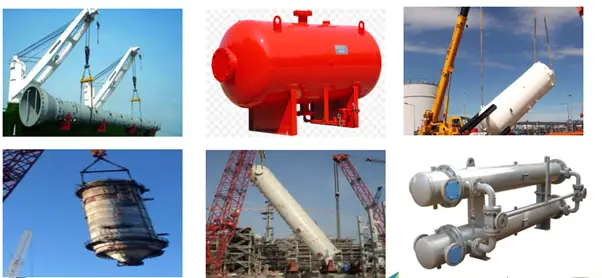 Lifting Lug Shapes
Lifting lugs can be of various shapes as shown in Fig. 2. The shapes are decided by manufacturers.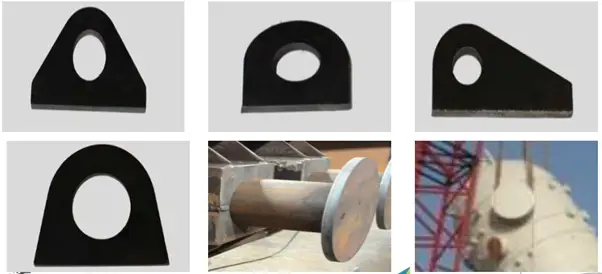 Lifting Lug Arrangements for Horizontal Vessels
Fig. 3 shows widely used industrial lifting arrangements during construction for horizontal vessels.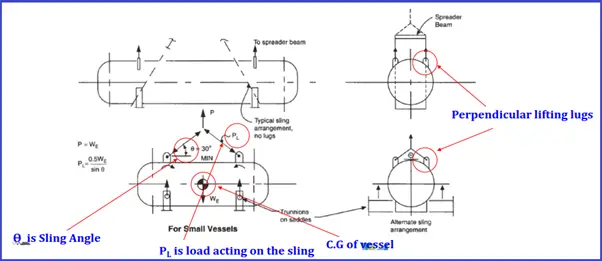 Lifting Arrangements for Leg-Supported Vessels
Fig. 4 shows typical lifting arrangements popularly used for vertical vessels in industries.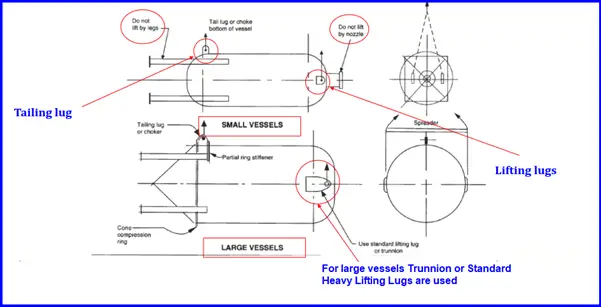 Forces in Lifting Lug Design
Horizontal to vertical lifting Forces: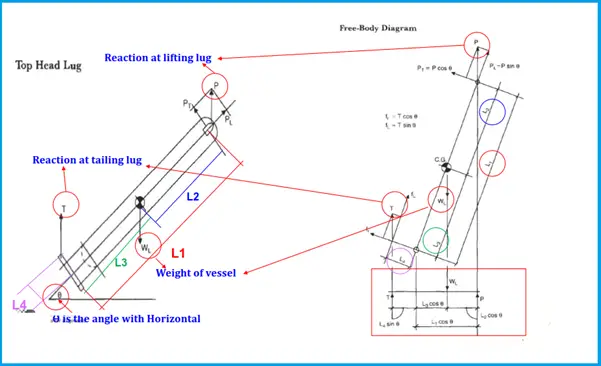 Horizontal to vertical lifting Forces Calculations: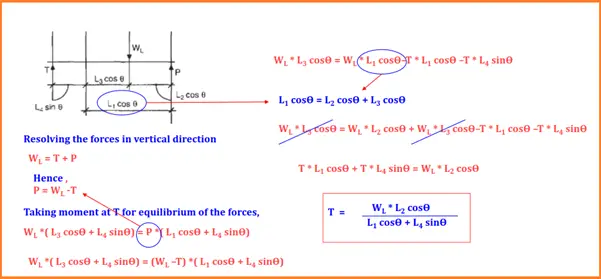 Horizontal to vertical lifting Forces Calculations with Sample Problem:
Lifting Lug design Standard
ASME BTH-1 "Design of Below-The-Hook Lifting Devices." governs the design of lifting lugs for industries. For producing a safe reliable design, This is the most widely used lifting lug design standard. However, As such standards do not clearly address the local stress calculation steps, Finite Element Analysis is performed using various software like Ansys, PV-elite, etc.
Lifting Lug Design
Lifting lug design is very critical and hence mostly done using FEA software. The basic design of a lifting lug consists of the following four parts;
the design of the lug plate,
verifying the weld used to connect it to a shell or structure,
checking the bearing stress at the pin-hole and
confirming the end area of the lug.
The following image shows the parts of a Pad-Efe Lifting Lug.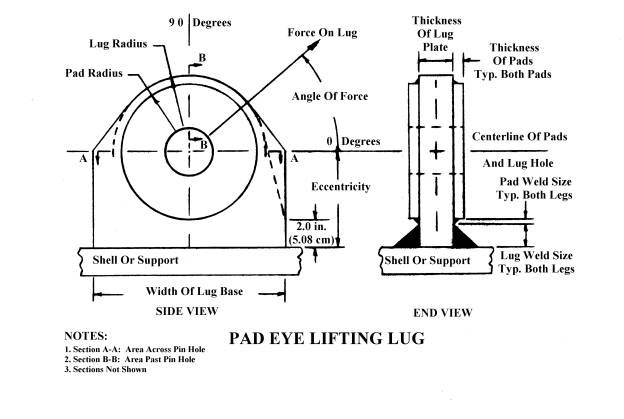 In the following section, we will see the design methodology followed for lifting lug design using PV-Elite software.
Lifting Lug design Thickness calculations: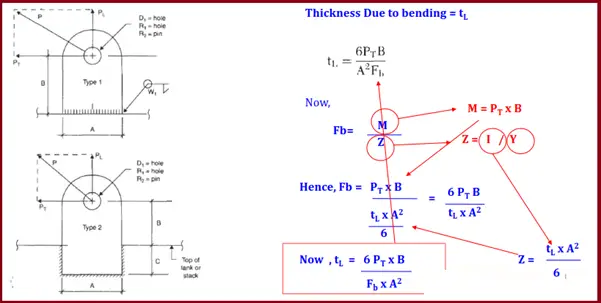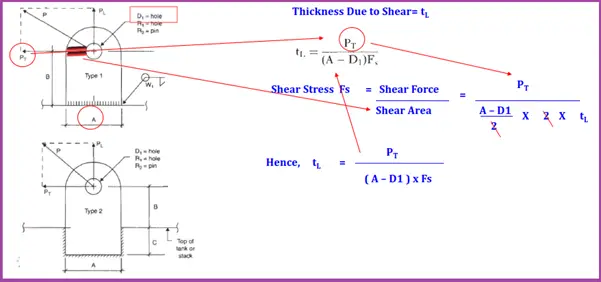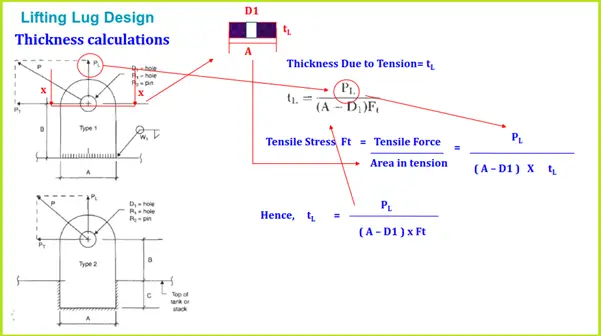 PV Elite Forces and sign Conventions: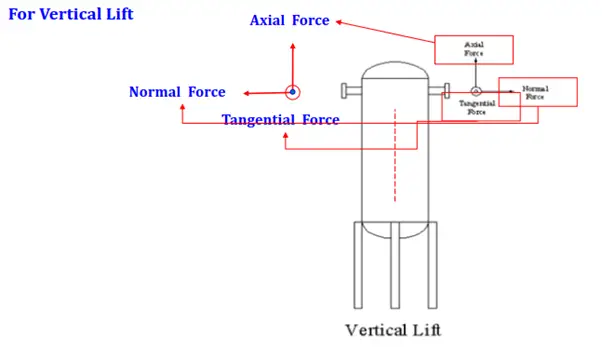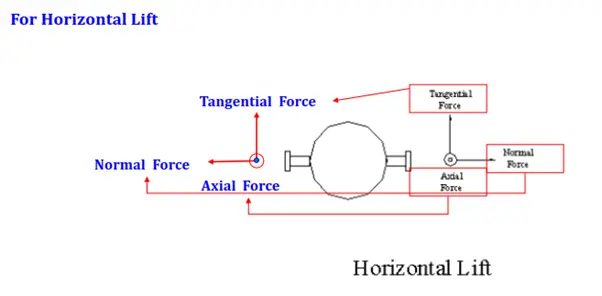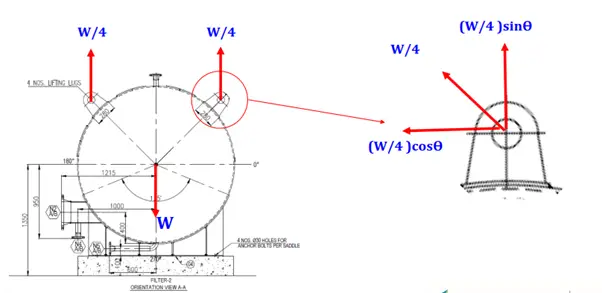 PV Elite Lifting Lug Sample Example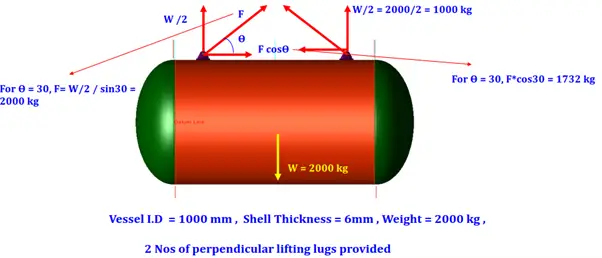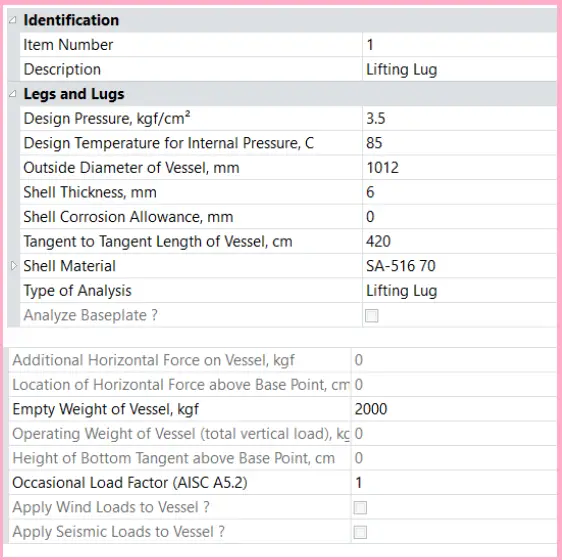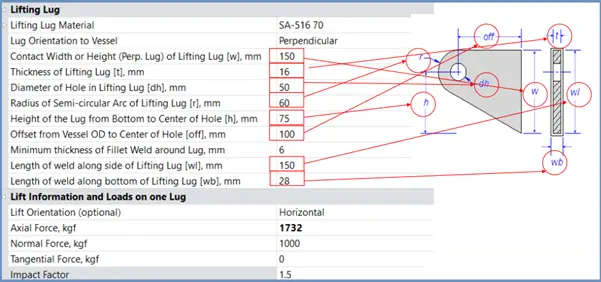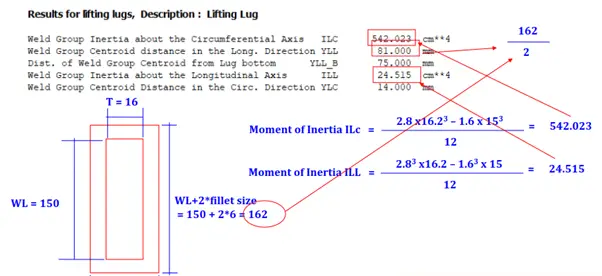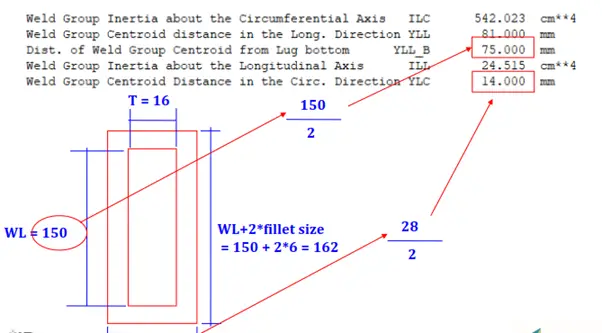 This presentation is prepared by Mr. Deepak Sethia who is working in ImageGrafix Software FZCO, the Hexagon CAS Global Network Partner in the Middle East and Egypt. He has extensive experience in using Caesar II and PV Elite software and troubleshooting.