In the vast network of pipelines that crisscross our planet, maintaining the integrity and uninterrupted flow of vital resources such as oil and natural gas is of paramount importance. But what happens when a pipeline needs to be stopped or isolated for maintenance, repairs, or emergency situations without shutting down the entire system? This is where pipeline stopples come into play. Stopples developed by T.D. Williamson Inc. can safely meet these requirements in a refinery or petrochemical plant.
In this article, we'll explore the fascinating world of pipeline stopples, their functionality, applications, and the crucial role they play in the energy industry.
What are Pipeline Stopples?
A pipeline stopple, also known simply as a "line stopper" or "pipe stopper," is a specialized device designed to temporarily block or isolate the flow in a section of a pipeline. These stopples are typically used for maintenance activities, inspections, repairs, additions (Hot Tapping), relocation, or even in emergency situations where a pipeline needs to be sealed off without disrupting the flow of product in the rest of the system.
Pipeline Stopple Fittings are specialized full-branch split tees that are designed for use with TDW plugging machines. They are available in various materials to suit the different pipeline material's compatibility.
In the early 1950s, T. D. Williamson introduced the STOPPLE plugging system and today it is one of the most reliable and widely used methods of isolating a pipeline section. Fig. 1 below shows a typical pipeline stopple.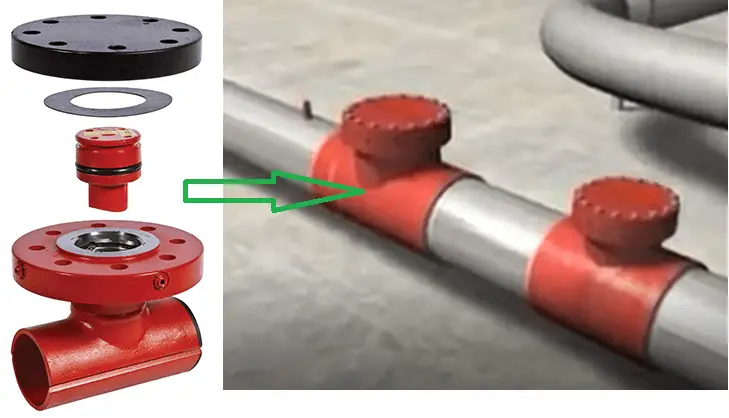 Applications of Pipeline Stopples
Pipeline stopples have a wide range of applications across the energy industry:
Maintenance and Repairs: Stopples are used to isolate damaged or malfunctioning sections of pipelines, allowing for safe and efficient repair work without the need to shut down the entire system.
Inspections: They enable thorough inspections of pipeline integrity and the detection of potential issues like corrosion or leaks.
Emergency Response: In the event of a pipeline rupture or leak, stopples can be used to isolate the affected area, minimizing environmental damage and safety risks.
Product Changeovers: Stopples facilitate the changeover of product types in multi-product pipelines without cross-contamination.
Hot Tap: Pipeline stopple fittings are widely used for hot tapping for branch connection 
Conclusion
Pipeline stopples are an important fitting of the energy industry, ensuring the continuous and safe transportation of vital resources while allowing for necessary maintenance and repairs. These ingenious devices not only protect the environment and human safety but also contribute to the efficiency and reliability of pipeline systems worldwide. As the energy sector continues to evolve, pipeline stopples will remain an indispensable tool, safeguarding the lifeline of this critical industry.