In the piping and plumbing industry, a piping nipple is a pipe fitting, consisting of a short straight piece of pipe, usually provided with male pipe thread at both ends, for connecting two other female threaded fittings or pipes. It is one of the most popular categories of pipe fittings. Pipe Nipples are commonly used as adapters from one connection type to another.
Pipe nipples are mainly used in low-pressure piping systems. They are used to fit straight-end hoses or pipes. The working pressure of pipe nipples will vary with the size and construction of the pipe, temperature, and product being conveyed. Pipe nipples are available in the widest variety of wall thicknesses and materials in the industry.
Pipe nipples are fabricated by cutting a specified length of pipe and applying the desired end connections. The pipe nipple dimensions and material follow pipe specifications based on ASME code B16.11. Pipe nipples come in seamless, threaded, grooved, barbed, bent, or welded construction.
Applications of pipe nipples
Pipe nipples as pipe fittings in a wide variety of industrial applications like:
Oil & Gas
Chemical processing industries
Petrochemical
Pharmaceutical
Food & beverage
Pulp & paper
Shipbuilding/marine
Waste incineration
Machine building
Architectural
Semiconductor etc.
Pipe Nipple Ordering Information
When ordering pipe nipples, the following properties must be specified:
Diameter
Length
Schedule or thickness
Material  (Brass/ Aluminium/ Stainless steel/ Iron/ Copper/ PVC/ Carbon steel/ Cast Iron)
End Connections (Threads/ Bevelled Ends/ Square Cut Ends/ Grooved/ Bended/ Barbed/ Seamless)
Technical Specifications like Pressures, Temperatures, Safety coefficients, Conformity to the standards, Certifications, Standard, Double duty, Extra duty, Extra double duty, etc.
The length of the pipe nipple is usually specified by the overall length including threads. Pipe Nipples can come in any specified length, but most commonly range between close to 12".  A close pipe nipple is the shortest piece of pipe necessary to allow for fully threaded end connections, where there is no smooth surface between threads. Threads used on nipples are BSP, BSPT, NPT, NPSM, and Metric.
Types of Pipe Nipples
There are several different types of pipe nipples in common use. A short list includes:
Barrel Nipple
Close Nipple / Running Nipple
Hexagonal Nipple
Reducing Nipple / Unequal Nipple
Hose Nipple
Welding Nipple
Swage Nipple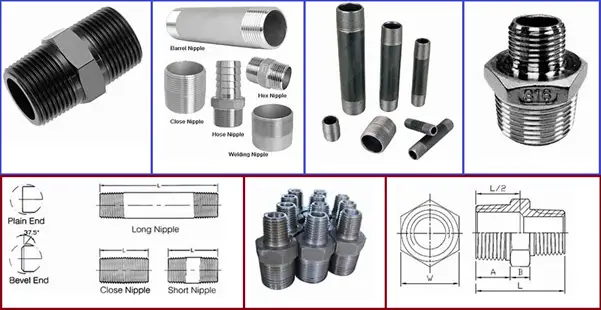 Swage nipple
The basic purpose of a swage nipple is to bring the flow of fluids from one pipe size to another. These are available with plain, beveled, or threaded ends.
Close Nipple / Running Nipple
In its most basic form, a pipe nipple is a short length of pipe with male pipe threads at both ends for connecting other fittings. Generally, there is a short distance of unthreaded pipe between the two threaded ends, depending on how far apart you need the attached fittings to be. When there is no unthreaded pipe between the two connecting ends, the pipe nipple is called a "close nipple" or a "running nipple". In that case, connected fittings come close to touching one another and very little of the nipple can be seen.
Close nipples are difficult to work with. A close nipple can only be unscrewed by gripping one threaded end with a pipe wrench which will damage the threads and necessitate replacing the nipple, or by using a specialty tool known as a nipple wrench which grips the inside of the pipe, leaving the threads undamaged.
Hexagonal Nipple
In pipe nipples where there is a little space between both the threaded ends, there may have a hexagonal section in the center for a wrench to grasp the nipple. These nipples are called "hexagonal nipples". This hexagonal section in the middle functions like a nut that can be gripped by a normal wrench, providing a greater mechanical advantage than a normally rounded pipe nipple. A hexagonal nipple with more distance between the threaded ends is called a "long hex nipple".
Reducing Nipple / Unequal Nipple
For ping systems that require a change in pipe dimension, "reducing nipple" or "unequal nipple" is used. Reducing nipple takes a female fitting with a larger connection and attaches it to a smaller one. Care should be taken when using these parts since a reduction in pipe diameter can mean more pressure and a greater flow rate in the smaller pipe/fitting.
Hose Nipple
For piping systems that require pipe connection to tubing, a "hose nipple" is used. A hose nipple features a male threaded connection on one end and a hose barb on the other end. The hose barb may be the same size as the pipe connection or it may be of reduced size.
Welding Nipple
For piping systems that require to be connected to welded pipes or fittings, a "welding nipple" is used. The welding nipple has a threaded connection on one end and a normal cut pipe at the other end. The unthreaded end of the pipe provides more surface area for the use of welding materials to make a stronger connection. One main benefit of welding nipples is that once the unthreaded end is connected, connecting pipes or other fittings to the threaded end becomes much easier.
Pipe Nipple End Connections
The end connections need to be specified by the customer as well;
Plain Both Ends (PBE), Threaded Both Ends (TBE), Bevelled Both Ends (BBE), Threaded One End (TOE), Bevelled One End (BOE), Plain One End (POE), or a combination thereof, depending on the ends of the piping system into which the pipe nipple will be fitted.
A Plain Both Ends (PBE) pipe nipple, has both ends as plain ends, with no thread, typically used to fit a socket weld connection.
A Threaded Both Ends (TBE) pipe nipple has both ends as threaded ends and is used to fit female threaded connections.
A Bevelled Both Ends (BBE) pipe nipple has both ends as bevel ends and is used for welding purposes like a buttweld fitting.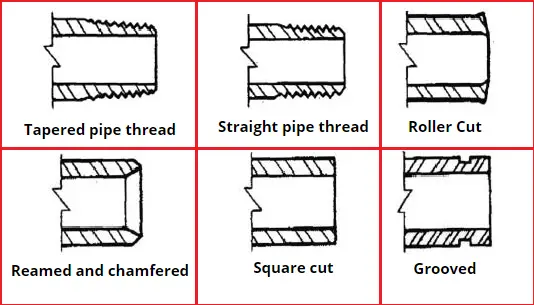 Finishes on piping nipples
Piping Nipples comes with the following finishes
Black coating
Electro-galvanized
Hot-dipped galvanized finishes
Copper plating etc.
Few more related resources for you.

Types of Reducers in the Piping Industry
Piping Elbows vs Bends: A useful literature for piping engineers
"Pipe Coupling"-A short Introduction for the piping professionals
Different Types of Hose Couplings
A Literature on Piping Nipples for piping and plumbing industry
Guidelines for Selection of Various Types of Flanges