Threaded Connections are widely used for small bore piping having nominal diameters NPS 2 or smaller. This is the oldest pipe-joining method and is still highly popular. Threaded pipe fittings are used for non-critical applications with lower temperatures and pressure services. The majority of threaded fittings are used in the plumbing industry.
The American Standard ASME B1.20.1 serves as the dimensional standard for taper pipe threads providing a number of threads per inch, pitch diameter, and normal engagement lengths for all pipe diameters. Threaded steel fittings are made by forging. They are available in various thread types like NPT, BSPP, BSPT, PF, PT, and MPT. Even though threaded fittings are mostly used for small bore piping connections, threaded fittings are available in up to 4" (NPS 4) sizes and are sometimes used.
Threaded Fitting Types
ASME B 16.11 threaded fittings are available in Class 2000, 3000, and 6000. The schedule of pipe corresponding to each Class designation of threaded fitting for rating purposes is given below.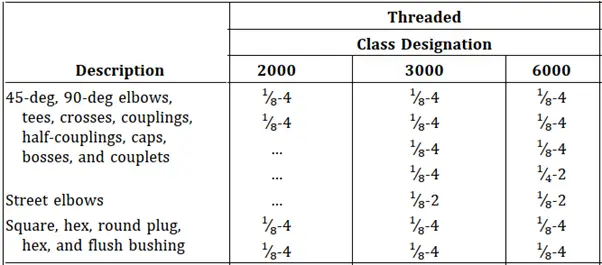 Use of Threaded Fittings
Threaded fittings are not suitable for higher pressure and temperature and cyclical operations. Hence these are used for less critical, low-pressure applications as listed below:
Fittings for Threaded Pipe systems
Various threaded fittings are available for threaded piping systems. They are:
Threaded Elbow:
Two types of threaded elbows (Fig. 2) are available as mentioned below:
Threaded 90° Elbow: These Elbows are used for 90° changes of direction in the run of pipe.
Threaded 45° Elbow: These threaded Elbows help the main pipe to make a 45° direction change.

Threaded Tee (Fig. 3) as pipe fitting makes a perpendicular branch from the main pipe run. They are available in two types
Equal Tee: Main pipe and Branch pipe sizes are equal.
Reducing Tee: The branch Pipe Size is smaller than the main pipe
Threaded Cross:
Threaded crosses or cross tees are also known as four-way fittings. It has one inlet and three outlet connections. So the flow in pipe crosses (Fig. 3) is distributed in three directions. Threaded crosses make two 90° branches from the main run pipe direction. Crosses have female threads and make secure pipe connections with male piping elements.

Threaded Couplings:
Threaded couplings are forged fittings for joining pipes. They are available as full couplings or half couplings.

Threaded Cap:
Threaded caps are used to close or cover piping ends. So threaded piping caps (Fig. 5) are used for sealing purposes.
Threaded Plugs:
Threaded plugs are also used for sealing or blinding purposes. they are available in three variants:
Threaded Square Head Plug: The shape of the head is square.
Threaded Hex Head Plug: The shape of the head is hexagonal.
Threaded Round Head Plug: The shape of the head is circular (Fig. 5).
Threaded Bushings:
Threaded bushings have hexagonal heads and are used for joining threaded pipes of different sizes. So, the threaded bushing can aid in size reduction.
Threaded Unions:
Threaded unions are designed based on MSS-SP 83. Threaded unions consist of three interconnected elements and are used for installation and maintenance purposes. Unions are available in male-to-female, female-to-female types, lug nuts, and Rockwood designs. The lug nut connected both pieces.

Standards for Thread connections
Following Standards are used for designing threaded pipe fittings
ASME B16.11: Forged Fittings, Socket Welding, and Threaded.
MSS-SP-83: Class 3000 Steel Pipe Unions, Socket-Welding, and Threaded
ASME B16.3: Malleable Iron Threaded Fittings
ASME B16.4: Gray Iron Threaded Fittings
ASME B16.39: Malleable Iron Threaded Pipe Unions
ASME B16.34: Valves — Flanged, Threaded, and Welding End
ASME B16.39: Malleable Iron Threaded Pipe Unions, Class 150, 250, and 300
Materials for threaded fittings
Threaded fittings can be manufactured from the following materials
Carbon Steel (A-105)
Alloy Steel (A-182)
Stainless Steel (A-182)
Low Alloy Steel (A-350)
Cooper Nickel
Advantages of Threaded Fitting Connections
The main advantages of threaded fittings are
Quick installation.
Suitable for low-pressure applications, leakage integrity is good.
Installation is easy, Special installation skill is not required.
Less force is required for joining.
Parts can be detached.
Economic as cheaper.
Disadvantages of Threaded Connections
However, there are a few disadvantages of threaded piping connections as listed below:
Not suitable for high-temperature-pressure applications.
Threads may suffer from corrosion in a corrosive environment.
Temperature changes may cause leakage problems.
Fatigue damage can occur for cyclic services.
Strength is less as compared to welding.
B31.3 recommendations for threaded connections
Threaded joints should be avoided in corrosive and erosive environments or where cyclic loading may occur.
The layout of piping employing threaded joints should minimize stress on joints, giving special consideration to stresses due to thermal expansion and operation of valves.
Threaded components of a specialty nature that are not subject to external moment loading, such as thermometer wells, may be used under severe cyclic conditions.
Table 314.2.1 of ASME B31.3 provides the minimum Schedule of Components With External Threads
Threaded Fittings vs Socket Welded Fittings
The major differences between threaded and socket welded fittings are tabulated below:
| | |
| --- | --- |
| Threaded Fittings | Socket Welded Fittings |
| Threaded fittings are screwed into piping or piping components.  | Socket welded fittings are joined by fillet welding. |
| Threaded fitting connections are Less reliable | Socket welded fittings are more reliable |
| The strength of threaded fitting connections is comparatively less; prone to leakage | Socket welded fittings have more Strength and long-lasting connection. |
| Threaded fittings are available in pressure class 2000#, 3000#, and 6000# | Additional pressure class 9000# is available for socket welded fittings. |
Threaded fittings vs Socket Welded fittings
Online Video Course on Piping and Pipe Fittings
To enrich yourself with piping and pipe fitting details you can opt for the following online video courses