Duplex Stainless Steels are a specific group of engineering stainless steel materials consisting of the austenitic and ferritic phases in roughly equal proportions in the microstructure. They are widely popular because of their good corrosion resistance, high strength, and ease of fabrication. They are also popular by their acronym DSS. Compared to traditional austenitic stainless steel and ferritic stainless steel grades; Duplex Stainless Steels provide a range of benefits like:
Improved Strength: Roughly two times stronger than normal stainless steel grades.
High Toughness and Ductility
High Corrosion Resistance
Cost-Effectiveness: High strength of DSS material required less pipe thickness reducing pipe weight. Also, lower levels of nickel reduce cost.
Applications of Duplex Stainless Steel
Excellent corrosion resistance with increased strength and affordable pricing makes duplex stainless steel (DSS) a popular choice for a variety of industries. Their wide uses are found in:
Chemical and liquid processing
Offshore (flowlines, risers) and other industrial operations
Naval parts and components
Pulp and paper production
Pollution control equipment
Water Treatment/Desalination plants
Construction, Infrastructure, Architecture
Hot water and brewing tanks
Food and Drink Storage
Boilers, Heat exchangers, pressure vessels
Marine Tanks
Renewable Energy
Nuclear Industry
Duplex Stainless Steel Grades
Duplex stainless steels have a higher chromium content, 20–28%; higher molybdenum, up to 5%; lower nickel, up to 9%, and 0.05–0.50% nitrogen as compared to austenitic stainless steels. For resistance against pitting corrosion, DSS material is an ideal selection. The resistance against pitting corrosion is characterized by the pitting resistance equivalence number, or PREN Number defined as follows:
PREN = %Cr + 3.3 %Mo + 16 %N
Depending on the PREN Number values, Duplex Stainless Steel is categorized into four grades.
Lean duplex grades (PREN range: 22–27): No deliberate Molybdenum addition. mainly used in the building and construction industry for bridges, pressure vessels, or tie bars. Example: S32001, S32101, S32304, S32202.
Standard duplex (PREN range: 28–38): The most widely used (More than 80%) duplex stainless steel material with mid-range properties. Example: S32003, S31803, S32205
Super duplex (PREN range: 38-45): Higher contents of Cr, Ni, Mo, N, and even W.  Specifically designed for highly corrosive oil&gas and chemical industries. Example, S32750, S32760, S32950, S32808.
Hyper duplex (PREN >45): These are highly alloyed duplex stainless steel. Example S32707, S33207
Naming Convention for Duplex Stainless Steels
Various naming conventions are followed for duplex stainless steels such as:
Composition-based Names: For DSS 2205 or 2305; 22 or 23 denotes %Cr and 5 denotes %Ni in that specific DSS material.
UNS Designation: Unified Numbering System or UNS designation of DSS materials is the most popular and listed on ASTM specifications.
AISI Designation: Only one DSS material type 329 has an AISI designation.
Duplex Stainless Steel Properties
As informed earlier the duplex name has arrived from the co-existence of both austenitic (FCC Structure) and ferritic (BCC Structure) in approximately equal proportions (Fig. 1). The major alloying elements are Chromium, Silicon, Molybdenum, Carbon, Nickel, Nitrogen, Manganese, Copper, Tungsten.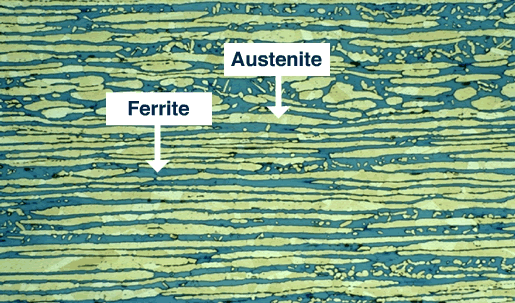 Typical duplex stainless steel exhibits a higher strength value as compared to stainless steel. But, the working temperature range of DSS is normally narrow as at around 300oC  undesirable intermetallic phases (α' -alpha prime phase) start to precipitate which decreases the mechanical properties and corrosion resistance by embrittlement phenomenon. The following table provides some selected properties of common duplex stainless steel grades.
| | | | | | |
| --- | --- | --- | --- | --- | --- |
| DSS Grades | ASTM A789 Grade S32520 Heat-Treated | ASTM A790 Grade S31803 Heat-Treated | ASTM A790 Grade S32304 Heat-Treated | ASTM A815 Grade S32550 Heat-Treated | ASTM A815 Grade S32205 Heat-Treated |
| Elastic Modulus | 200 GPa  | 200 GPa  | 200 GPa  | 200 GPa  | 200 GPa  |
| Elongation | 25 %  | 25 %  | 25 %  | 15 %  | 20 %  |
| Tensile Strength | 770 MPa  | 620 MPa  | 600 MPa  | 800 MPa  | 655 MPa  |
| Brinell hardness | 310 | 290 | 290 | 302 | 290 |
| Yield Strength | 550 MPa  | 450 MPa  | 400 MPa  | 550 MPa  | 450 MPa  |
| Thermal expansion coefficient | 1E-5 1/K  | 1E-5 1/K  | 1E-5 1/K  | 1E-5 1/K  | 1E-5 1/K  |
| Specific Heat capacity | 440 – 502 J/(kg·K)  | 440 – 502 J/(kg·K)  | 440 – 502 J/(kg·K)  | 440 – 502 J/(kg·K)  | 440 – 502 J/(kg·K)  |
| Thermal Conductivity | 13 – 30 W/(m·K)  | 13 – 30 W/(m·K)  | 13 – 30 W/(m·K)  | 13 – 30 W/(m·K)  | 13 – 30 W/(m·K)  |
Table: Properties of Duplex Stainless Steel
The stress-strain curve of austenitic, ferritic, and duplex stainless steels are plotted in the following curve for reference: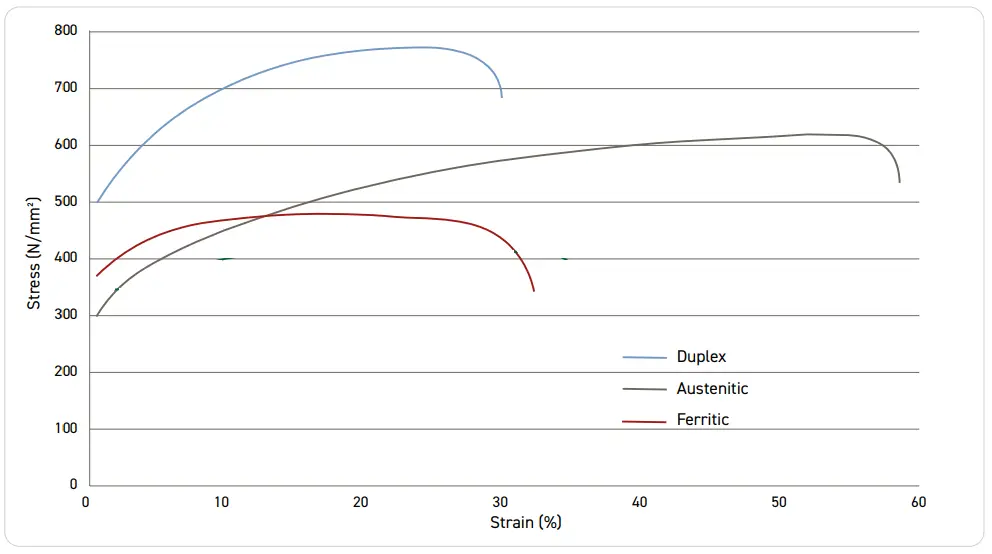 Composition of Duplex Stainless Steel
The following table in Fig. 3 and Fig. 4 provides the chemical compositions in %wt for common DSS and SDSS materials.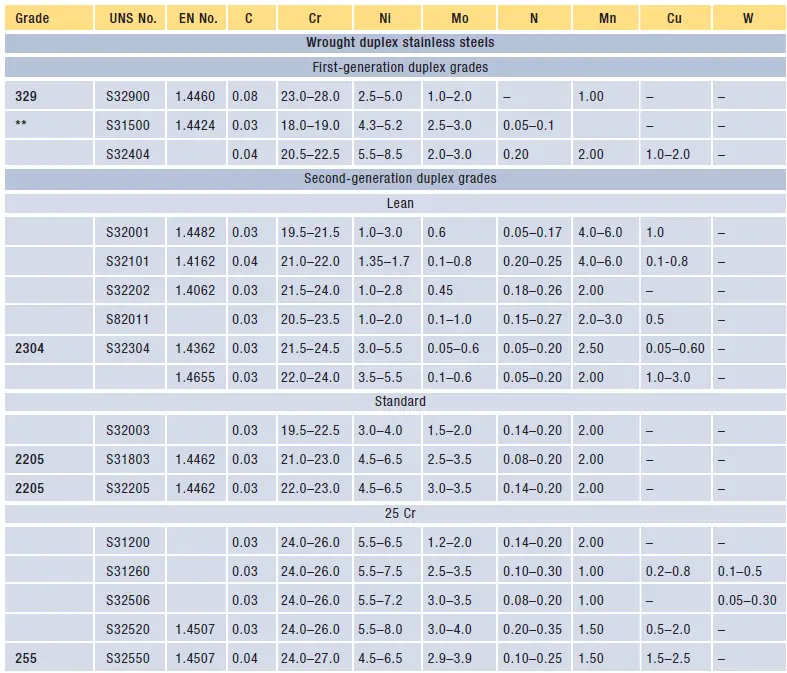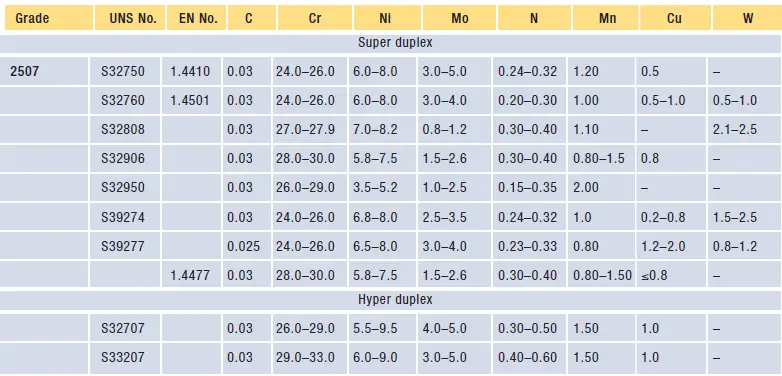 Corrosion Resistance of Duplex Stainless Steel
Due to the presence of a relatively high % of chromium, molybdenum, and nitrogen, Duplex Stainless Steels exhibit a high level of corrosion resistance capability in a variety of environments. DSS materials are specifically selected for oxidizing, acidic, and hot alkaline environments. To fight against pitting corrosion, DSS is the ideal material choice. The PREN Number defined above describes the resistance of DSS against localized pitting corrosion. An increase in PREN Number increases the resistance against pitting corrosion that is quantified using Critical Pitting Temperature. Materials with higher CPT are more resistant to pitting corrosion.
Duplex stainless steels possess better Stress Corrosion Cracking resistance than austenitic stainless steel.
Fabrication of Duplex Stainless Steel
Duplex Stainless steel is supplied in a pipe, plate, sheet, tube, fittings, or bar form. Depending on the requirement they must be fabricated. Special tools are required for the fabrication of duplex stainless steel materials. They have very good weldability and hot-forming capability. However, DSS materials are normally difficult for machining purposes.
Frequently Asked Questions of DSS with Answers
What is meant by duplex stainless steel?

The word duplex in stainless steel refers to the two-phase microstructure of DSS material. Duplex stainless steel is a family of stainless steel having ferritic and austenitic phase microstructure in approximately equal proportions.

Is 304 stainless steel a Duplex?

No, 304 stainless steel is austenitic stainless steel. It is not a duplex.

Is 316 stainless steel a Duplex?

Stainless steel 316 is not a duplex SS. 316 SS is austenitic in nature.

What is the purpose of duplex stainless steel?

Duplex stainless steels have roughly twice the strength of austenitic stainless steels and higher resistance to pitting corrosion, crevice corrosion, and stress corrosion cracking.

Does duplex stainless steel rust?

Duplex Stainless steel has a very high chromium content that prevents the DSS material from rusting. So, in general, duplex stainless steel does not rust. But under a suitable corrosive environment, DSS may corrode or rust.

Is 2205 duplex stainless steel magnetic?

As duplex stainless steels are ferritic as well as austenitic, it does have magnetic properties. 2205 super duplex is also magnetic. All DSS materials are magnetic.

Does duplex 2205 rust?

2205 stainless steel being a DSS usually does not rust. But when exposed to severe conditions, it may corrode.

What is the difference between a duplex and a super duplex stainless steel?

Super duplex stainless steel is an improved duplex stainless steel. It possesses additional characteristics as compared to DSS. DSS has 25% chromium, 7% nickel, and 4% molybdenum content which makes the material have higher corrosion resistance and . strength than duplex stainless steel.

How strong is duplex stainless steel?

Duplex stainless has more strength as compared to other groups of stainless steel. Roughly, duplex stainless steel is around twice as strong as either ferritic or austenitic stainless steel.

Who invented the super Duplex?

Super Duplex stainless steel is developed by Langley Alloys in the mid-1960s and was launched in 1969.

What grade is a super duplex?

DSS grades UNS S32760, S32750, F55, 1.4501, etc are super duplex.
Click here to learn cathodic protection design for DSS pipes