Pipeline leaks are a serious threat to safety as it can cause loss and damage to life, property, environment, reputation, and obviously finance. So every plant should install a useful Pipeline leak detection systems. An engineering system that detects the leaks of pipeline materials in order to alert the operator about the leakage is known as a pipeline leak detection system. For risk management, a pipeline Leak detection system is an essential component. Depending on the fluid being handled, pipeline leak detection systems may employ various technologies.
However, all pipeline leak detection system should possess the following characteristics:
locate leaks accurately
detect leaks quickly as soon as it occurs.
work effectively under all operating conditions
issue minimal false alarms
use sensors with high reliability and low maintenance
be easy to retrofit
Pipeline Configurations: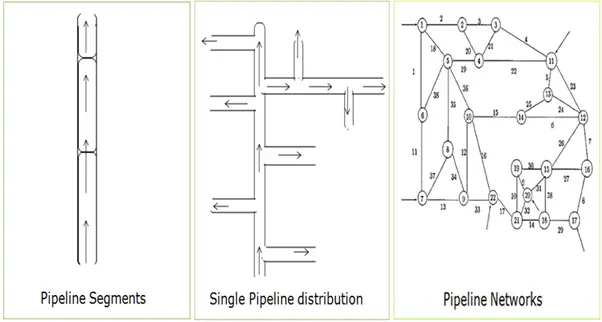 Methods of Pipeline leak detection
Pipeline leak detection methods can be classified into two groups:
Hardware Method: This method is used to detect leaks with instrumentation outside the pipeline.
Software Method: This method uses different instruments to monitor internal parameters (such as pressure, flow, and temperature) that infer product release.  It is also known as computational pipeline monitoring (CPM).
Hardware Method of Pipeline Leak Detection:
Acoustic Emissions
Fiber Optic Sensing
Vapor Monitoring
Multi-hop Sensor Wireless Network*
Advantages of Pipeline Leak Detection using Hardware Method :
Good sensitivity to leak
Very accurate in leak locating
Disadvantages of Hardware method to pipeline leak detection:
System costs are usually high
The high complexity of installation
Pipeline Leak detection using Software Methods-Balancing System
Balancing Systems: Uses the principle of mass conservation

Types of Balancing systems:
Volume Balance
Compensated Mass Balance
Model Compensated Mass Balance
Advantages of Balancing System:
It is simple to implement
Cost-effective
Disadvantages of Balancing System:
Can be affected by an instrument error
High rate of false alarms
Software Method – Pressure Analysis for Pipeline Leak Detection:
Gradient Intersection method:
This method uses SCADA (Supervisory Control and Data Acquisition) values to calculate the theoretical hydraulic profile or baseline of the pipe
The presence of a leak can be determined from a specific deviation or combinations of several deviations from the baseline
Advantages of Gradient Intersection Method:
Estimation of leak location can be determined
Disadvantages of the Gradient Intersection Method:
Dependent on instrument sensitivity.
Smaller leaks typically take a longer time to detect.
Does not give the magnitude of the leak
Pipeline Leak Detection by Software Method – RTTM:
Real-Time Transient Modeling (RTTM) involves computer simulation of pipeline conditions using advanced fluid mechanics and hydraulic modeling.
The basic equations used in RTTM are: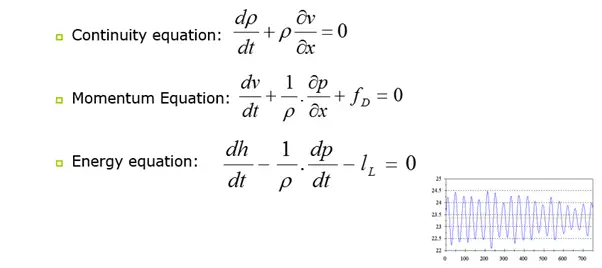 Advantages of RTTM:
It takes into account the configuration of the pipe as well as the product characteristics.
Very fast in detection and location
Disadvantages of RTTM:
It is a complex way of leak detection
The RTTM method costs much more than the other methods
Requires many instruments, controller training, and maintenance.
Errors in instrument calibration could raise false alarms
Generalized Likelihood Ratio for Pipeline Leak Detection:
This is a statistical method modeled after the flow conditions in the pipeline
A mathematical model that describes the effects of leaks and biases on the flow process is used.
Can detect leaks in the pipeline branch located in the branch, and the magnitude of the leak.
Can identify various types of gross errors