Telegram Application, the best Whatsapp alternative has gained tremendous traction in just a couple of years since its launch. In February 2016, the app maker stated that the number of active monthly users surpassed the 100 million mark, adding 350,000 users each day who send 15 billion messages per day.
Advantages of Engineering Telegram Groups and Telegram Channels
In recent times, due to WhatsApp's limitation of only 257 members, engineers and designers from EPC organizations found telegram channels and telegram groups as one of the best methods of communication, discussion, knowledge sharing, job sharing and clarifying doubts between the group and channel members. As there is no limitation of the number of members similar to WhatsApp these telegram groups become very popular. In this article, links to join a few such top engineering telegram channels and top engineering telegram groups will be provided for the readers to take benefit.
Background of Piping and Related Engineering Telegram Channels and Telegram Groups
Maximum of these telegram groups and channels were started in 2015, and these are one of the most popular groups to get correct answers to the question in different fields from industry-experienced persons. Even though the Basic language in these groups is Persian, still members are aware of the English language. Hence, anyone can use his queries in the English language and he will get answers in English.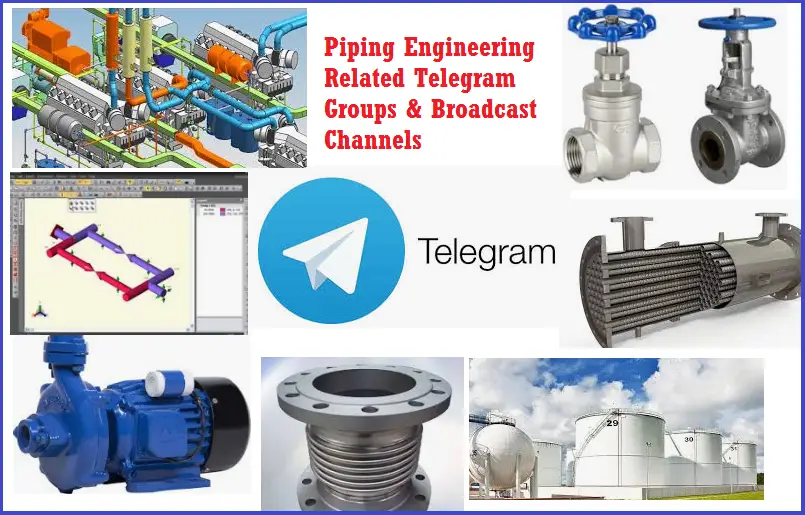 How to join these Telegram Groups/Channels
To join any of the above-mentioned groups or channels install telegram apps in your mobile from google play store or iPhone store. After installing open the apps and register your mobile no similar to WhatsApp. Once registered, search the above groups or channels in the telegram app and the group will appear. Otherwise, click the above links on your mobile after opening the telegram app. Click on join and start following the activities of the group. Readers are requested to list down other telegram groups in the comments section to help others.