What is a Topographic Survey?
A topographic survey identifies and measures the exact location, shapes, arrangements, and features of all-natural and manmade features on a specified land surface. It gathers data on land contours, the elevation of the terrain, etc required by engineers, architects, local government bodies, and contractors for accurate visualization for development/updation work. The topographic survey encompasses a broad range of surveying and mapping products, ranging from ground to aerial mapping and underground surveys.
Depending on the client's requirement, a topographical survey picks up several different elements like
Man-made Structures and features
Buildings & structures
Boundaries and fence lines
Surfaces such as paving, tarmac, concrete, etc
Services such as power lines, telephone lines
Natural features
Drainage features such as inspection chambers
Street furniture like benches, bins, lamp posts, etc
Trees, bushes, and vegetation
Changes in surfaces
Ponds, lakes, watercourses
Ground heights/contours
Water levels
After the topographic survey, the collected information is compiled into an electronic CAD (Computer-Aided Design) file (AutoCAD, Microstation) to prepare a 2D plan drawing. Which can be printed as required. A topographic survey is also known as a contour survey.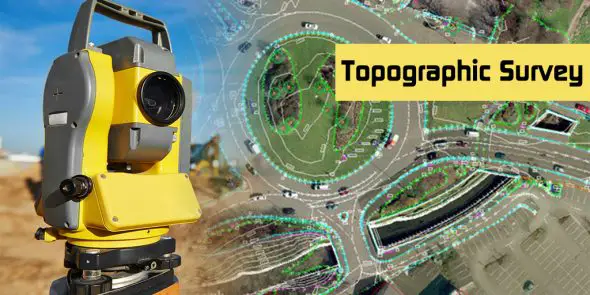 Requirements of Topographic Survey
To correctly plan and execute any project with safety, a topographic survey provides accurate measurements explaining how the existing site is arranged. Hence, a Topographic survey is the starting point for the design and construction work of various projects like:
New buildings/structures/construction/architecture
Civil engineering projects like road design, bridge design, tunnel design, or improvements.
Land repurposing/environment restoration/land development
Utility design
Grading or drainage projects
Pipeline projects for pipe routing
The regulatory requirement for construction work
Re-positioning of boundaries
Geology, petroleum, and forestry
A topographic survey helps in preparing alignment drawings, preparing cross-sectional profiles, identifying existing structures, controlling locations, establishing elevation differences, and finding the presence of underground utilities like pipelines, electrical cables, etc.
Process of Topographic Survey
A topographic survey process consists of various steps like:
Receiving the client specification on the topographic survey that includes levels of survey details and information they are looking for.
Planning the time schedule with the client and negotiating the price.
Gathering Site data from the topographic survey.
Processing the data and preparing it as per the agreed format.
Quality assurance
Final handover of the report to the client.
Gathering survey data is the most important step. The time required for a topographic survey is dependent on
The size of the area to be surveyed and
The complexity of the terrain
The level or detail and accuracy required
Equipment /Tools for Topographic Survey
A topographic survey is conducted using various survey equipment and tools that measure distances and angles with extreme accuracy. Typical tools are
GPS survey equipment
Laser Scanning Tool to accurately record position points in plan and elevation.
Tripod-mounted robotic total station with appropriate software
Digital Levels
Differential Global Positioning System (DGPS)
Wireless computer unit
3D Scanners
Electronic distance measurement (EDM) reflectors
Range poles, Pegs, Nails, Measuring tapes, Level Rods, Digging Tools, etc
Outputs from Topographic Survey
A wide range of information can be produced from topographic surveys. This information is used for producing topographic survey drawings. Some of the outputs from the topographical survey are:
Drawings – Plan and elevation drawings, sectional drawings, and lighting plans
3D Point Clouds for producing 3D site models.
Photographs to get actual site information and feel
Schedules – Including chamber inverts and pipe/pipeline diameters.
A detailed topographical survey report mentioning major details.
Advantages of Topographic Survey
The main advantages of conducting a topographic survey are:
Reduction of risk from costly mistakes due to the absence of accurate site details.
A deeper understanding of land topography helps in the proper planning and cost estimation of the project.
The topographic survey includes recent changes and hidden information, thus making the design and construction work easier.
When shared in a GIS system, the topographical survey can serve as the 'base map' for multiple parties to share their design work, construction planning, and cadastral / land ownership information.
Governmental agencies use topographical surveys for enforcing construction and zoning regulations and evaluating existing infrastructure.
Cost of Topographic Survey
The cost of a topographic survey depends on various factors like
plot area size
plot location
how overgrown the area is
details required in topographic survey specification
accuracy required
specific requirements of equipment used.
The cost of a typical topographic survey ranges from $500 to $1,000 per day. So, the total topographical survey cost will add up as per the days required for completing the survey and generating the final report. Also, the topographic survey cost varies from one geographic region to the other.
Topographic Surveys by Drone
A topographic survey by drone technology or drone surveys has become quite popular in recent times. Increasingly clients are asking for 'drone surveys'. The use of UAV (unmanned airborne vehicles) technology to provide rapid and thorough topographical surveys has increased to a large extent because:
A topographic survey using a drone is cheap and fast.
The method is accurate and repeatable with exhaustive data.
Surveying becomes easy and provides a good return on investment
Better insight from rich visual datasets captured by highly effective sensors.
Drones reduce the workload on topographic survey specialists
Easily map inaccessible areas.
However, note that there could be governmental restrictions on flying a drone over a specified area. So clearances must be obtained before conducting a topographical drone survey in those areas.
To learn more about the subject, a few online-courses can be accessed by clicking here.
Further Studies on topographic Survey:
Manual of Topographic Survey: report.pdf (usgs.gov)