INTRODUCTION    
The correct placement of gasket and proper tightening of bolts in a flanged joint will ensure a leak free joint. The following procedure describes how to achieve the same.
 PROCEDURE: –
Before actual tightening starts, the flange, gasket, bolts/nuts need to be observed as below:
  2.1 FLANGE:
Before inserting the gasket in between the pipe flanges, check the flanges are parallel and co-axial (When none of the bolts is installed in the flange).
As per ANSI B 31.3 clause no. 335-C, permitted tolerances are as follows: Flange faces shall be aligned to the design plane within 1mm in 200mm(1/16 in. /ft) measured across any diameter; flange bolts holes shall be aligned within 3mm (1/8 inch) maximum offset.
If pipe flanges are not meeting the ANSI B31.3 requirement, piping shall be rectified.
All gaskets seating area shall be cleaned properly before gasket insertion. If serration is damaged, reserration must be done.
 2.2. GASKETS: –
Ensure gasket of correct dimension and of specified material is used.
Gasket shall be located correctly to ensure full sealing as indicated in drawing. For example – gasket on tubesheet of exchanger needs to be located so that outer periphery of gasket matches with OD of tubesheet at all points.
2.3 BOLTS / NUTS: –
Ensure that material of all bolts and nuts is as specified.
Bolts & nuts shall be cleaned with suitable solvents like Diesel / CTC using wire brush, especially in threaded portion.
The bolt shall be lubricated with molybdenum di sulfide and it is essential especially in all bolts of size 7/8" and above to check the application as the bolt load developed by torque is dependent on the lubrication of threads.
It is recommended to avoid use of short bolts on the flange joints.                
2.4 TIGHTENING: –
It is important that all bolted joints are tightened uniformly and in a diametrically staggered pattern (A typical sketch attached in Fig. 1).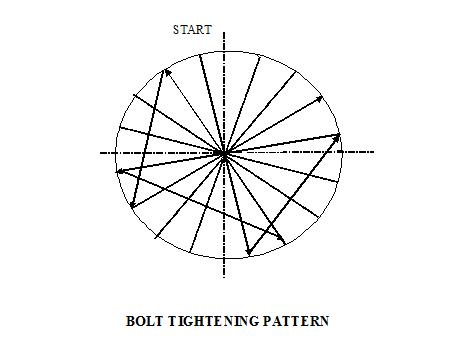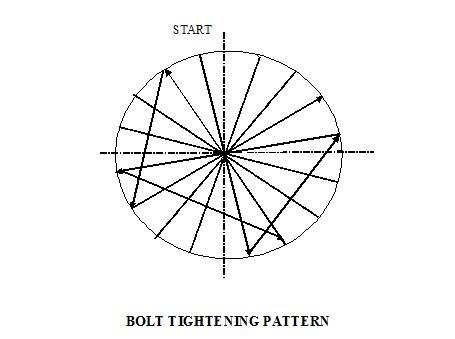 In case of pipe flanges 8″NB & upto 12″NB and having a pipe with spacer piece and minimum of two gaskets (which are getting compressed simultaneously during tightening) the distance between two flanges should be measured at four locations like 12'o clock, 3'o clock' 6'o clock and 9'on clock positions and maintained equal for even tightening. The tightening shall be gradual and uniform. In case of flanges above 12" NB distance between the flanges shall be measured in 8 locations for uniform tightening.
All stud bolts of 7/8″ and above shall be tightened using torque wrench. While tightening the bolt with torque wrenches (for pipe / Manway flanges) ensure that tightening load to each bolt is applied as uniformly as possible. The tightening shall be carried out in three or four stages in steps of 30, 50 & 70 percent of the final torque value. At fourth stage again use 70 percentage of the final torque value.
For heat exchangers flanges torque values to be 30,70,100 and 100 percent of the final torque value.
Where recommended to use hydraulic tensioner for bolt tightening follow the manufacturer recommendations.
A table is provided below to show an example of torques applied for bolt tightening.
TORQUE VALUES FOR STANDARD ANSI / MSS FLANGES                           150lb
NOMINAL SIZE(INCH)
BOLTING NO. / SIZE(INCH)
MIN. BOLT STRESS TO SEAL
RES. BOLT STRESS(PSI)
SUGGESTED APPLIED TORQUE VALUES (NM) BASED ON RESIDUAL BOLT STRESS & PUMP PRESSURE
*0.1
PUMP Psi
*0.13
PUMP Psi
*0.15
PUMP Psi
*0.2
PUMP Psi
12
12 X 7/8
25,338
48000
277
2039
365
2688
380
2801
515
3789
14
12 X 1
21,012
45000
388
2858
509
3748
532
3921
721
5317
16
16 X 1
19575
45000
388
2858
509
3748
532
3921
721
5317
18
16 X 1 1/8
18777
41160
 404
2978
682
5027
747
5505
1013
7465
20
20 X 1 ¼
16321
42195
568
4187
700
5157
766
5645
1013
7465
24
20 X 1 ¼
13234
43250
785
3855
993
4874
1091
5357
1479
7264
* CO-EFFICIENT OF FICTION DEPENDS ON LUBRICATION DONE ON BOLTS.
Please note that less toque (hardly 60%) is required when the bolts are properly lubricated
ASSUMED BOLT MATERIAL             ASTM 193-B7; B16