What is a Flange Protector?
Flange Protectors protect flange face, studs, and gaskets on the raised face, full face, and ring joint flanges from atmospheric corrosion encountered in chemical plants, onshore oil fields, metering stations, refineries, gas plants, offshore platforms, water and wastewater plants, pump stations, and underground pipelines. Controlling corrosion and awareness of its ever-damaging effects is paramount in piping and pipeline maintenance.
By using the Flange Protectors and Corrosion Inhibitor Grease, flanges are ensured to be safe from hazardous and unsightly corrosion that has huge potential to cause leakage, failure, or even shutdown of equipment.  The downtime, coupled with the cost of cutting and welding a new flange, and replacing flange bolts, nuts, and seals, becomes very expensive.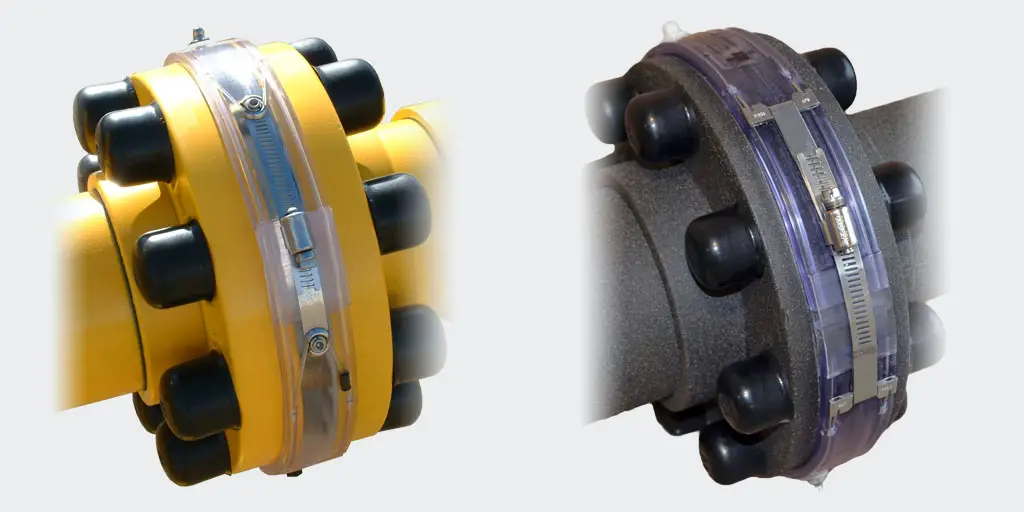 Flange Protectors can even be used on cathodically isolated flanges to avoid foreign matter from shorting out or bridging over an isolating gasket. To assure complete loading of flange cavities, All Flange Protectors are equipped with an exclusive positive loading relief vent and plug. The extruded, clear, flexible poly band allows visual inspection without removal of the protector and ensures complete filling of the flange cavity. Additionally, it is non-corroding provides many years of service life, and is totally reusable.
Benefits of Flange Protectors
Benefits of Flange Protectors include:
Envelopes flange and flange internals to prevent corrosion.
Maintains integrity of gasket and seal.
Keeps out moisture, chemicals, saltwater, debris, etc.
Ensures cathodic isolation protection by keeping the foreign matter out of the flange gap.
Quickly installed with a screwdriver.
Available for all size flanges.
Custom-engineered designs available per application
Highly Cost-effective
Can be removed and reused easily.
Materials for Flange Protectors
Flange Protectors can be made of various materials like:
Metallic Flange Protectors are made of Carbon Steel, Aluminum, Stainless Steel, Galvanized Steel, etc.
Non-metallic flange protectors are made of Polyethelyne, LDPE, HDPE, Plywood, Sponge Rubber, etc.
Applications of Flange Protectors
The annular gap around the Flange Outer Diameter is highly vulnerable to debris and moisture ingression. These can result in gasket degradation and can cause corrosive damage to the flange, sealing faces, and studs. Excessive corrosion in such areas is hazardous, and replacement could lead to unscheduled downtime. To solve such problems, inexpensive and easy-to-fit range flange protectors are widely used.
Such flange protectors are tightened around a flange and packed with corrosion inhibitor grease. A build-up of pollutants from corrosive and salt-laden environments around the flange, gaskets, and studs is protected using these products. Because of these reasons, flange protectors are used in flanges of pressure vessels, heat exchangers, pipelines, and other process plants, where the ingress of moisture and debris is likely to degrade the mechanical efficiency or sealing integrity of the joint.