Field Welding, as the name specifies, is done outside the manufacturing shop where the outside environment is not controlled. As most of the time it is done on construction sites, it becomes very challenging to maintain the quality of the welded product. In this article, I will cover a few important points for the requirements of field welding of various components like piping, tanks, structures, etc.
Documents Applicable for Field Welding:
ASME Code SectionⅨ
ASME Code B31.1 / B31.3
AWS D1.1
General Requirements During Field Welding:
Base Metal:
Before welding, the base metal that has to be welded must be confirmed to fulfill all the requirements which are specified in the applicable codes, standards, and local/company specifications as per applicable material certificates.
Welding Consumable:
The materials of welding consumables in all applicable welding processes must meet all the requirements mentioned in the governing codes, standards, and company specifications with the applicable consumable certificates.
All Welding consumables shall be positively segregated according to grades, brands, and size. They shall be stored in facilities to prevent any moisture absorption, contamination, or rust generation. They shall be free from such harmful defects as the exfoliation or crack of covering flux, dirt, and grease.
Prior to starting the welding, covered electrodes for low-hydrogen type shall be fully dried in accordance with the manufacturer's recommendation (e.g. between 300℃ to 350℃ for 1hr). After drying, these electrodes shall be stored in the electrode oven between 100℃ to 150℃. If 4 hours have elapsed since these electrodes were taken out of the oven, they shall be re-dried. The number of times of re-drying shall be up to 2 times.
Backing Strip:
A permanent backing strip shall not be used.
Temporary backing strips used at the welded joint shall be removed.
Shield Gas:
In accordance with applicable code and standard. Shield gas, backing gas, and trailing gas to be used for GTAW shall be Ar gas.
Requirements for Welding machine and Related Equipment:
All welding equipment such as torches, cables, grinders, and heating equipment shall be maintained in good working order and calibrated as necessary.
Earth cable for welding source shall be attached to base metal stably using cable holders. If a copper alloy cable holder is used, it shall be prevented from contact directly between the base metal and copper alloy cable holder by means of inserting a steel plate.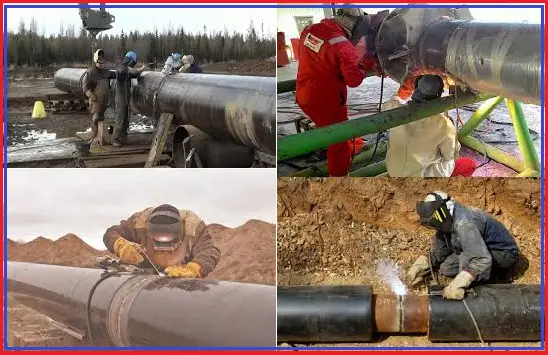 Groove:
The shapes and dimensions of grooves to be welded shall be in accordance with applicable codes and standards or shall be approved in WPS and drawings.
For carbon steel, flame cutting and beveling are acceptable only if the cut surface is reasonably smooth and sound, and all oxides are removed by grinding from the flame-cut surface.
For low alloy steel, flame-cut bevels are acceptable only where machine mechanical cutting is not feasible. After flame-cutting, approximately 2.0 mm of material shall be removed from the surface of the bevel by grinding.
For stainless steel, mechanical means or plasma cutting shall be acceptable. The grooved surface shall be smoothly finished by removing completely all burrs caused by machining, and surface oxides caused by plasma cutting.
Fitting:
Parts that have to be welded shall be fixed by jigs, clamps, bridges, or direct tack welding so that required dimensions and orientations can be obtained. The materials of jigs or bridges welded to base metals shall be the same materials as the base metals.
Tack welding shall be done only by qualified welders using the approved WPS. Welding electrodes to be used for tack welding shall be the same grades or brands as those to be used for production welding.
After completion of welding, jigs or bridges shall be removed and their vestiges shall be finished smoothly by grinders to prevent any harmful defects such as under-cut in the base metal.
The allowance of dimensions and orientations for fitting-up to be welded has to be in accordance with the applicable document and the approved WPS.
Cleaning:
Prior to welding, the groove surfaces and their adjacent areas shall be completely free from oil, paint, low melting point metal, oxides, water, and all other foreign matters.
Weather:
Temperature-Welding work shall not be allowed under –10℃ of ambient conditions.
Rain / Wind-Welding works shall not be allowed, while rain, snow, or wind conditions could affect the quality of welding work unless suitable protection facilities are provided.
Requirements for Field Welding:
Welding shall be performed according to the approved WPS by qualified welders/welding operators.
The Arc starting point shall be in the bevel surface or tab plates. Arc termination and starting point shall not overlap those of the previous layer.
After completion of welding from the first side of double butt welds, the initial root pass, including root tack welds, shall be chipped, ground, or gouged to sound metal. The back-chipped welds, welding groove, and plate edges shall be examined to ensure that all cracks, laminations, pinholes, and other defects have been removed prior to commencing welding on the second side
For stainless steel, the width of weaving shall be less than approximately 2.5 times the diameter of the electrode.
Except for austenitic stainless steel, welding passes shall be performed consecutively as a rule so that there is no interruption between the start and finish of welding. The number of welding layers shall be two or more as a rule, including socket welding for piping.
Welding may be interrupted after a joint has been welded 1/2 thickness of base metal or 3rd layer or more. In the case of Cr-Mo steel, post-heating after interruption and pre-heating before restarting shall be applied in accordance with the applicable code, standard, specification, and WPS.
After completion of welding, the surface of welds shall be smooth, and shall not be allowed to include harmful welding defects such as excessive irregularity surface, under-cut, overlap or spatter
Heat Treatment requirements for Field Welding:
Pre-heating:
When the ambient temperature is not more than 5℃, pre-heating shall be applied within the temperature range of 30℃ to 50℃
Pre-heating temperature shall be measured by the use of temperature-indicating crayons, thermocouple pyrometers, or other suitable methods to assure that the required pre-heating temperature is obtained prior to and uniformly maintained during the welding operation.
For Cr-Mo steel, according to the level of Cr contents, the pre-heating temperature shall be in accordance with the following.

1/2% < Cr ≦ 2% : 150℃ or more
2% < Cr ≦ 9% : 200℃ or more

For austenitic stainless steel, pre-heating shall not be applied as a rule.
For stainless steel except for austenitic stainless steel, pre-heating shall be applied in the temperature range of 150℃ to 350℃.
Interface Temperature:
For carbon steel, the interface temperature shall be between 100℃ to 350℃.
For Cr-Mo steel, the interface temperature shall be between the temperature of pre-heating and 350℃.
For austenitic stainless steel, the interface temperature shall not be over 150℃.
For stainless steel except for austenitic stainless steel, the interface temperature shall be between 150℃ to 350℃.
Post-heating:
If the final Post Weld Heat Treatment (PWHT) cannot be carried out immediately on completion of welding, The post-heating temperature which is over its preheating temperature shall be applied.
PWHT:
All applicable codes, standards, and specifications shall be followed during the post-weld heat treatment. It must be done once all welding is completed.
PWHT has to be performed locally by means of electric induction heating, electric resistance heating, or high-frequency electric heating. Alternatively, furnace heat treatment using gas or electricity can be also acceptable. However, the use of fixed or handheld-type gas burners shall not be acceptable.
Inspection:
Governing codes, standards and specifications are to be followed while Tests and inspections are conducted at each stage of field welding.
Repair:
Before starting the repair weld, The WPS for repair weld and production WPS shall be approved. Once repair welding is finished, the repaired area has to be re-inspected by the same means previously used.
Special Field Welding Requirements for Piping:
Welding consumable:
When the operating temperature is above 345 ℃ for 2-1/4Cr-1Mo steel, each batch or heat of welding consumable and covered electrodes, including the wire flux combinations used in welding, shall be analyzed for P, Sn, Sb, and As. This analysis has to be done on the weld metal deposits. The Temper Embrittlement Factor, X-bar, must be maintained as below;
X-bar = (10P + 4Sn + 5Sb + As) / 100 ≦ 15 (PPM)
Element concentrations are in PPM i.e, parts per million.
Welding:
The welding position should be a 1G position as much as possible.
Fillet welding to pressure retaining components shall be ground to a smooth, concave contour.
Peening shall not be permitted.
Each welder/ welding operator shall mark his proper identification mark on the pipe surface near his executed welding.
 Pre-heating:
For carbon steel with an operating temperature above 100℃, pre-heating shall be required for the below-mentioned services;

The thickness of the base metal is 25 mm or more.
The tensile strength of the base metal is 490N/mm2 or more.
Ceq ( = C + Mn/6 + Si/24 ) of base metal is 0.45% or more.

The width of pre-heating shall be 3 times of base metal or 25mm at both sides of the welding bead which is larger.
Post-heating:
The joint that has been welded shall not be allowed to be cooled below 149℃ before heat treatment. In case this is not practical, the weld along with the adjacent pipe shall be heated uniformly to 316℃ for 15 minutes wrapped with insulation, and then allowed to cool. Then PWHT may be performed later.
PWHT:
PWHT has to be performed for the following services;
Cr-Mo steel piping for all services
Carbon steel piping containing amines at a concentration greater than 2.0 eight %
Any other service specified in the applicable code, standard, and specification.
Few more welding articles for you.

Welding Galvanized Steel
Overview of Pipeline Welding
Welding Positions: Pipe Welding Positions
Welding Defects: Defects in Welding: Types of Welding Defects
Welding Inspector: CSWIP and AWS-CWI
General requirements for Field Welding
Underwater Welding & Inspection Overview
Methods for Welding Stainless Steel
---
References:
Video Courses in Welding
To learn more about welding the following video courses you can refer to: