What is PWHT?
Post-weld heat treatment or PWHT is a controlled process that involves reheating the metal below its lower critical transformation temperature, following a welding process. The material is then held at the elevated temperature for a predetermined period of time to alleviate residual stresses, increase the strength, increase or decrease the hardness, and reduce the risk of cracking by microstructural changes. An array of heating processes can be used to carry out post-weld heat treatment.
This article shall cover PWHT of welded butt joints, branch joints in Carbon Steel and Low Alloy Steel Materials, as well as all type of welded joints in killed carbon steel materials for Low-Temperature Service to guide technicians, supervisors, and other persons involved in the safe execution of PWHT activity so that final result is acceptable.
PWHT or Post Weld Heat Treatment Advantages
Post Weld Heat Treatment or PWHT must be performed after every welding in order to ensure the material strength of the part is retained. PWHT ensures the reduction of residual stresses, controlling material hardness, and enhancement of mechanical strength.
If PWHT is neglected or performed incorrectly, the residual stresses can combine with service load stresses. The value may exceed a material's design limitations leading to weld failures, higher cracking potential, and increased susceptibility to brittle fracture. Other benefits of PWHT are listed below:
Improved metallurgical structure
Improved ductility of the material
Reduced risk of brittle fracture as ductility increases
Relaxed thermal stress due to the redistribution of residual stresses.
Tempered metal
Removal of diffusible hydrogen which helps in preventing Hydrogen-Induced Cracking (HIC)
PWHT Method and Equipment
The local post-weld heat treatment of the welded joints on the pipes shall be carried out by the electric-resistance method and after the completion of all welding or repairing operation.
 The resistance heater is electrically and thermally self-insulated and is built to size for each individual pipes.
The applied voltages across the coils are either 220 or 380 volts AC depending on the power requirements.
 The power controlling panel of post weld heat treatment is composed of:
A temperature controller indicator and recorder of digital type.
A potentiometer device which controls the percentage of power input to the coils.
A switch On and Off indicator lights, input, and output terminals for power and thermocouple connection.
Electrical power contactors of the proper rating.
Each panel will supply a single heating station and therefore for each heating operation, one panel will be needed. Heating and cooling rates are adjusted by manual selection of percentage of power input by means of potentiometers.
Requirements for Post Weld Heat Treatment or PWHT
Before applying for the detailed PWHT requirements and exemption in these paragraphs, satisfactory weld procedure qualifications of the welding procedures specification to be used shall be performed in accordance with all the essential variables of ASME SECTION IX including conditions of post-weld heat treatment and including other restrictions listed below.
While carrying out local post-weld heat treatment, the technique of application of heat must ensure uniform temperature attainment at all points of the portion being heat treated. Care shall be taken to ensure that the width of the heated band on either side of the weld edge shall not be less than four (4) times of pipe thickness or 2″ whichever is greater.
Throughout the cycle of post-weld heat treatment, the portion outside the heated band shall be suitably wrapped under insulation so as to avoid any harmful temperature gradient at the exposed surface of the pipe. For this purpose, the temperature at the exposed surface of the pipe should not be allowed to exceed 400°c.
The valves, instruments, and other special items with welding ends, shall be protected,   because of the risk of damage during post-weld heat treatment.
No welding shall be performed after PWHT.
Automatic temperature recorders that have been suitably calibrated shall be employed. The calibration chart of each recorder shall be submitted to the owner prior to starting the heat treatment operations and his approval shall be obtained. Recording equipment shall be calibrated at least once every 12 months. Also, the instrument equipment (potentiometer) which is used for calibration of recorders should be supported by a related certificate.
Preparation and Attachment of Thermocouple for PWHT
After performing visual inspection and removing surface defect and temporary tack welds (if any) an adequate number of thermocouples (based on the diameter of pipes) shall be attached to the pipe directly and equally spaced location along the periphery of the pipe joint. The minimum number of thermocouples attached per joint shall be 1 for up to 3″ diameter, 2 for up to 6″ diameter and 3 for up to 10″and 4 up to 12″diameter and above. However, the required minimum number of thermocouples to be attached can be increased if it found necessary.
The thermocouples shall be placed on the joint and in firm contact with the pipe as near as possible to the weld area. Thermocouples should be directly tack welded to the joint or heating band of jointly provided that they have a tail of the same material and approved filler wire or electrode not larger than 2.5 mm in diameter is used for tack welding.
In order to avoid incorrect temperature reading due to direct radiation to thermocouples, it shall be protected by ceramic fiber blanked or any other suitable insulation material.
Heating resistance elements shall be laid over the attached thermocouples throughout of heating band and shall be insulated as shown in Fig. 1 below.
Insulating materials shall be mineral wool/glass wool which can overcome the temperature employed. The minimum insulation thickness shall be 50 mm. To hold the insulation material in position wire mesh shall be wrapped around and tied or tied by other suitable means.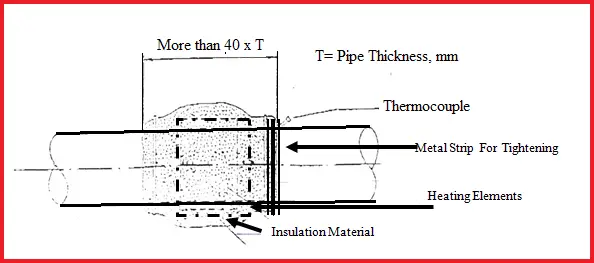 PWHT Temperature, Time Record      
The post-weld heat treatment temperature and time and its heating and cooling rates shall be recorded automatically and present the actual temperature of the weld area. Each thermocouple shall be connected to the controlling and recording instrument for each treated joint.
Heating, Holding and Cooling in PWHT
The heating temperature above 300°c shall be recorded and heating and cooling rate shall not be more than that specified in related WPS and standards but in no case, more than 200°c/hr and the difference between the temperatures measured by various thermocouples shall be within the range specified.
The heat treatment socking temperature and holding time shall be as per specified in related welding procedure specifications. For easy reference, the values for different types of steel are given in the following table.
The cooling down to 300°c shall be controlled cooling. Below that the cooling down to ambient temperature shall take place under insulation coating without controlling.

Few Important Notes related to PWHT
PWHT operation shall be performed only by trained personnel having a similar experience and approved by the owner.
During PWHT joints shall be protected from rain and wind by adequate rain cover and windshield.
Hardness tests shall be performed to determine if heat treatment has been performed effectively. Normally for Carbon Steel, maximum Brinnel Hardness is 200 HB.
Safety Precautions during PWHT
The following safety precautions shall be provided during PWHT:
Equipment and panels shall be properly earthed
Electrical technicians shall work with proper safety wears such as rubber gloves, shoes, etc.
An only certified electrician will work
Joints under PWHT shall be well cordoned with red-tape/red light and danger display to avoid unknown persons coming in contact with high voltage electrical connections.
The adequate platform shall be made for in situ joints to avoid fall of a person
Few Useful Resources for you.

General requirements for Field Welding
Underwater Welding & Inspection: A short Presentation
13 major differences between Seamless and Welded Pipe
Procedure for Post Weld Heat Treatment (PWHT) in Carbon Steel and Low Alloy Steel Materials