Welding Inspectors are qualified individuals who ensure the quality and structural soundness of welding joints used in buildings, chemical and petrochemical plants, vehicles, power and process facilities, equipment and machinery, oil & gas and steel industries, etc. With their vast knowledge, Welding inspectors fulfill the safety and quality requirements complying with required codes, standards, and specifications. They possess extensive knowledge of overall welding technology including welding discontinuities, welding processes, welding materials, and electrodes. They oversee the activities and duties of the welding staff.
Responsibilities of a Welding Inspector
The major duties of a welding inspector are multifaceted. Their responsibilities start much before the actual welding process starts.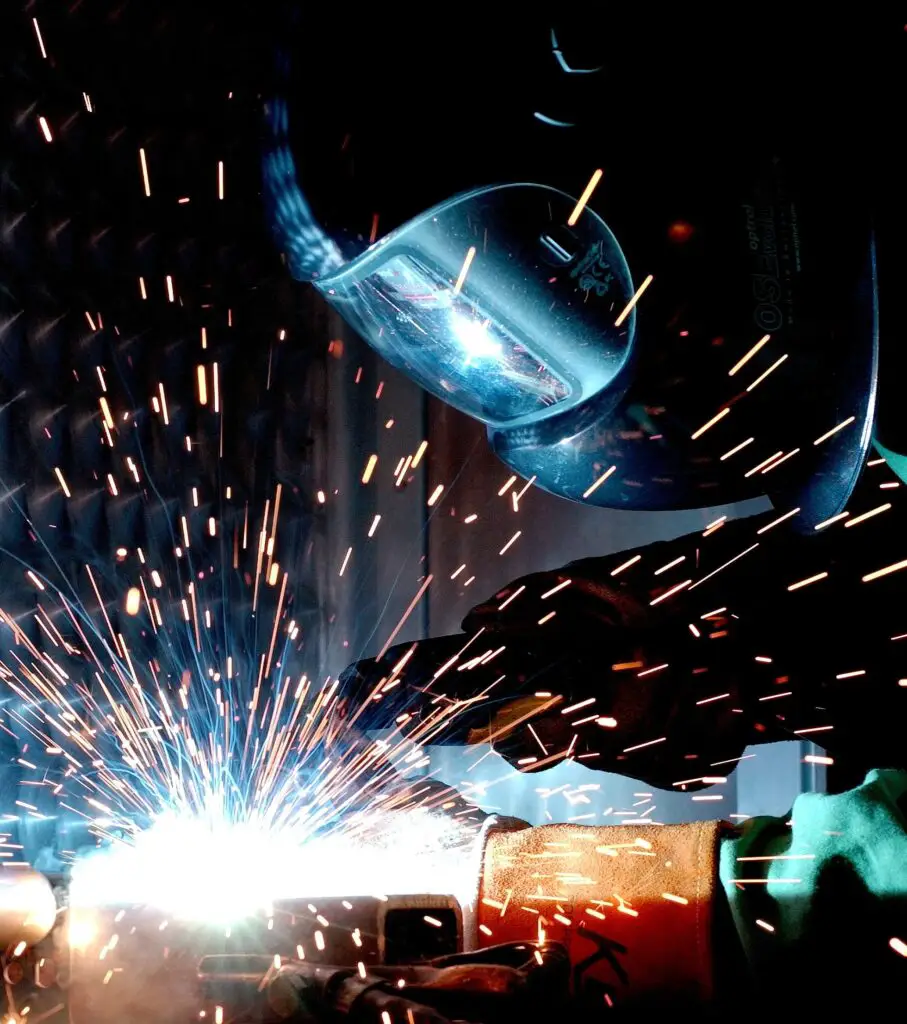 Duties prior to the welding
Issuing welding tickets to company workers.
Review contract requirements and vendor/contractor compliance.
Review and approve welding procedures.
Review the welding methodology in approved WPS (Welding Procedure Specification) and inspection requirements.
Ensure that the material is as per the WPS/drawing and suitable for welding without any damage or contamination.
Verify that the Welding equipment is calibrated and in suitable condition to start welding.
Check the Weld preparations to ensure they are in accordance with WPS/drawings.
Identify the qualifications of welders and the validity of their certificates.
Check and verify the welding consumables.
verify that the base metal(s) and welding filler metal(s) are as per the specification.
Ensure that joint preparations, fit-ups, minimum preheat temperature, etc are in accordance with WPS/drawings.
Inspect the Weld faces checking for any defects, contamination, and damage.
Responsibilities during welding
Ensure that the weather conditions are suitable for welding and comply with the code requirements.
Monitor the overall welding work performed by the team and ensure the guidelines of WPS are followed to the core.
Ensure the minimum preheat temperature is maintained during the welding operation.
Welding Consumables, Welding parameters, etc are as per WPS.
Ensure the Grinding, Cleaning, etc are performed following approved methods.
Maintaining a clean and safe work area complying with safety requirements.
Duties after the welding process
Marking of Each weld with proper identification.
Evaluate for suitability of inspection and inspect the completed welds as per the specified inspection procedures, standards, codes, and drawings and prepare an associated report.
Ensure the correct weld dimensions.
Verify the completion of all NDT.
Assess the welding strength and quality and monitor the modifications or repair works.
Prepare as-built drawings as per repair work or modifications.
Monitor the PWHT process when required.
Ensure all reports/records are completed and collated as required. All examinations must be documented following ISO 17637.
Other roles and responsibilities of a welding inspector
Suggesting alternative welding techniques.
Demonstrating correct welding procedures.
Generating new welding techniques.
Develop, implement, or oversee quality control programs and measures
Ensuring welders adhere to state health and safety regulations.
What is a Certified Welding Inspector?
There are two kinds of internationally recognized certification programs for welding inspectors
CSWIP or Certificate Scheme for Welding Inspector Professionals: CSWIP scheme ensures and certifies the competence of welding inspectors as per ISO/IEC 17024. CSWIP is an international scheme approved by the United Kingdom Accreditation Service (UKAS).
AWS CWI: Similar to CSWIP, AWS CWI is also an international scheme where certificates of welding inspectors are approved by the American Welding Society (AWS).
Welding Inspector professionals who are certified by any of the above two programs are called certified welding inspectors or CWI.
Both the above certificates are obtained through a rigorous exam pattern in various steps.
Why you would like to be a CWI?
Certified Welding Inspector or CWI is one of the best welding professions in the world. The top two reasons for anyone wishing to become a welding inspector are:
Salary Range: A CWI is paid a handsome salary as compared to other engineering professions. A certified welding inspector earns in the range of $35 to $90 per hour. Within welding, this is the highest-paid job.
Job Availability: Welding is such an engineering process that is required in various industries like oil and gas, refineries, chemical and petrochemical plants, power plants, steel industries, pharmaceutical industries, etc. So CWI has plenty of job opportunities in the world. CWI gets jobs in big companies like Shell, BP, etc. Most of the CWIs get a chance to travel the world for work purposes.
How much does CSWIP Cost?
Depending on the country you reside, the fee for TWI (The Welding Institute) CSWIP 3.1 training and examination is approximately USD 2,000.
How much does AWS CWI Cost?
The AWS CWI examination costs $1070 for AWS members and $1325 for non-AWS members in 2020.
The requirements (experience and education) for both the above courses are different. So check their websites prior to applying for any CWI courses.
Jobs for Welding Inspectors
There are huge opportunities for certified welding inspectors in the construction industry. The jobs involve site work. Mostly all industries need welding inspectors. The major industries that recruit CWI professionals include the following
Oil and Gas (Offshore and Onshore)
Power Plants
Pressure Vessels or Equipment manufacturing industries.
Steel Industries
Chemical and Petrochemical process plants
Pharmaceutical Plants
Refinery construction and modification
Piping and Pipeline construction industries, etc
Few more welding articles for you.

Welding Galvanized Steel
Overview of Pipeline Welding
Welding Positions: Pipe Welding Positions
Welding Defects: Defects in Welding: Types of Welding Defects
Welding Inspector: CSWIP and AWS-CWI
General requirements for Field Welding
Underwater Welding & Inspection Overview
Methods for Welding Stainless Steel
Video Courses in Welding
To learn more about welding the following video courses you can refer to: