Forklifts are one of the most useful and powerful construction vehicles on any job site for handling materials and carrying heavy loads in a safe and secure way. Their versatility makes them indispensable and so forklifts are found in all construction and building sites wherever heavy loads are to be moved. In this article, we will explore more about industrial forklifts, their types, components, working, and selection.
Types of Forklifts
There is a wide range of industrial forklifts to choose from. The most common types of forklifts are listed below:
Warehouse Forklift
Side Loaders
Counterbalance Forklift
Telescopic Forklifts
Heavy-duty Forklifts
Rough Terrain Forklifts
Reach Fork Trucks
Pallet trucks
Walkie Stacker
Order Picker
Warehouse Forklift
It is quite clear from the name itself that the Warehouse forklift is widely used in most warehouses, factories, and job sites. Warehouse forklifts are one of the most common working vehicles used for loading and unloading inventory. Resembling like a golf cart with two forks extending from the front, this type of forklift usually has a loading capacity of up to 5 Tonne.
Side Loaders
Side loaders are widely used in narrow spaces where navigation and turning are very difficult. They are basically a subtype of warehouse forklifts and are generally found in manufacturing industries. The operator stands in a sideways compartment while using this type of forklift. The side loader has the capability to lift and carry the material in the same direction without turning.
Counterbalance Forklift
Counterbalance forklifts have forks in the front and the counterbalance weight in the back. They don't have any extended arms and they can be driven right up to the material. From the front of the vehicle, the forks directly come out which makes grabbing the inventory easier.
Counterbalance forklifts are produced in electric, gas, or diesel-powered models. Mitsubishi, Crown, and Toyota are some of the popular manufacturers. The 3-wheel variant of the counterbalance forklifts helps the driver to turn easily in circles.
Telescopic Forklifts
This type of forklift is also popular by names like reach forklift, telehandler, or teletruck. Telescopic forklifts are a combination of a forklift and a crane. With a boom and an extending arm, the telescopic forklifts can reach far into the back of delivery trucks and carry materials much higher and farther than usual forklifts.
Their twin forks help in moving pallets off the ground. Companies like JCB, Genie, Bobcat, Haulotte, and Caterpillar manufacture a variety of telescopic forklifts.
Industrial Forklifts or Heavy Duty Forklifts
Also popular as large capacity forklifts, this type of forklift can lift much heavier loads than the standard forklifts. Usual heavy-duty industrial forklift models can lift a maximum weight of 30,000 lbs. However, similar to telehandlers, they cannot lift at awkward angles. NACCO and Mitsubishi are the big names that produce Industrial forklifts.
Rough Terrain Forklifts
Rough Terrain Forklifts are also called Straight mast forklifts. They widely find outdoor applications on uneven, unstable surfaces. Having thick tractor-style pneumatic tires, rough terrain forklifts doesn't slip on wet or slippery surfaces. Their sturdy tires are difficult to puncture with nails or sharp rocks, and they help with stability and balance while carrying heavy loads on uneven ground.
Rough terrain forklifts are ideal for construction sites. With a traditional straight mast or a telescoping mast, they can handle a weight capacity of 6,000 to 12,000 pounds.
Reach Fork Trucks
Mostly used in warehouses, reach fork trucks can extend their forks out beyond their stabilizing legs into racks. Suitable for tight spaces, this type of forklift can maneuver with narrow aisle ways and lift loads to high heights.
As they have heavy electric batteries and stabilizing legs, reach fork trucks provide inherent stability and do not need counterbalance weight.
Pallet trucks
Pallet Trucks or pallet jacks or pump trucks are specially designed forklifts without any power source. They are small in size and have the limited load-lifting capability. As they are easy to use and fit well into small tight spaces, they are used to raise the pallet enough to clear the ground.
Walkie Stacker
This type of forklift has a unique appearance and provides specific utility. They don't have cabs and the operator needs to walk behind the stacker to operate.
Order Picker
A sub-type of walkie stacker, order pickers pick the material from storage and deliver it. This type of forklift is designed to lift the operators up. They are produced in versatile designs to handle various sizes.
Depending on fuel option and application, Occupational Safety and Health Administration (OSHA) categorizes forklifts into seven classes as listed below:
Class I – Electric Motor Ride Truck
Class II – Electric Motor Narrow Aisle Truck with Battery as a fuel source
Class III – Electric Motor Hand Truck with Battery as a fuel source
Class IV – Internal Combustion Engine With Cushion Tires with Gas or Diesel as a fuel source
Class V – Internal Combustion Engine Trucks With Pneumatic Tires with Gas or Diesel as a fuel source
Class VI – Electric and Internal Combustion Engine Tractors with Battery, Gas, or Diesel as a fuel source
Class VII – Rough Terrain Forklift Truck with Gas or Diesel as a fuel source.
Components of a Forklift
To perform its task effectively a forklift has a variety of components as listed below:
The truck frame serves as the base for all other components.
A counterweight attached to the rear part to counterbalance the lifted weight.
Power Source
A carriage that fastens to the mast rails and moves up and down.
The mast consists of interlocking rails to give horizontal control.
Refer to Fig. 1 below that shows the parts of a forklift.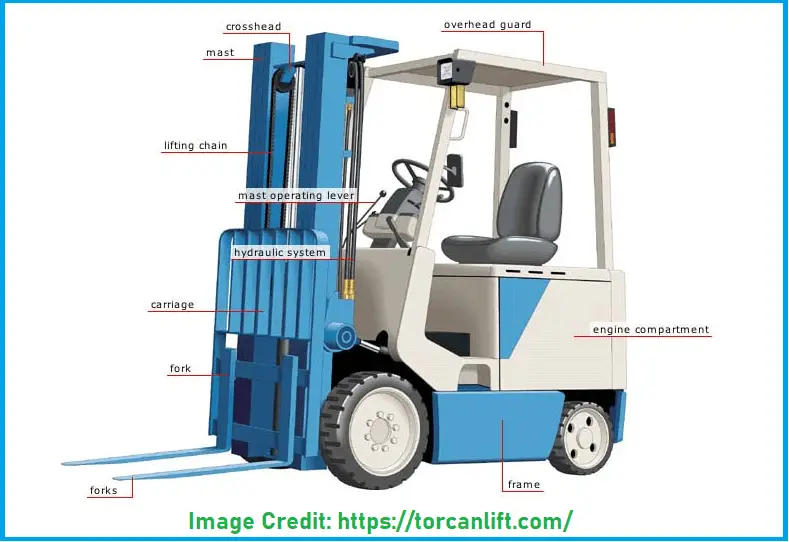 Working of a Forklift
To carry heavy loads, forklifts use a combination of hydraulic systems and pulley systems.
The hydraulic system uses a series of pistons, cylinders, and hydraulic fluid to lift and lower the loads. A skilled forklift operator uses the lift handle to raise or lower the loads. The hydraulic fluid creates the necessary pressure through its pump, piston, and cylinder mechanism. The fluid pressure creates an upward force to move the piston upwards.
The fork is attached to a pair of roller chain pulleys. When the hydraulic pistons force the mast in the upward direction, the gears on the mast are pressed against the roller chains which move the mast up and pull the fork in the upward direction. Two controls; steering and lifting help the operator to lift loads and move.
Selecting a Forklift
As a wide range of forklifts is available it is really difficult to choose the right forklift. While selecting the ideal forklift for the project, various parameters must be considered. Some of these are:
Load-bearing Capacity–The weight required to lift and at what height.
Space Availability– the forklift selection must consider the space available in the area where it will be used. The height of doorways and openings must be considered.
Power Source– whether electric-powered, battery-powered, or gas/oil-powered.
Surface Terrain–Find out if the ground surface is even or rough.
Stability of the Job site– If the ground can sustain the forklift.
Characteristics of a Forklift
Forklifts are usually characterized by three factors:
Lift Capacity– The amount of weight the forklift can safely handle without losing its stability.
Load Centre– The distance from the forks to the center of gravity of the carried load. Depending on height, weight, lift angle, and tilt angle the load center varies.
Stability– The forklift should not be tipped while carrying heavy loads. Usually counterbalance weights are used to increase stability.