Double Block and Bleed Valve is a single assembly of two inline-block valves and one bleed valve. The task of three separate valves is performed by this assembly while saving huge space, installation and maintenance time, weight, and cost. An NPS 3/4 inch or 1-inch bleed valve is installed between two block valves for venting or draining as shown in Fig. 1.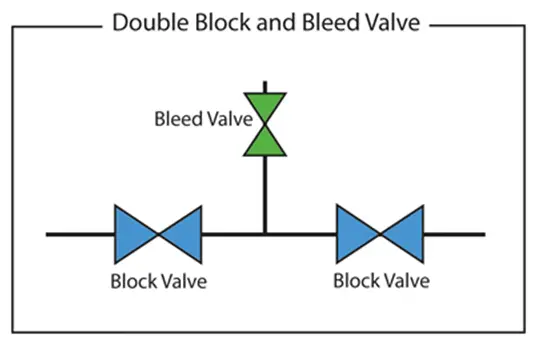 Working of a Double Block and Bleed Valve
Two block valves provide isolation from the upstream and downstream flows. A set of gate, ball, needle, or globe valves is normally used as the block valves that are placed back to back. In the center cavity of the two-block valves, a third valve known as the bleed valve is positioned.
The main function of the the bleed valve is
to drain/vent the cavity created between two isolation valves.
flow diversion
sampling and injection point connection
integrity or maintenance check connection to monitor leakage
Bleed valves can be vented to the atmosphere directly or a hose connection/piping system can be used for a closed disposal system.
Codes and Standards for Double Block and Bleed valves
Double Block and Bleed Valves or a DBBV is designed and manufactured based on any of the governing codes
API 6D
API 607
API 6FA
BS6755-Part 2
ASME B16.34
EEMUA 182
API 598
BS EN ISO 17292
ISO 14313
Benefits of Double Block and Bleed Valve
The advantages of double block and bleed valve can be summarised as follows:
Compact design
Provides sealing against pressure from both upstream and downstream end of the valve.
The capability of venting the cavity in between the block valves.
Around 60% savings in weight and 70% savings in installation time.
High reduction of leak paths, ensuring low probability of hazard. Improved safety in operation.
Great savings in space as compared to a conventional arrangement using separate valves.
Can be used as chemical injection and sample points.
Prevent product contamination.
Remove equipment from service for cleaning or repair
Reduced Stresses from load and vibration
Uninterrupted flow for negligible pressure drop
Applications of Double Block and Bleed Valve
Double Block and Bleed Valve or DBB is widely used in systems requiring critical isolation. The major uses of DBB Valve include
Oil & Gas, Chemical and Petrochemical industries
LNG and Natural Gas industrial processes
Isolate instrumentation such as level gauges, pressure indicators, etc.
Liquid pipelines and manifolds
transmission and storage, refined products transmission lines.
Meter Calibration.
Chemical injection and sampling.
Liquid service near waterways or municipalities.
Instrument drain connections.
Factors affecting Double block and Bleed Valve (DBB) Selection
The parameters that affect the selection of a double block and bleed valve are
Process Media and Application
Temperature and Pressure
Toxicity and Operating Environment
The material of Valve Parts
Depending on requirement various types of DBB Valve configuration is available in the market. In general, three types of double block and bleed valves are available; Single unit DBB, Cartridge Type Standard Length DBB, and Three Piece Non-Standard Length DBB.
DBB vs DIB
Double isolation and bleed valve or DIB is a single valve with two seating surfaces. In a closed position, each of these seating surfaces provides a positive seal against pressure from a single source. There is a means of draining/venting from the cavity between seating surfaces. So, DIB looks almost similar to DBB and quite confusing among many. The main differences between DBB and DIB valves are listed below:
| | |
| --- | --- |
| Double Block and Bleed Valve (DBB) | Double Isolation and bleed valve (DIB) |
| A DBB Valve provides sealing against pressures from both sides of the valve. | A DIB provides an additional sealing against pressure from one side of the valve. |
| A DBB Valve has two unidirectional self-relieving seats which are independent of outside mechanism for pressure relieving. | A DIB uses one or two bi-directional seats which are not self-relieving requiring external pressure relieving mechanism. |
| In a DBB, if the first seal leaks, the second will not provide sealing in the same direction. | DIB provides an additional pressure barrier from the main pressure barrier. |
DBB vs DIB