Pipe Bevelling machines and tools are used to create piping bevels on the edge. Pipe beveling is the process of generating an angle as a part of the welding edge preparation. The machines that help in creating the required pipe bevels are called pipe bevelling machines or pipe bevellers. In this blog post, we will learn about various types and applications of pipe bevelling machines.
What is a Pipe Bevelling Machine?
Pipe Bevelling machines or pipe bevellers are tools that reduce the human effort of pipe bevel creation. They are versatile tools and increase the pipe bevelling accuracy, precision, speed, safety, efficiency, and production. A pipe bevelling machine can be defined as a specialized industrial tool or equipment designed for the precision preparation of pipes or tubes by removing material from the outer edge to create a bevel or sloped surface. The primary purpose of a pipe bevelling machine is to prepare the pipe for welding, ensuring that the joint between two pipes or the pipe and a fitting is of high quality, strong, and secure.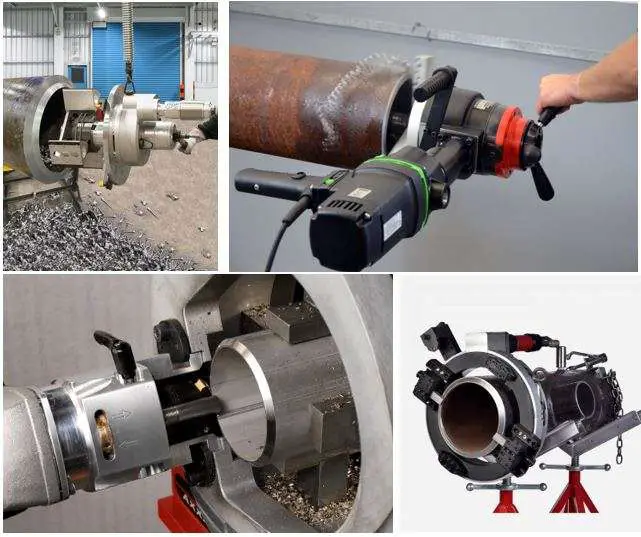 Pipe bevelling machines are equipped with cutting heads, inserts, or blades that remove material from the pipe's outer edge. These tools create the desired pipe bevel cut profile, which can be V-shaped, U-shaped, J-shaped, or other configurations depending on the welding requirements.
Applications of Bevelling Pipe Machines
These machines are used in various industries, including metal fabrication, construction, shipbuilding, and pipeline construction. They are crucial for achieving clean and accurate bevels on pipes, which enhances the quality and integrity of the weld joint.
Types of Pipe Bevelling Machines
Industrial pipe bevelling machines come in various types. The common types of pipe bevellers are:
Stationary pipe bevelling machines
Portable pipe bevellers.
Handheld Pipe Bevelling Tools
Stationary Pipe Bevelling Machines
Stationary bevelling machines are designed for high-precision bevelling and are typically used in workshops and manufacturing facilities. They are suitable for a range of customization options for bevel profiles and can handle pipes of various diameters. Stationary pipe beveling machines can create almost all kinds of pipe bevel shapes using different combinations of tools. They are ideal for high production requirements while maintaining a safe working environment.
Stationary beveling machines can easily be integrated with automated production lines which provides enough flexibility to the operator. The main benefits that a stationary pipe beveling machine offers are:
Easy set-up
Minimal maintenance requirement
Cutting inserts can easily be replaced.
Quick cycle time.
Low cost.
Low-skilled or Semi-skilled operators can work with ease.
Consistent piping bevel quality.
Suitable for a range of pipe materials.
A broad range of machining options
Provides a safe environment to work.
Portable Pipe Bevelling Machines
Portable pipe bevelling machines or portable pipe bevellers are ideal for on-site work and field applications. Their compact nature makes them suitable for easy transport. Some of the portable pipe bevelling machine models come as battery-operated for added convenience.
A portable beveling machine is available in different configurations. Even though they are easy to use for maintenance work and on a construction site, they are inadequate to meet high production requirements. The main advantages of portable pipe bevellers are:
Increased versatility
Easy straightforward set-up
Lightweight
Handheld Pipe Bevelling Tools
Handheld pipe bevelling tools are used for smaller-scale projects and quick touch-ups. They provide more control to operators, making them suitable for tight spaces and irregular shapes. However, this method is time-consuming.
Again based on the bevel edge cut configuration, pipe bevelling machines can be classified as:
Straight Cut Piping Bevelling Machine, and
Round Cut Pipe Bevelling Machines