Structural steels are produced and fabricated into various different shapes to provide support to plants, buildings, or other structures. Engineers and builders widely use structural steel shapes to make their designs strong and distribute weight to ensure integrity, safety, and durability. In this article, we will learn about various structural steel shapes that are widely used in engineering design for the construction of any building or plant.
Structural steel shapes are produced from a precise cross-section following some standards to have a definite chemical composition and mechanical properties. The shapes and dimensions of structural steel vary with respect to countries.
Major applications of structural steel shapes are found in the construction industry. Other applications are found in the automotive, transportation, mining, marine, shipbuilding, energy, packaging, and agriculture industries. It is so widely used that structural steel is known as the fundamental component of construction.
What Is Structural Steel?
Structural Steel can be defined as a high-utility ferrous material in the form of elongated beams, piping, or channels. In general, they are made from a versatile type of carbon steel grade (rolled steel). The use of structural steel is found in all engineering aspects ranging from bridges to residential and commercial constructions, from parking garages to machine bases, and various chemical, petrochemical, steel, nuclear, food, pharmaceutical, and power plants. Even though the structural steel sections are produced from Steel, various different types of metals can be used to produce shapes similar to structural steel shapes. ASTM A36 is one of the most popular structural steel materials.
The Benefits of Structural Steel
Structural steel provides a multitude of advantages in engineering. Some of the important benefits of using structural steel are:
Structural steel is cost-effective as compared to other available options. Overall costs including material, fabrication, and erection are considerably lower.
Working with structural steel is quite easy and possible even in adverse weather conditions.
Existing structural steel members can be easily recycled and reused.
Easy fabrication.
High strength and ductility, Good strength-to-weight ratio.
High load-bearing capability.
High reliability.
Easy availability.
Structural Steel Shapes
Broadly, structural steel is categorized into five types of structural steel shapes: angles, beams, channels, tubing, and plates. Each of these structural steel shapes has defining features and optimal applications.
Angles
Structural steel angles are the most basic form of structural steel. It is a hot-rolled product having an L-shaped cross-section (usually 900 angles). A standard structural angle is measured by the length of the legs and the leg thickness.
L-shapes
L-shapes are structural steel angles that are produced with both equal and unequal leg lengths. Angles or L-shapes usually have limited strength. They are denoted by mentioning the longer leg first, and the thickness last.
Applications of angles and L-shapes include minor structural reinforcement, framing, shelving, brackets, and repair.
Hollow Structural Sections or Structural Steel Tubing Shapes
Hollow structural section (HSS) refers to high-strength welded steel tubing or hollow steel sections. They have round, square, elliptical, or rectangular cross-sections. Hollow structural steel shapes are usually preferred to support multidirectional loads.
Tubes are often distinguished as either mechanical or structural tubing. In low-stress applications, mechanical tubing is preferred and they have a thinner wall. On the contrary, structural tubing is used in high-stress structural applications like buildings, bridges, roll cages, and underwater platforms. The walls of hollow structural tubing sections are thicker and stronger.
Note that pipes that carry fluids are different from tubings. A pipe is designated by its nominal diameter and schedule devised by the American Standards Association.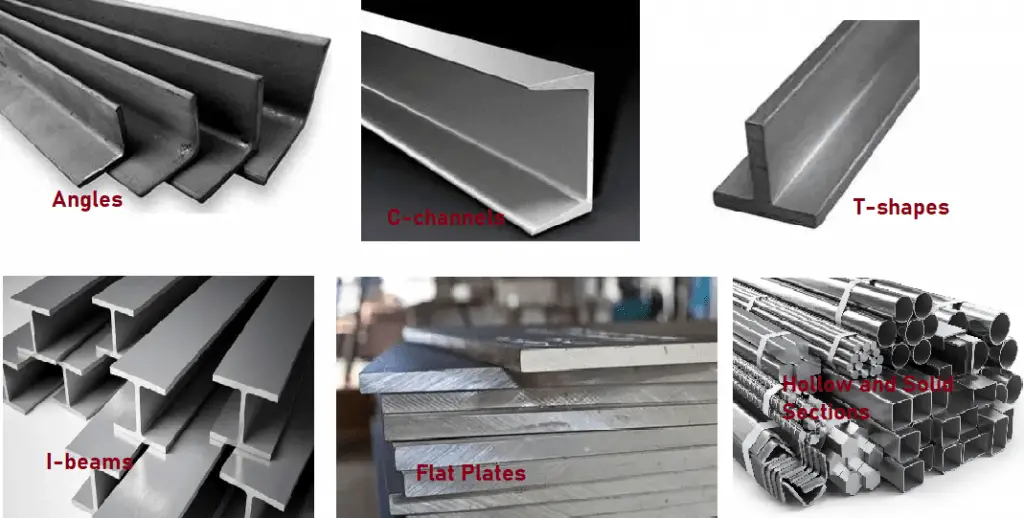 Structural Steel Beams
Structural steel beams are the most widely used structural steel shapes. They are the major elements for supporting heavy loads and are designed to carry a maximum bending load with minimum material.
Beams are manufactured with a flat top and bottom, known as flanges. Often these flanges taper and they resist bending. The vertical section of the structural beam that connects the flanges is called the web which resists blunt force. The angle which connects the web to the flanges is called the fillet. Structural Beams are usually available in lengths up to 60 ft.
Beams are identified by their depth from the top to the bottom; flange width, flange thickness; and web thickness. Structural Steel beams can be of various types as listed below:
I-beams: I-beams are also known as universal beams or wide flange beams. The name is given as this structural shape has a cross-section that resembles the letter I with legs parallel. In any construction framework, I-beams act as critical support trusses. Click here to learn the differences between H-beam and I-beam.
S-beams: S Beams provide superior strength and have wider flanges with a slope on the inside surface. They find application in home and building construction, truck bed frames, hoists, lifts, and more.
T-beams: As the name suggests, T-beams have a T-shape. They are similar to a universal beam but without a bottom flange. T-beams are mostly used for reinforcement purposes.
Bearing Piles: Similar to I-beams, Bearing piles have a uniform thickness throughout all sections and are mainly used to support vertical loads.
H-piles: H-piles have the same I-shape but are mainly used to provide deep foundation support for superstructures.
Channels
Structural Steel channels have a C-shaped cross-section. They are found in various construction and manufacturing applications. structural channels are identified by channel depth, the top to bottom distance, leg height, leg thickness, and web thickness. To get maximum contact area, they are mounted on flat surfaces. Sometimes two C-sections are welded together to form a non-standard I-beam.
C-channels: C-channels are structural channels with a slight slope on the inner flange surface. In general, they are not used as primary load-bearing beams but they are good as frames and for bracing. Channels come in a number of shapes and are known as standard channels, MC channels, bar, and junior channels. Channels are usually available in lengths of up to 20 and 40 ft.
Plates
Structural Steel Plates are simple flat plates with the required thickness to meet various construction needs. Structural steel plate members are usually welded to build the framework for buildings and bridges.
Custom Structural Steel Shapes
Depending on project needs, many a time some specific design is produced in the steel fabrication shops and known as customized structural steel shapes. They do not fall into the standard structural shapes mentioned above. Solely based on requirements custom structural steel shapes are designed and produced.
Even though the shapes of the structural steel members are similar, they vary in dimensions and weight from region to region. Different counties have their own standards and the structural steel shapes are produced following the regional standards. The weight and dimension of structural steel shapes produced based on European standards are quite different from the similar structural shapes produced by American or Indian standards. However, when there is a mix of different standards, somewhat equivalent structural sections are used.