An RTJ flange or Ring Type Joint Flange is one of the various types of flanges used widely in piping and pipeline industries. RTJ flanges are commonly used for high-pressure and high-temperature applications in oil field valves, pipework assemblies, refineries, high integrity pressure vessel joints, chemical and petrochemical plants, etc. In this article, we will explore more about RTJ flanges.
What is an RTJ Flange?
A Ring Type Joint (RTJ) Flange is basically a machined metallic ring having a deep groove cut into its face. Metallic RTJ gaskets sit in the groove to seal the flange pair. When the connecting bolts of the RTJ flanges are tightened, the gasket is compressed and the flange pair creates a leak-proof tight seal. RTJ flanges, in general, have a raised face with the groove into the face of the flange, but the raised face doesn't contain the pressure similar to weld neck raised face flanges. Refer to Fig. 1, which gives an example of a typical RTJ flange assembly.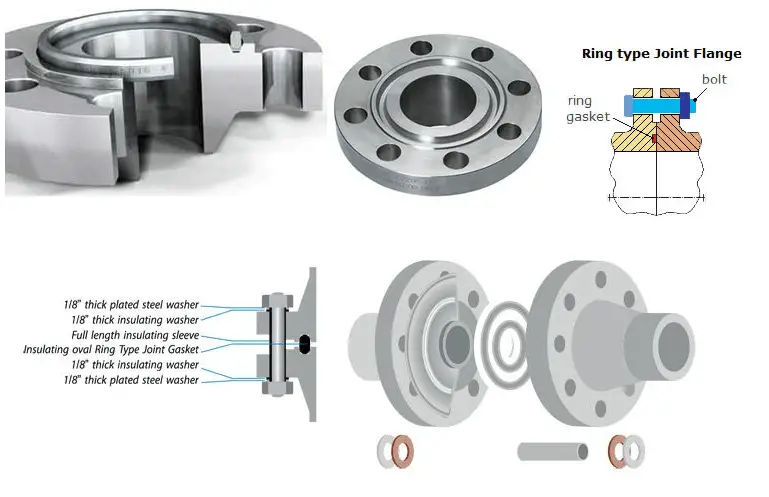 The RTJ flanges are usually preferred for Class 600 and higher ratings and/or when service temperature exceeds 800°F (427°C).
Characteristics of RTJ Flanges
A ring-type joint flange is substantially different from other types of flanges used in the piping and pipeline industry. The main characteristics of an RTJ flange are:
Instead of the flat composite material gaskets, RTJ flanges use a steel ring. The gasket rests on the machined groove.
The sealing is achieved by the deformation of the soft metallic gasket which flows into the microfine structure of the hard flange material.
RTJ flanges provide superb metal to metal sealing.
The raised face may be present in a ring-type joint flange but it does not contain the pressure. However, while tightening the RTJ flanges if raised faces come in contact with each other, the extra load is transferred to the faces which, in turn, provides the integrity of the joint during over-tightening, vibration, and movement.
They are very easy to assemble and disassemble.
RTJ Flange Materials
Ring type joint flanges are made from various engineering materials like
Carbon Steel
Stainless Steel
Duplex & Super Duplex Steel
Alloy Steel
Low-Temperature Carbon Steel
Copper Alloy
Nickel Alloy
Brass
Cupro-nickel
Aluminum
Titanium
Inconel
Monel
Hastelloy
Incoloy
Codes and Standards for RTJ Flanges
The design and manufacturing of RTJ flanges are governed by the following standards:
ASME B16.5 up to 24″ size.
ASME B16.47, Series A & B for sizes 26 inches through 60 inches.
MSS SP44
API 605
EN 1092
BS 4504, BS 1560
ISO 70051
DIN2527, DIN2576, DIN2641, DIN2642, DIN2655, DIN2656, DIN2627, DIN2628, DIN2629, DIN 2631, DIN2632, DIN2635, DIN2636,DIN2637, DIN2638, DIN2673, DIN2566, DIN2573, DIN2633, DIN2634
AWWA
ASA
GOST 12820
SABS 1123
RTJ Flange Types
Ring-type joint flanges can be classified depending on their face types and pressure classes.
Based on pressure classes, the following types of RTJ flanges are available.
150 LBS,
300 LBS,
600 LBS,
900 LBS,
1500 LBS, and
2500 LB
Specifications of Ring Type Joint Flanges
The edge (periphery) of each ring joint flange is usually marked with the letter R and the corresponding ring groove number. RTJ flanges are specified by the following parameters:
Flange Size (Connecting Pipe Size)
Flange material and grade
Design Standard
Pressure Class Rating (Temperature and Pressure rating)
Flange face type
Coating or Surface treatment requirements
Dimensional requirements
Application service type
RTJ Flange Dimensions
RTJ flange dimensions are usually specified in the design standard itself. For example, when the design code is ASME B16.5, the RTJ flange dimensional tables for each pressure rating class are provided for flanges up to 24 inches. For RTJ flange sizes exceeding 24 inches, the dimensions for RTJ flanges are available in ASME B16.47.
So, basically, for standard flanges, the RTJ flange dimensions are fixed and do not vary from manufacturer to manufacturer. However, Custom made RTJ flanges can also be manufactured for which the purchaser needs to specify the flange dimensions.
RTJ Blind Flange
RTJ blind flange is a solid flange used to block the flow and is used to pair with another type of RTJ flange. The RTJ blind flange must be of the same pressure class rating.
RTJ Flange Gasket
RTJ flange gaskets are metallic sealing rings and provide reliable sealing. Ring Type Joint gaskets provide sealing by the wedging action between the gasket and the mating flange. With the application of pressure on the bolts, the softer gasket metal flows into the microfine structure of the harder flange material, which creates an efficient tight seal.
Depending on the pressure carrying capability, RTJ gaskets are available in various styles, like R, RX, and BX styles.
The common type of RTJ flange gasket style is style R. RTJ gaskets are manufactured based on ASME B1620 for ASME B16.5/16.47 flanges. Style R type RTJ gaskets are manufactured in oval and octagonal configurations and are designed to seal pressure up to 6,250 psi in accordance with ASME B16.5 pressure ratings and up to 5,000 psi.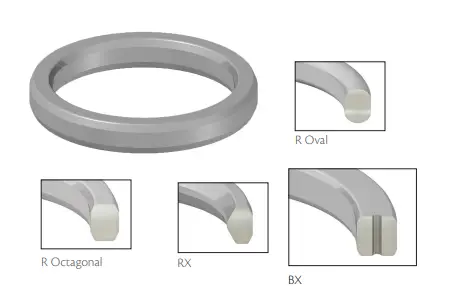 The Octagonal ring provides higher sealing efficiency as compared to the oval counterpart and this is why octagonal rings are the preferred RTJ flange gasket.
The RX-type RTJ gaskets are suitable for pressures up to 700 bar. In this type of RTJ flange gaskets, the outer sealing surfaces make the first contact with the flanges. RX style RTJ gasket is interchangeable with the standard R-models.
The BX-type RTJ gasket is used for very high pressures up to 1500 bar. This style of ring joint gasket is not interchangeable with other types and is only suited for API type BX flanges and grooves.
Advantages and Disadvantages of Ring Type Joint Flanges
The RTJ flange is one of the most efficient flanges used for high-temperature pressure lines of process piping systems. The ring and groove design use internal pressures to increase the sealing capacity of the connecting flanges. With an increase in the working pressure, the sealing performance improves. RTJ flanges are also suitable for cyclic stresses and corrosive fluids.
The main disadvantage of a ring-type joint flange is the cost due to its complex configuration and precise machining control for both the metallic ring gasket and the ring-joint groove. Also, while dismantling ring joint flange connections, the flange needs to be separated forcibly to release the ring from the groove. This may call for sufficient space which limits the application of RTJ flanges in crowded installations.