In terms of dollar value, the oil and gas industry is considered the best global powerhouse that employs thousands of workers worldwide and controls the overall energy market. Professionals working or aspiring to work in the oil and gas industry should be aware of the oil and gas industry overview. They must know the working cycle of the industry and the responsibilities of the different sectors involved in the process. This article will provide a brief introduction to the oil and gas industry and the key points related to it.
Oil and Gas Industry Overview
The oil and gas industry is one of the largest industrial sectors in the world in terms of generating value in dollars. This is also known as the petroleum industry. This industry is very crucial to the global economic framework, especially for countries like the United States, Saudi Arabia, Russia, Canada, and China. Petroleum is important to many industries and is necessary for the operation and maintenance of Industrial plants, machines, and transportation purposes.
Brief History of Petroleum
Petroleum is a naturally occurring liquid found in rock formations. It consists of a mixture of hydrocarbons of various molecular weights, plus other organic compounds. It is widely known and accepted that oil is generated from the carbon-rich remains of ancient plankton after exposure to pressure and heat in Earth's crust over hundreds of years.
Different Sectors of the Oil and Gas Industry
The Oil and Gas Industry or petroleum industry has been divided into the following three sectors-
Upstream oil and gas
Midstream oil and gas
Downstream oil and gas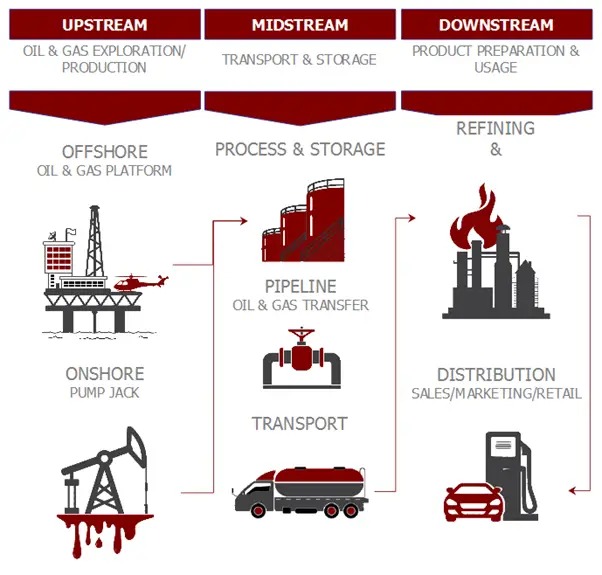 Upstream Oil and Gas Industry
The Upstream Oil and Gas Industry consists of companies involved in the exploration, extraction, and separation of oil and gas. These companies are also known as the E&P (exploration and production) industry. These are the companies that find the place of exploration and set up the plant with the coordination of the local government, and start exploring. If the oil is found beneath the earth then the extraction/production of oil starts otherwise the company will move to the next place for exploration and later on, the separation takes place. This is done either onshore or offshore.
The upstream oil and gas companies are characterized by high risks, high investment capital, and extended duration as it takes time to locate, documentation procedures, and drill.
What do you mean by exploration, extraction, and separation?
Exploration
Exploration can be defined as a means to provide the required information to exploit the best opportunities presented in the choice of areas and to manage research operations on the acquired blocks, which also involve statutory activity.
An oil company may work for many years on a proposed area before an exploration well is prepared and during this period the geological history of the area is studied. Indeed, exploration is a risky activity and the management of exploration assets and associated operations is a major task for oil companies.
Extraction/Production
The extraction of petroleum is the process by which usable petroleum is drawn out from beneath the earth's surface location through the well.
Separation
Liquid hydrocarbons/Oil extracted from the wells are separated from the non-saleable components such as water and solid residuals. Natural gases are often processed onsite while oil is piped to a processing unit for separation.
What do you mean by onshore and offshore?
The meaning of Offshore is the islands in the open sea belonging to a country. The setup installed in the ocean on the floating platform for the extraction of the oil is called offshore.
Onshore means the setup installed on dry land for oil extraction /drilling/production. Onshore drilling accounts for 70 % of the total oil production.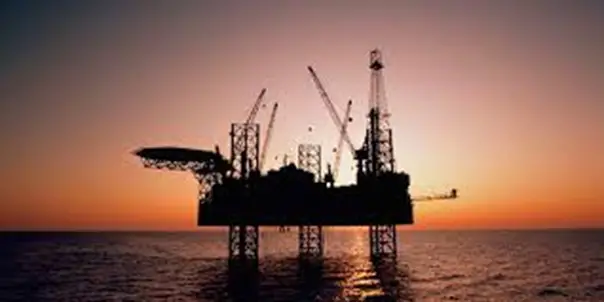 Midstream Oil and Gas Industry
Midstream Oil and Gas Industry includes those companies that are focused on transportation and storage. They are responsible for moving the extracted raw materials from upstream industries to refineries to process the oil and gas. Midstream oil and gas companies are characterized by shipping, trucking, pipeline fleets, and storing raw materials. The midstream oil and gas sector is also marked by high regulation, particularly on pipeline transmission, and low capital risk. This sector is also naturally dependent on the success of upstream oil and gas companies.
Key Points of Midstream Oil and Gas
Midstream oil and gas refers to the stage in the oil production process that falls between upstream and downstream.
Midstream Oil and gas includes key activities like storage and transportation of Crude Oil.
They are specialized in storage and fleet management.
Downstream Oil and Gas Industry
The Downstream Oil and Gas Industry are those which is responsible for processing, transporting, marketing, and selling refined products made from crude oil. It is dependent upon upstream and midstream oil and gas sectors. Thousands of products to end-user/ customers around the globe are provided by the downstream oil and gas industry. Many products are familiar such as gasoline, diesel, jet fuel, kerosene, heating oil, and asphalt for roads, etc.
Key Points of the Downstream Oil and Gas Industry
Downstream oil and gas operations are the processes that deal with converting Crude oil into finished products.
Companies that handle operations in the downstream oil and gas sector are closest to the customers. 
An over-production of crude oil in the upstream section may benefit the downstream oil and gas companies. 
Products from Oil and Gas Industry
After extracting the crude oil from beneath the Earth, it is refined and different parts are separated into usable petroleum products. The majority of these products include
gasoline
jet fuel
diesel fuel and heating oil
petroleum feedstocks
lubricating oils
waxes
asphalt, etc.
Fuel oil and gasoline or petrol are the largest volume products from the oil and gas industry. The above-mentioned products are directly obtained from the oil and gas industry. But if we consider the by-products from the oil and gas or petroleum industry then there will be thousands of products. The majority of the items we use in our daily life has some connection to the petroleum industry. To give a few examples all the following products have a link to the oil and gas industry:
Natural Gas
Clothing (acrylic, rayon, vegan leather, polyester, nylon, and spandex) and Shoes
Cleansers
Electronics like speakers, smartphones, computers, cameras, televisions, etc
Sports Equipment (basketballs, golf balls and bags, football helmets, surfboards, skis, tennis rackets, and fishing rods)
Safety Gears
Plastic Pipes
Construction materials
Medicines (Bandages, Aspirin, artificial limbs, hearing aids, dentures, heart valves, etc)
Toilet Seats, Bathtubs, Shower stalls, curtains,
Laundry baskets,
Credit cards,
Piano keys,
Ink, disposable diapers, balloons, bubble gum,
Health and beauty products (perfume, hair dye, cosmetics (lipstick, makeup, foundation, eyeshadow, mascara, eyeliner), hand lotion, toothpaste, soap, shaving cream, deodorant, combs, shampoo, eyeglasses, and contact lenses.)
Household items like paints, pillows, non-stick pans, detergents, etc.
Top Oil and Gas Companies of the World
In this world, there are more than 200 oil and gas companies that operate in various countries. However, there are only a few key players in the oil and gas industry market that control the overall oil and gas market of the world. The following list contains 25 such big oil and gas industry market leaders.
China Petroleum & Chemical Corporation or Sinopec, China– $424bn (As per 2020 estimates)
China National Petroleum Corporation (CNPC), China – $396bn
PetroChina, China – $360bn
Royal Dutch Shell, Netherlands – $345bn
Saudi Arabian Oil (Saudi-Aramco), Saudi Arabia – $330bn
BP, UK – $278bn
Exxon Mobil, US – $265bn
Total, France – $200bn
Chevron Corporation, USA – $146.5bn
Rosneft Oil Corporation, Russia – $140bn
Other big Oil and Gas companies are:
Valero, US
Gazprom, Russia
Phillips 66, US
Kuwait Petroleum Corporation, Kuwait
Lukoil, Russia
Eni, Italy
Pemex, Mexico
National Iranian Oil Co (NIOC), Iran
JX Holdings, Japan
Marathon Petroleum, US
Petrobas, Brazil
Equinor, Norway
PTT, Thailand
Indian Oil Corporation, India
Reliance Industries, India
Future of Oil and Gas or Petroleum Industry
The research done by Deloitte shows that more than 14% of permanent employees were laid off in the US in the year 2020 with no recovery. The same trend of layoff is continuing in the year 2021 as well. At the same time, COVID-19 is increasing significantly in all countries impacting the economy throughout. So, What will be the future of the Oil and Gas or Petroleum sector post-COVID scenario?
Experts believe the same downturn of the oil and gas industry will continue to increase as it will face challenges from the following:
The reduced cost of Electric Vehicles due to innovation and batteries is a huge threat to the petroleum industry.
Natural gas power plants are threatened by the clean energy portfolios of wind, solar, and battery storage energies.
Ongoing research on green hydrogen is also a major threat.
Climate policies are canceling major oil and gas industry expansions.
All these new technologies and climate policies are providing a green signal to renewable energy companies. So, the future of the oil and gas industry is not that promising.